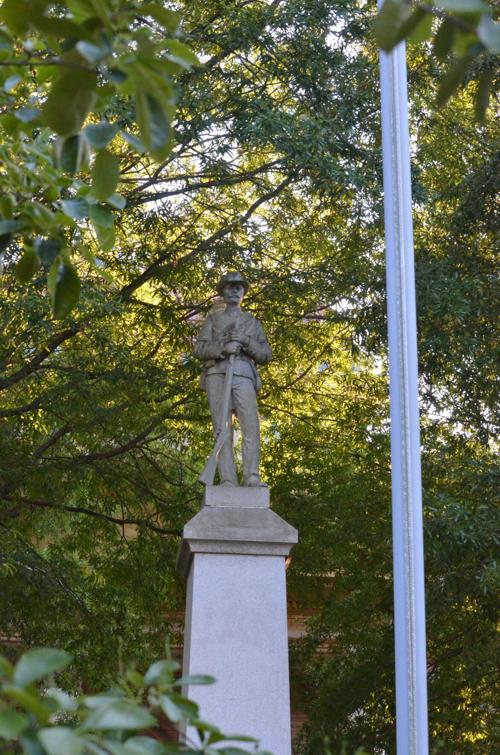 Several Statesville citizens used Monday's City Council meeting to voice their concerns about the Iredell County Confederate Memorial.
Speaking first, David Meachem requested the city to make a decision on the Confederate statue. He acknowledged the decision was not an easy one but implored the council to do the right thing and asked them to remove the statue so that Statesville does not have the problems other cities are having.
The statue, which was first dedicated in 1906, currently sits in front of the Iredell County Government Center. Though located in the city limits, the statue sits on ground owned by the county.
Statesville NAACP President Todd Scott spoke after Meachem. Scott told the council that even with the statue being on county land, he would like to know how the city council feels about it.
Scott added it was just a matter of time before someone was hurt at the protests and told the council he did not want people from other cities coming to Statesville to try to stir up trouble.
"We want to try to work this out with other community leaders," Scott said. "We want it moved; we've never said we wanted it torn down. If we are the city of progress, we have to do something about it. The Statesville NAACP is going to wait, but we are not going to wait long. I hope everyone thinks about it."
After public comments wrapped up, Mayor Costi Kutteh told Scott and the other speakers that the council has had plenty of conversations among themselves about the statue and protest.
Kutteh added that the council and city want also want a relatively peaceful process. Kutteh ended by telling the speakers that the council and city look forward to a permanent resolution for this situation in the near future.
In other news:
- The council approved the first reading of the annexation of the Fairfield Inn and Suites at 1243 Tonewood Street. Kutteh noted his dismay over the property owner's decision to use Duke Energy instead of city electric but the council still passed the first reading unanimously.
- The council continued the first reading for the annexation of the Harbor Freight at 303-313 Turnersburg Highway. Kutteh notified the council and public that there have been some modest changes that need staff approval. As a result, the developer requested to have the first reading continued to the Aug. 3 meeting. The continuation was approved unanimously.
Be the first to know
Get local news delivered to your inbox!