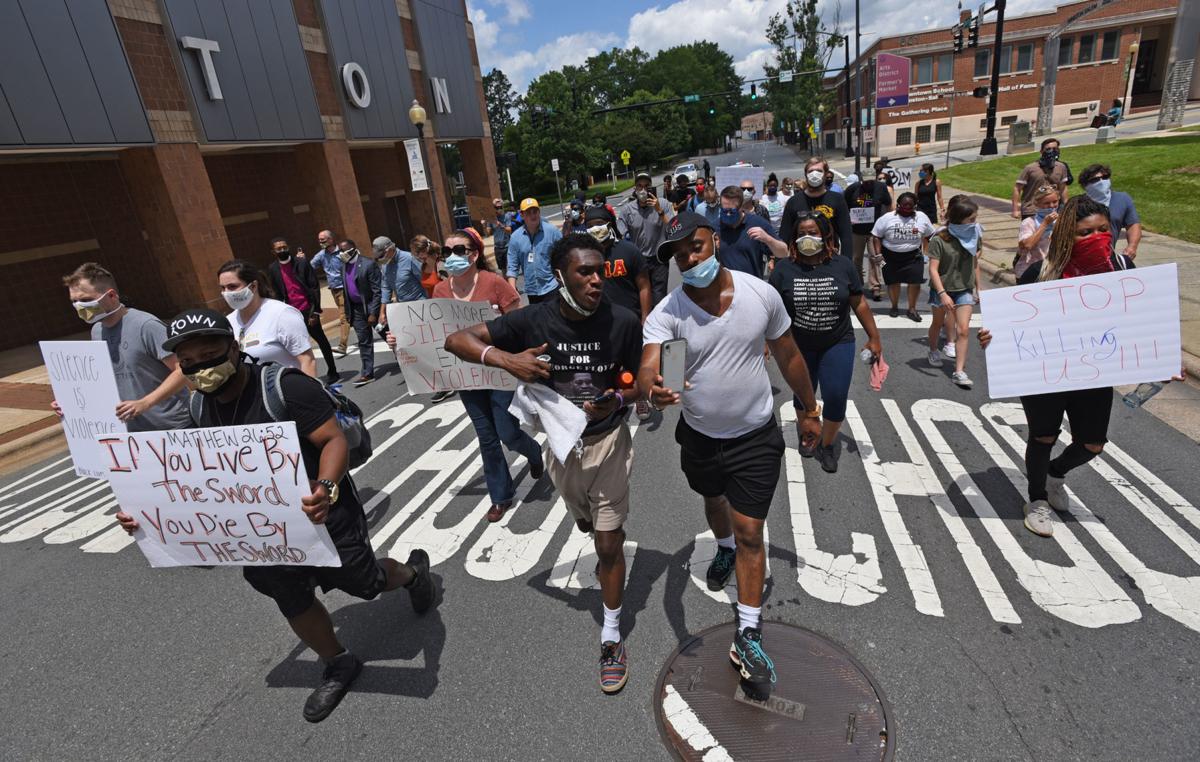 For the second day in a row, Black Lives Matter protesters demonstrated peacefully in Winston-Salem as dozens of people marched from East Winston to downtown and back.
The march, organized by Frankie Gist, had a police escort and looped from the East Winston Shopping Center down Martin Luther King Jr. Drive, to the police department, and then back down Fifth Street through the Innovation Quarter. A second rally is scheduled to begin in Bailey Park at 3 p.m., and Gist said he plans on speaking there, but is not responsible for organizing it.
About 60 people marched Sunday afternoon, chanting and carrying signs. East of U.S. Highway 52, several passing motorists honked their horns in support and shouted out their windows in support. West of U.S. 52, in parts of downtown and the innovation quarter, passersby were relatively silent in comparison, said The Rev. Kerry Thomas of Grace Cathedral.
The protesters varied widely in age and race, with some young children marching with their parents. Two young black children ran by one woman, causing her to remark: "That's what we're marching for, right there."
The woman, Kristy Franklin, is a fourth-grade teacher in the Winston-Salem/Forsyth County Schools. She said she joined the march impromptu after getting out of church, telling her husband to stop the car so they could walk. Franklin is an African American woman and she's got a 20-year-old son she wanted to march for.
"He's 20, he's a college student and a hard worker," Franklin said. "When I see people that look like him, I think, it could be him. We need to wake up."
Gist, who helped organize Saturday's protest at the East Winston Shopping Center, said he thinks he and his fellow activists have started a peaceful movement in Winston-Salem. On Sunday he walked with his fiancee and his 3-year-old son.
Gist was sad on Sunday, he said, because one of his friends, Phillip Tyrone Legette Jr., was shot and killed Sunday morning in an incident unrelated to the protests.
me out here with the mindset of wanting peace and understanding," he said. "You can't be out here rioting. That won't solve anything."
As they marched past the police department, one woman, Erianna Boone, screamed a refrain from a chant made popular yesterday.
"They'll hate me regardless," Boone screamed, directing it at the police department.
The entrance of police headquarters was blocked with older model police cruisers and yellow caution tape. The marchers didn't stop.