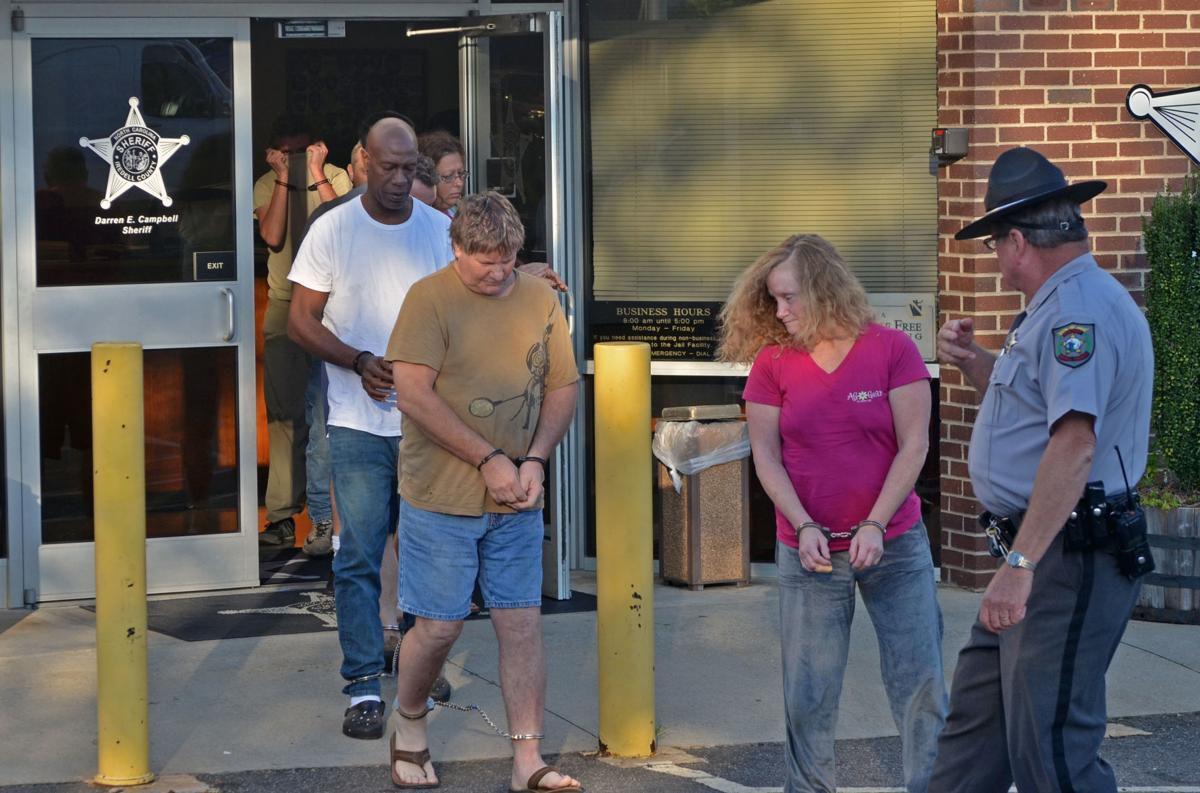 The Iredell County Sheriff's Office started early Monday morning, fanning out in an attempt to arrest more than 50 people targeted in Operation Autumn Harvest.
Thirty were taken into custody by late afternoon and another 23 are being sought, said Iredell Sheriff Darren Campbell. A total of 70 were targeted in the roundup. 
Several arrested were being led in handcuffs from the sheriff's office up to the Iredell County Detention Center Monday morning. Approximately 13 people were seen in detention clothes at 7:45 a.m., and another dozen in plain clothes were led out roughly 30 minutes later. By 4 p.m. 30 people had been charged and 23 were listed as wanted in a news release from the sheriff's office.
Campbell said Monday morning that deputies began making arrests on more than 200 drug charges before daylight. He added arrests would likely continue throughout the day and into the night.
Several of the arrests are the result of undercover investigations lasting several months, Campbell said.
He said undercover law enforcement officers either purchased drugs, or facilitated the buying of drugs, from the suspects. The suspected substances include cocaine, methamphetamine and heroin, among others.
Campbell also said roundups like these are meant to create distrust within the drug community and will hopefully help push drug dealers out of Iredell County.
The sheriff's office conducted a similar raid in early April entitled Operation Spring Sweep. Nearly 40 individuals were targeted on a variety of drug offenses at that time.
Campbell said routine drug arrests seem to have a huge impact, but added that the community also aided the agency by alerting the sheriff's office about drug activity.
"These arrests have been made possible by our deputies receiving information from our community members, or through good investigative evidence gathering," Campbell stated in a news release. "Our deputies follow up on every item of intelligence they receive."
Campbell said operations like these show the community that the information it gives to the sheriff's office is taken seriously and is acted on, and that deputies actively target and pursue repeat offenders that break the law.
Those arrested in Operation Autumn Harvest 2019 are from all areas of Iredell County, with some even outside county lines, he said. He also pointed to one commonality between all those arrested.
"The people we are arresting today, and in the following days, sold drugs, period," he said. "If anyone has an addiction problem we are here for you, will assist you in getting help. However, Iredell County is not a safe haven to deal drugs. If you sell drugs we will arrest you, maybe not this time but make no mistake we will not stop working illegal drug sales, we will sooner or later find you and arrest you."
Be the first to know
Get local news delivered to your inbox!