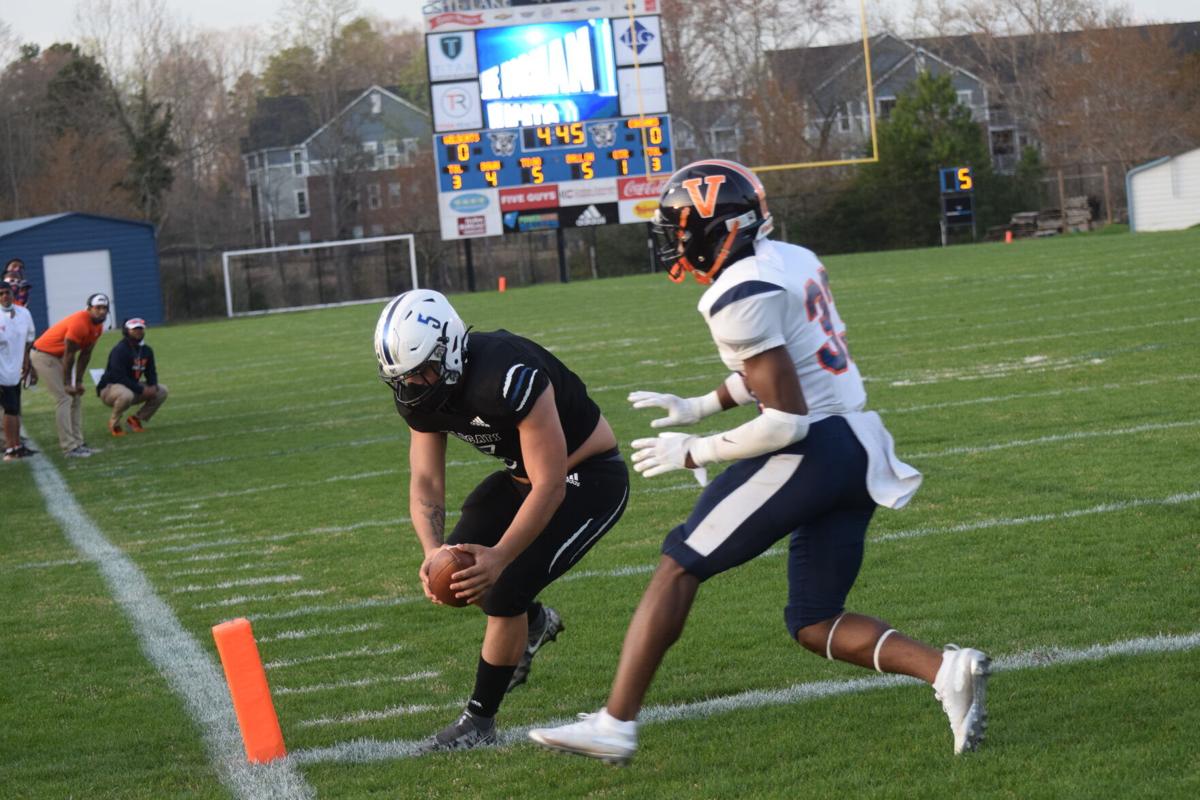 MOORESVILLE—That age-old line about never letting them see you sweat?
Lake Norman's football team not only ignored it. It also applied it.
The Wildcats cornered a second half lead and stayed well within a one-possession striking distance through the near midway mark of fourth quarter before fading from there to eventually accept a 36-16 defeat at the hands of undefeated, reigning I-Meck Conference and 4AA state champion Vance.
Lake Norman dipped to 3-2 overall and in the I-Meck.
What headway the home team managed to make took place primarily over the course of first-half play and, aided by discipline-related assistance on the part of the Cougars, via the airways.
Before departing for a second straight game due to an injury, the Wildcats' starting senior quarterback Anthony Limon completed six passes to five different receivers and landed a pair of the aerials in the Vance end zone for touchdowns.
Limon hooked up with Sakarri Morrison on a five-yard strike inside the five-minute mark of the first period that also staked them to the initial 6-0 lead after a two-point pass play conversion attempt came up just short.
After Vance took the lead with a late first-frame score and then early second-stanza touchdown, the Wildcats clawed closer courtesy of senior placekicker Nick McCue's on-target field goal from 35 yards out.
Then, inside the last seconds of the first half, Limon capped a drive aided by more than 30 yards in penalties on the part of the Cougars when he found receiver Charlie Hughes for a 10-yard TD toss. Accompanied by McCue's point-after kick, Lake Norman nosed out to a 16-14 edge at the intermission.
Following homecoming crowning ceremonies conducted during halftime, the Wildcats found their footing much more difficult to navigate. Still, they only relinquished their lead midway the period on a Vance TD accounting for the only points posted in the third quarter.
The two teams stayed distanced by less than a touchdown, at 21-16 in favor of the Cougars, until the latter managed to tally two scores over the final seven minutes-plus of the fourth period to give the final score a somewhat misleading appearance.
With running room scarce despite the attempts of as many as seven different ball carries, the bulk of Lake Norman's yardage came through the air. Limon complete the two TD tosses while also connecting with the cast of Tre Perkins, Jacob Reeves, Brandon Eakins and Caleb Douthit at least one time apiece.
Defensively, back Cri'Shon Shepard picked off a Vance pass for the Wildcats' lone forced turnover.
On another high note, Lake Norman punter Jason Morrow cut loose with what was measured to be a 70-yard punt helping pin down Vance deep in its own territory.