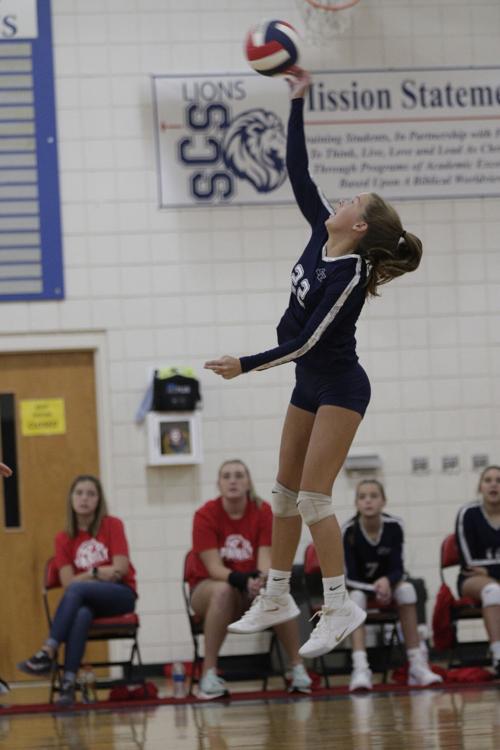 When Hickory's University Christian polished off its three-set victory Tuesday at Statesville Christian, the volleyball teams acknowledged each other from their respective side of the court.
There were no post-game handshakes, a customary show of sportsmanship.
That wasn't the only thing out of the ordinary. The teams didn't change benches between sets, a hallmark for the sport.
Welcome to the return of high school athletics in the COVID-19 climate.
"Definitely a lot of differences, a lot of things that are awkward," Statesville Christian coach Abby Dunlap said. "Obviously, no fans, and that takes away home-court advantage. That's not why we lost, though."
Statesville Christian and University Christian split their two meetings a year ago, with the Barracudas taking the rematch in five sets after previously getting swept by the Lions.
On Tuesday, the Lions just didn't have an answer for right side hitter Megan McNeely and outside hitter Maddie Smith, neither of whom played for University Christian last season. That duo racked up a bunch of kills as part of an impressive offensive performance that included plenty of aces too.
"That was a totally different team," Dunlap said after the 25-12, 25-14, 25-19 loss. "All their new girls were their best girls. … I wasn't going into the season with an expectation knowing some of the teams we play could be getting transfers from the public schools."
Brenna Rae Bentley recorded a kill early in the third set to give the Lions a rare lead. Natalie Harper followed with an ace, upping the advantage to 5-3.
An 8-0 run propelled University Christian back into the lead for good. Statesville Christian stayed within striking distance until a 6-0 spurt, highlighted by two McNeely aces, put the exclamation point on the win.
"The girls did rally a little in the third set and put together some nice points," Dunlap said.
She was particularly pleased by the spark freshman middle hitter Jessica Roberts provided. Roberts registered back-to-back points midway through the third set to get the Lions within 14-10 after University Christian opened up a 14-7 lead on Smith's ace.
"She really surprised me and stepped up," Dunlap said of Roberts. "Our other middle is injured. She had to step in and play a little more than I anticipated. She did a good job. She was very aggressive on the net."
Roberts finished with five blocks. Statesville Christian senior setter Triniti Austin had nine digs and six assists.
Statesville Christian opened the season at home Monday with a four-set win over Hickory Christian. Notable contributors for the Lions were Austin (26 assists, 10 digs), Harper (22 digs, seven kills, five aces), Roberts (seven blocks), Bentley (19 digs, 15 kills) and Raven Queen (17 digs).
The Lions host Caldwell Academy looking to bounce back from their first loss.
"We'll go into Thursday with a clean slate and try to play better," Dunlap said.
Be the first to know
Get local news delivered to your inbox!