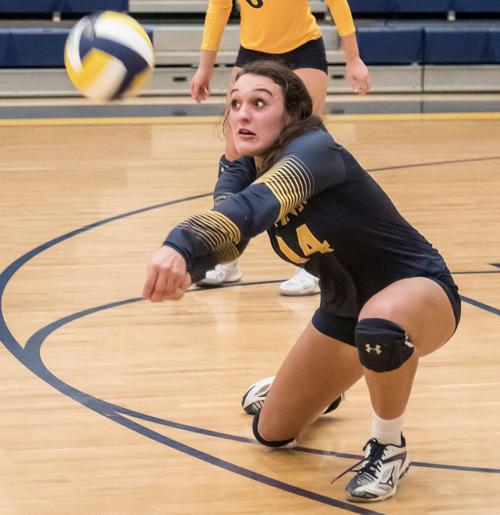 TROUTMAN—It is not uncommon for an elite senior fall athlete, who will continue their sports career at college, to choose early graduation.
If ever there was a year that election seemed more than understandable it is 2020, given the circumstances surrounding COVID-19 and its impact on athletics.
The N.C. High School Athletic Association's revised sports calendar permitted volleyball to still be played this year—albeit delayed—as opposed to being moved to 2021 like many other fall sports. But even if it had been pushed to February or later, South Iredell standout and North Carolina Tar Heels commit Marissa Meyerhoefer never intended to leave early for Chapel Hill.
"I love high school," Meyerhoefer said. "I never wanted to get out of here early. I wanted to play high school volleyball again. I wanted to have prom, to have graduation. I wanted to have a senior year.
"In my mind there was no rush to get (to UNC), being (recruited as) a libero. It's usually the setters and hitters that get there earlier to work on connections."
Meyerhoefer enters her fourth varsity season with the Vikings, and coach Megan Skouby is thrilled to have retained the services of the multi-dimensional talent for one more campaign.
A first-team All-County selection as a junior, Meyerhoefer was second on her team in kills (291) and digs (272) a year ago, when the Vikings finished second in the North Piedmont Conference to 3A West region finalist West Rowan and 19-7 overall. They reached the third round of playoffs before losing in four sets to state finalist West Henderson.
Behind her potent jump serve, Meyerhoefer led South Iredell in aces with 59.
She is more of an asset to the team than just stats, though.
"She's essentially our vocal leader," Skouby said. "She's a role model for the younger players. She works her butt off no matter what. She is a huge competitor on the court and will go after the ball wherever it is."
Meyerhoefer joins versatile Whitley Weddington and right side hitter Caroline Cutler as the lone seniors on this year's South Iredell roster.
Key losses include outside hitter Taylor Osborne (UNC Pembroke) and setter Malina Harris (UNC Asheville).
"We've got a couple of holes to fill, but there are a lot of promising underclassmen," Skouby said. "The kids we have are good."
With the departure of Osborne, Meyerhoefer could see a spike in targets from the setter.
"She's so powerful," Skouby said.
Meyerhoefer welcomes the idea of more spike attempts.
"I'm really excited I get to hit one last time for high school," the 5-foot-8, dual-position cog said with a big smile. "I'm too short to be a hitter in college."
The Vikings open the season Tuesday at Statesville. Their regular season is scheduled to end Dec. 21 at home against Carson. The NPC tournament will be Jan. 5-7 with the playoffs to follow.
"You can tell the girls are real excited to be back," Skouby said.
The schedule is reduced compared to previous years. South Iredell will only play conference opponents.
There are guidelines set forth by the NCHSAA which teams must follow, and it includes those not in the game to wear masks.
The situation may not be ideal.
It's better than the alternative.
"I'm really happy we are getting to play," Meyerhoefer said. "Even with the masks and restricted attendance (for spectators)."
Be the first to know
Get local news delivered to your inbox!