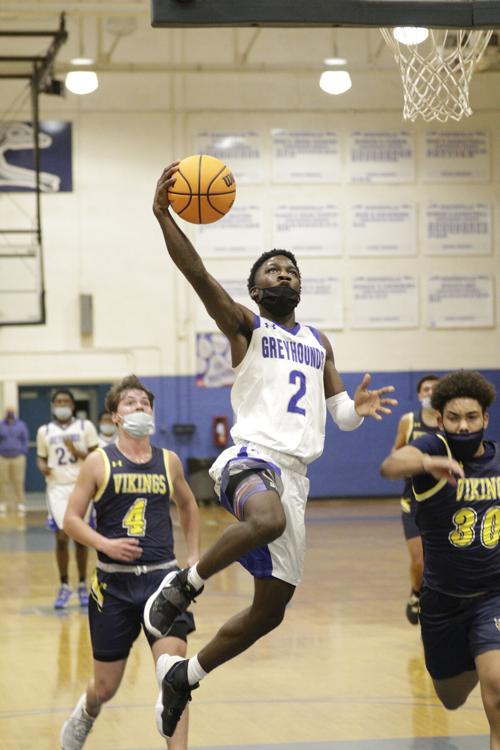 Statesville guards outpaced South Iredell's interior attack to come away with a narrow 67-64 North Piedmont Conference-opening win Tuesday night.
Greyhound Messiah Robinson effectively penetrated the lane for layups and floaters from his point guard spot, scoring 18 points.
Zamari Stevenson sprinted past the South Iredell defense for several layups, helping Statesville build a first-half lead and energizing his teammates. He finished with 14 points.
South Iredell forward Gavin Morrison used his soft hands and size advantage to score a game-high 20 points, all coming in the paint.
Viking forward Braydon Watson-Jones displayed his three-way scoring ability, sinking mid-range shots and 3-pointers to start the first and fourth quarters and finishing with 19 points.
Statesville lacked effective interior defense and struggled to box out. Consecutive putback baskets by Will Vuk brought the Vikings within three at halftime, 36-33. Vuk scored eight points, all coming in the second quarter.
South Iredell sought to push the ball up the court with long passes after both makes and misses, at times finding quick baskets, but often leading to unforced turnovers.
With South Iredell trailing 48-42 midway through the third quarter, Morrison scored on a putback and then on an assist from Marcus Chambers to bring the Vikings within a point. But baskets by Robinson and Stevenson preserved Statesville's lead heading into the final quarter.
Sam McLeod followed a Watson-Jones three with a three of his own to start the fourth quarter, and a baby hook by Morrison gave South Iredell its first lead of the second half, 59-58.
But after elevating to rebound a missed Viking attempt, Stevenson led the Statesville fast break and dished to Robinson for a Greyhound basket. Robinson beat his defender for another basket the following possession, and a fast-break layup by Stevenson capped a 7-0 Statesville run.
TJ Miller scored 16 points for Statesville, and Chris Brown added 11.
Zeigler leads South Iredell girls to tight victory
South Iredell girls basketball prevailed in a tightly contested matchup with Statesville, 41-37.
To go along with scoring a game-high 14 points, point guard Ashtyn Zeigler led South Iredell as the team's primary ball-handler, often protecting possessions when Statesville pressured the ball and finding teammates for easy baskets inside.
Statesville guard Nakayla Connor-White led Statesville with 16 points, including four 3-pointers.
Each team suffocated the other early with different zone defenses, making for several deflection-filled possessions.
Emily Hapes sunk a three from the wing for South Iredell midway through the second quarter with the Vikings trailing 11-5, their biggest deficit. Zeigler made a steal and converted two free throws after drawing a foul, and a follow-up basket by forward Kayden Johnson gave South Iredell its first lead with a quick 7-0 run.
Statesville scored many of its points after making offensive rebounds. Connor-White made a corner three after two Greyhound misses. On the team's next possession, center Alley Slaughter finished off the glass underneath on the third Greyhound shot.
Zeigler tallied the fourth lead change of the first half by stealing an inbounds pass and racing for a layup giving South Iredell a 17-16 halftime advantage.
Statesville instituted a full-court press to start the second half. Despite forcing a handful of turnovers, a failure to get back into defensive positioning led to quick Viking baskets.
With the South Iredell zone defense stifling Statesville early in the final quarter and the Vikings seem to build a lead, Connor-White drained back-to-back threes keeping Statesville close. The Greyhounds pulled within a point when forward Sha'kiya Bowman finished a layup off an assist by Connor-White.
But Zeigler converted a pair of foul shots, two of her 10 fourth-quarter points, putting South Iredell ahead, 40-37. And a defensive stop by the Vikings gave them the win.