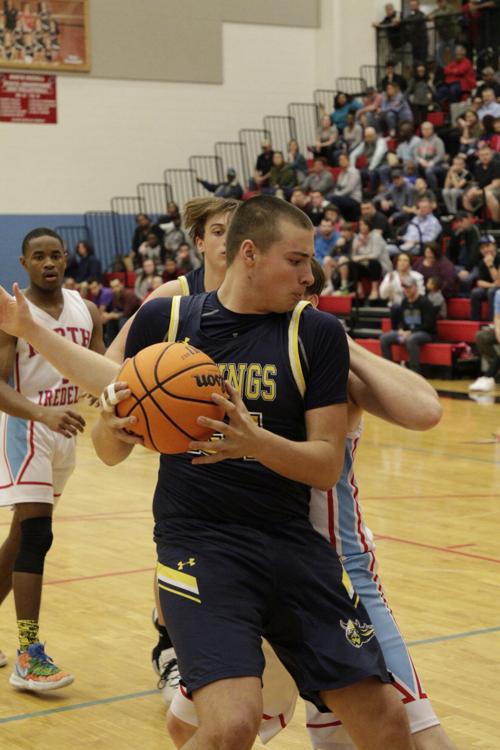 Entering the final month of the regular season last year, the South Iredell boy's basketball team was just 5-14, having taken a beating in a tough non-conference schedule. That all changed once the calendar flipped to February.
The Vikings rolled off five consecutive wins to start the month of February, a stretch that included them avenging two losses to conference foes from earlier in the season and a victory in the conference tournament.
Now, with much of the roster returning and a new head coach, Melvin Nesbit, to inject new energy into the program, the Vikings look to pick up right where they left off last season in 2021.
"I think the growth (at the end of last season) was great," Nesbit said. "I think the guys that had come up from JV got to build a lot of confidence during that late run. They feel like they can play with anybody."
Last year, the Vikings' roster was mostly made up of juniors and sophomores. With only three seniors on the roster, accounting for just over 19 points and eight rebounds, Nesbit is confident that this year's team can more than make up for the losses.
"We have six (returning) guys that got significant playing time last year," Nesbit said. "They got a lot of experience in games and turned it around at the end of the season."
Gavin Morrison, who was named to both the All-County and All-North Piedmont Conference teams last season, returns after averaging 12.7 points and 9.2 rebounds in his junior campaign. During the Vikings' successful stretch run last year, he improved on those numbers, averaging 18.7 and 12.2 rebounds over South's final six games.
Nesbit also took notice of Sam McLoed in the offseason, calling him a team leader and commending him on a great summer of workouts. As a junior last season, McLoed scored just 3.3 points but played in 23 of the team's 25 games.
Other players that will have an impact on the Vikings' season will be senior Chase LaBelle and juniors Braydon Watson-Jones and Marcus Chambers, Jr. Last season, LaBelle averaged 5.7 points and four rebounds while playing in all 25 games.
Watson-Jones averaged 3.8 points and 3.6 rebounds while appearing in every game as a sophomore and Nesbit is looking for him to have a breakout year. Chambers played in eight games last season as a sophomore and his coach is looking to him to make the step to contributing in a big way in 2021.
But even with the high hopes that South Iredell has going into the season, the pandemic has made things hard on everyone.
"It's been extremely difficult," Nesbit said. "We've been working all summer and fall - three to four practices a week, whenever we can get into the gym. But it's just another hurdle that the team has to get over."
Coach Nesbit said that he has the players this year to play a more uptempo style of basketball, but even that is being challenged by the pandemic. Players will have to wear masks on the court, making that style a bit tougher.
"They've been practicing in the masks and it's tough on them," Nesbit said. "But these kids are willing to do whatever it takes to play."
The pandemic has also shortened the basketball season statewide to just 14 games, meaning there is very little basketball to be played outside of the conference. This poses a unique challenge to the Vikings, who are slated to make the jump to 4A next year and they will lose out on games this year against that level of competition.
But that's next year. Aside from playing West Iredell and Lincoln Charter to start the season, the Vikings won't venture outside the NPC for the remaining 10 games of the season, meaning they will be playing nothing but familiar foes in 2021.
"I just want to see a team with no quit," Nesbit said. "I want to be the team that jumps on other teams early and that my guys are always into the game and willing to do whatever they need to do to win.
"We have a motto: fundamentals, discipline, defense, and fun equals wins."