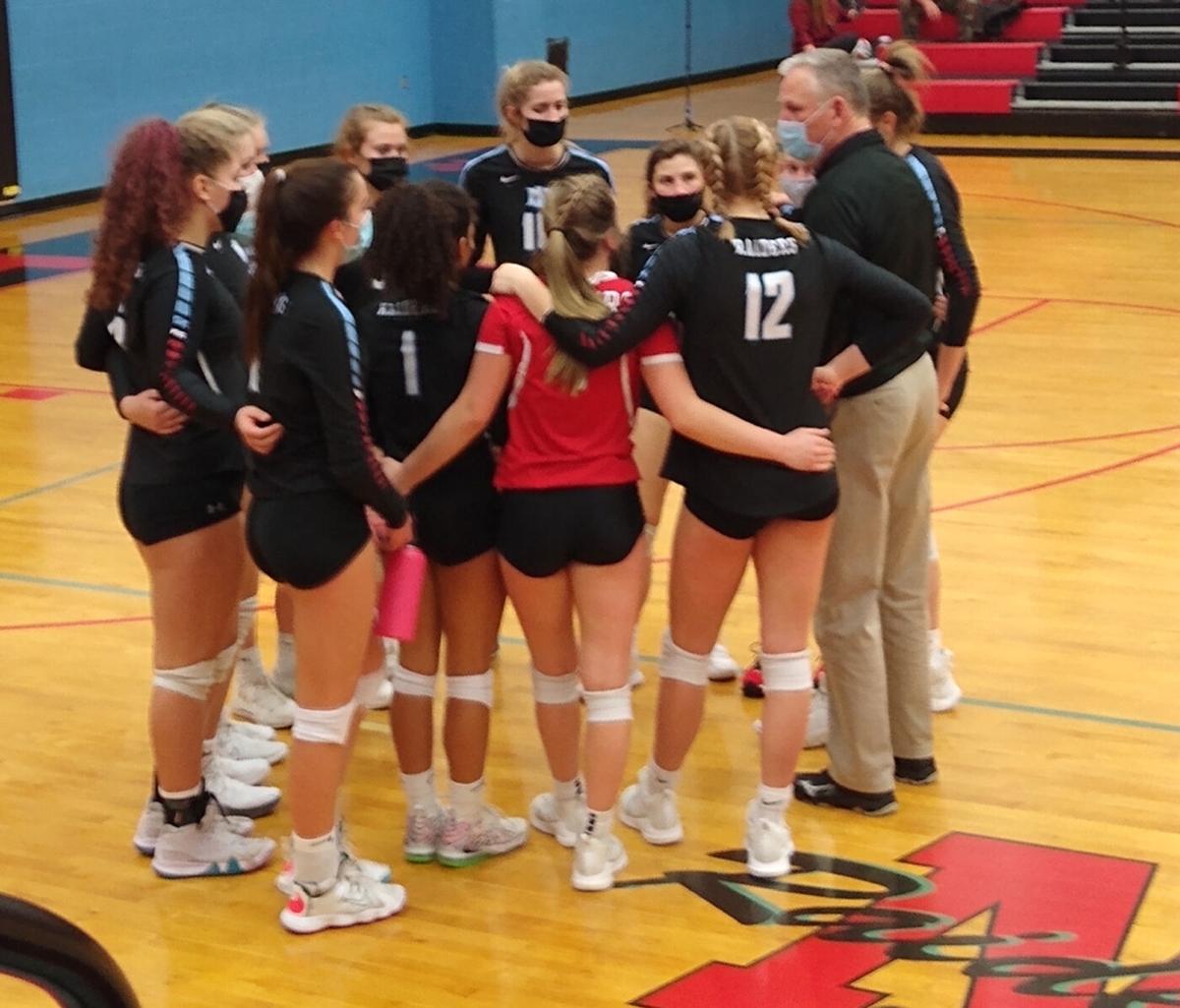 OLIN—North Iredell marched on to the round of 16, beating Weddington in three sets during the opening round of the 3A state volleyball playoffs Tuesday night.
The unbeaten Raiders seeded third in the West, sandwiched 25-22 wins in the first and third sets around a 25-16 victory in the second over the 14th-seeded Warriors.
Emma Norris registered six kills and three blocks.
"I'm very happy to have advanced," North Iredell coach Dave Markland said. "Weddington is a solid team and well-coached. They made us earn points."
Setters Breanna Gibson and Ailena Mykins caught the Weddington defense off guard when each dumped the ball over the net for a point rather than setting the ball to Raiders hitters, and it helped propel North Iredell to a 16-15 advantage in the tight third set.
Skylin Guill and Gibson each had huge digs on monster spikes from Weddington 5-foot-10 junior Lyvia Trimp, and those plays to extend points helped allow the Raiders to go from trailing 12-10 to leading 21-20.
Erin Milligan spiked the ball off the Weddington block for a kill to make it 23-21. Madeline Sigmon's second ace in the third gave the Raiders a 24-21 lead.
The Warriors saved one match point before North Iredell sealed the deal.
The Raiders squandered a five-point lead early in the first set. Quincy Cook's kill and then block permitted Weddington to tie 12-12. It was 13-12 Warriors after Trimp served an ace.
The Raiders regrouped after that run.
North Iredell senior Karli Gray put soft returns to the net on the floor for kills that secured 23-21 and 24-22 advantages, and Trimp's spike sailed long on set point.
Cook finished with a match-high six blocks. Markland attributed yielding the big run in the first set to some first-round playoff nerves from his relatively young team. He also thought they should have stayed away from Cook at the middle of the net in more instances.
But, "this time of year I'm not as concerned about how we get it done," Markland said with a grin.
North Iredell repeatedly served the ball to Trimp on the back row.
That was by design: make the Warriors' top hitter defend and pass. It affected the flow of their offense.
"It was working, too," Markland said. "But there were some times when she was in one zone and we put the ball in another. We're better servers than that."
Trimp finished with a match-best 11 kills.
Bolin tallied six kills, and Sigmon and Emily Campbell supplied four kills each.
Gray had two blocks and two aces to go with her three kills, and Tilley Collins keyed the back-row defense for the Raiders.
Weddington's season ends at 10-5.
The Raiders (14-0) will host a second-round game Thursday at a to-be-determined time. It will be against No. 11 seed Marvin Ridge (11-3), which defeated No. 6 seed Kings Mountain (11-2) 25-23, 25-20, 25-21 in the first round Tuesday.
Marvin Ridge captured the 3A state title in 2018, the year after North Iredell won it all. The Mavericks also advanced deep into the playoffs in 2019 before losing in five sets to state finalist West Henderson.
"Anyone you get this time of year is capable of beating you if you don't play your best volleyball," Markland said.
Marvin Ridge is a member of the same conference as Weddington and lost both of the teams' meetings this season. One went three sets and the other lasted five.