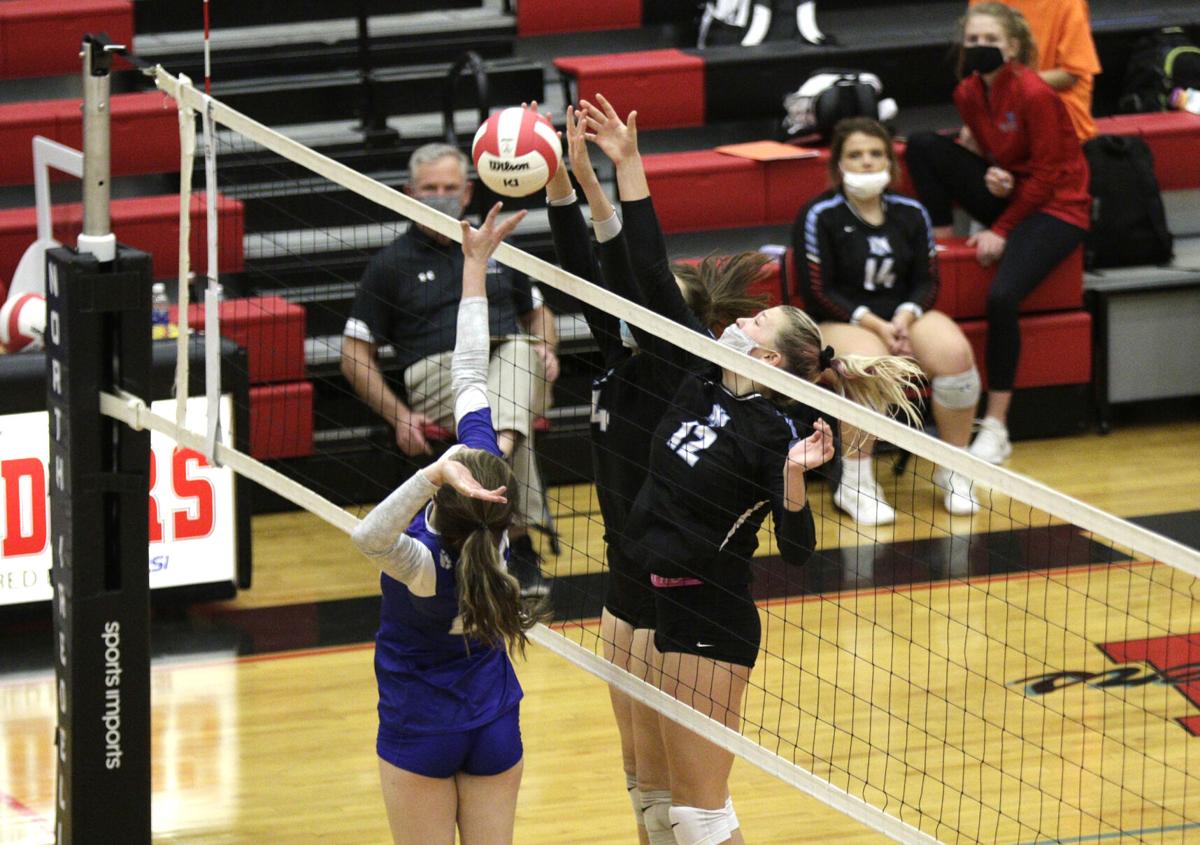 OLIN—Two matches in the books and a pair of wins to show for it.
North Iredell triumphed in its home opener Friday night, turning back Statesville 25-11, 25-12, 25-12. That sweep followed Tuesday's season-opening, three-set victory at Carson.
The Dave Markland era as North Iredell head volleyball coach is off to good start.
"It is just two games. That's all," acknowledged Markland, who took the reins following 17 seasons leading the Lenoir-Rhyne University program. "I haven't settled on a lineup yet. We're still looking at some things. But I thought they clicked tonight. I'm very proud. I think we played solid and smart. There weren't many, if any, mental lapses. But there's still lots of work to do."
Skylar Bolin registered a match-high nine kills, and Emily Campbell supplied another eight kills to complement her two blocks as the Raiders improved their chances of staying in the North Piedmont Conference championship hunt during this coronavirus-shortened season.
Emma Norris and Madeline Sigmon contributed five kills apiece, and Breanna Gibson served a match-best four aces.
Aliena Mykins served two aces, but it was her ability to direct the Raiders' attack that proved unfortunate for Statesville. Their hitters found a flow with Mykins setting.
At one point in the opening frame, Mykins scrambled to track down a pass and still managed to get a good set to Bolin, who spiked it to the floor on the opposite side of the net for her third kill.
"We've got two good setters," Markland said. "Her and (Gibson). We're looking at a 5-1 (offense), but I feel comfortable with either one of those setting the ball."
North Iredell amassed 12 aces, and its serve had the Greyhounds on their heels on many other points.
It was a step backwards for Statesville, which received serve much better despite a loss to South Iredell in the season opener Tuesday.
Maybe it was the Raiders' ability to change speeds and spots they served to. Statesville coach Denise Hayes felt the issue belonged more on their side.
"We had some people in different positions trying to balance offense and defense," said Hayes, who was pleased by her team's improvement on blocking and getting touches at the net. "Sometimes it works and sometimes it doesn't."
This is Markland's first season coaching high school volleyball since the early 2000s when he was at the helm at Davie County.
A lot has changed since then, not the least of which is the current constraints due to COVID-19, which includes players wearing masks whether they're in the game or not.
"This has been a crazy year," said Markland, who coached at West Caldwell from 1999-2000 after leading the Appalachian State Mountaineers from 1992-1998. "I enjoy working with the girls. They work hard, and that's all I ask. I hope we continue to improve and have a great season."
Karli Gray, Emma Norris and Madeline Sigmon each had five kills for the Raiders. Heidi Jenkins served three aces, and Tilley Collins had two aces.
Kylee Mayberry led Statesville with seven digs, five assists, four kills and one ace. Eliana Valenti chimed in with 10 digs and four kills, and Emily McIntosh finished with five assists and two aces.
North Iredell visits reigning NPC champion West Rowan on Monday.
Statesville hosts Carson the same night.
Be the first to know
Get local news delivered to your inbox!