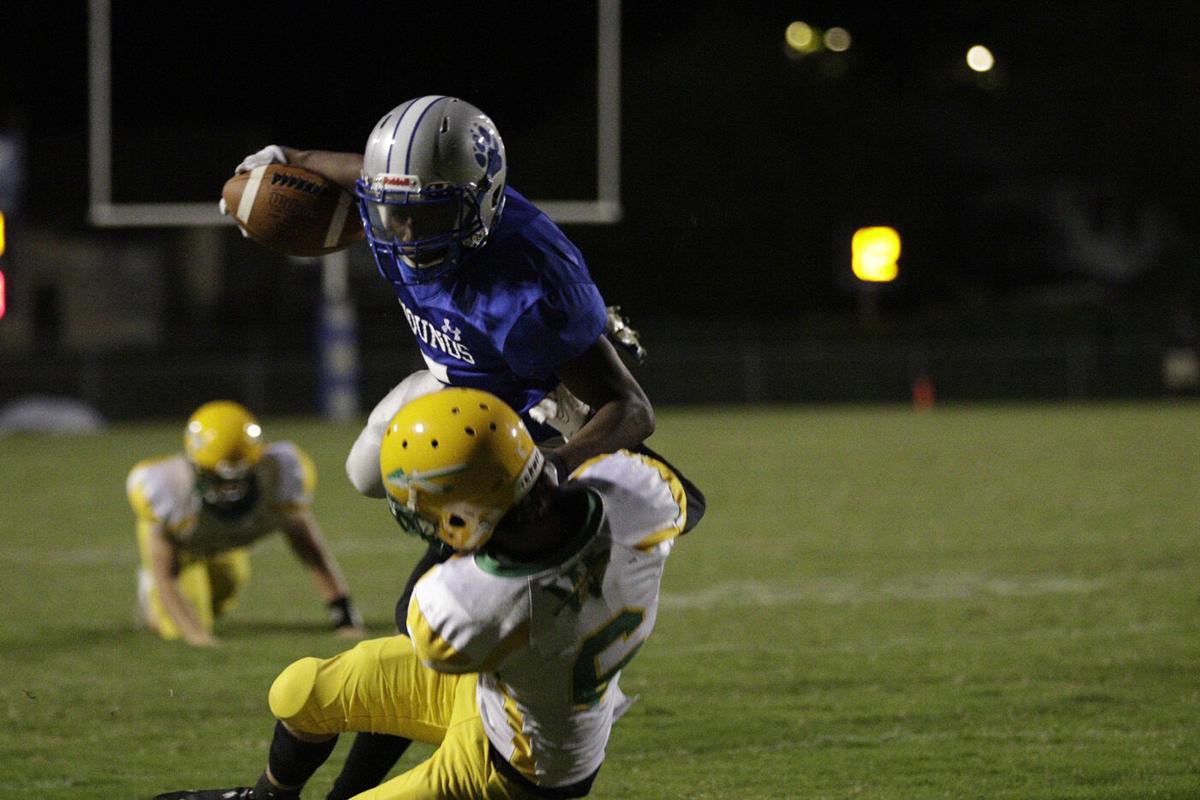 Other than getting in its own way on occasion, Statesville had no trouble making sure Homecoming was a success Monday night.
Zamari Stevenson scored three touchdowns and recorded one of the Greyhounds' three interceptions as Statesville rolled to a 56-7 victory over West Iredell in a game that was originally scheduled for this past Friday but was moved due to weather.
"Playing on Monday is not ideal," said Statesville coach Randall Gusler, noting no practice over the weekend. "I think the guys came in and did what they had to do."
The Greyhounds scored on their first possession. Stevenson took the jet sweep toss from Elijah Munoz 40 yards for a touchdown.
On the ensuing West Iredell possession, Statesville defensive lineman Kelyn Watts intercepted Cade Gaither and returned the pick 15 yards for a score.
That 14-point outburst, coming a minute apart midway through the first quarter, was more than enough on a night Statesville's defense was zeroed in again.
Statesville had three touchdowns called back in the second quarter because of penalties.
JZ Harrison-Connor's 18-yard TD run was wiped away by a yellow flag. On the same drive another flag negated Jaylen Himes' 37-yard TD reception from Zamari Stevenson.
The Greyhounds, leading 21-0, went from having the ball at the West Iredell 18 following Amontae White's interception, to snapping the ball from their own 45. Then Stevenson got hit when he dropped back to pass and his short toss went right into the arms of West Iredell's Tristan Hopkins, who advanced the defensive takeaway to the Statesville 6.
Hopkins' interception led to an Eric Dalton 7-yard TD run with 1 minute, 44 seconds left in the half. But, not before Statesville's Kiedron Dukes had an 89-yard interception return for a touchdown called back due to a penalty.
"It's going to happen," Gusler said. "Lots of times in games where you're scoring quickly you can get a little sloppy."
Statesville had two touchdowns called back on penalties in the previous blowout win over Fred T. Foard.
Statesville's Steven Smith and Sam Chacon were named the N.C. Farm Bureau Insurance Offensive and Defensive Players of the Game.
Smith caught touchdown passes of 20 and 50 yards and finished with 122 yards receiving on three catches.
Chacon, a defensive lineman, was in the Warriors backfield routinely and had three tackles for losses.
Munoz, a West Iredell transfer, was 4 of 6 passing for 146 yards and three TDs. Stevenson completed 4 of 8 passes for 97 yards and a TD.
Harrison-Connor's 44-yard TD reception from Munoz extended the Statesville lead to 49-7 with 11:36 remaining in the fourth.
Trey Threatte had the longest play from scrimmage for the Warriors with a 27-yard carry. West Iredell had 17 plays go for negative yards and netted only 32 on the evening.
Statesville kicker Sam Buckner booted the ball into the end zone for touchbacks seven times, forcing the Warriors to start 80 yards away from the end zone.
"It's a weapon," Gusler said.
Statesville senior Jayden Moten was named Homecoming Queen during the halftime ceremony.
Statesville (6-0, 4-0) travels to Olin to face North Iredell on Friday. West Iredell (1-4, 1-3) hosts Hickory the same night.
Statesville 56, West Iredell 7
Statesville;14;14;14;14—56
S—Elijah Munoz 40 jet sweep toss to Zamari Stevenson (Sam Buckner kick no good), 6:20.
S—Kelyn Watts 18 INT return (Buckner pass from Munoz), 5:21.
S—Stevenson 18 run (Buckner kick), 7:21.
WI—Eric Dalton 7 run (Kendall Brown kick), 1:44.
S—Steven Smith 20 pass from Stevenson (Buckner kick), :46.
S—Smith 50 pass from Munoz (Buckner kick), 7:44.
S—Stevenson 27 run (Buckner kick), 1:56.
S—JZ Harrison-Connor 44 pass from Munoz (Buckner kick), 11:36.
S—Munoz 15 run (Buckner kick), 7:20.