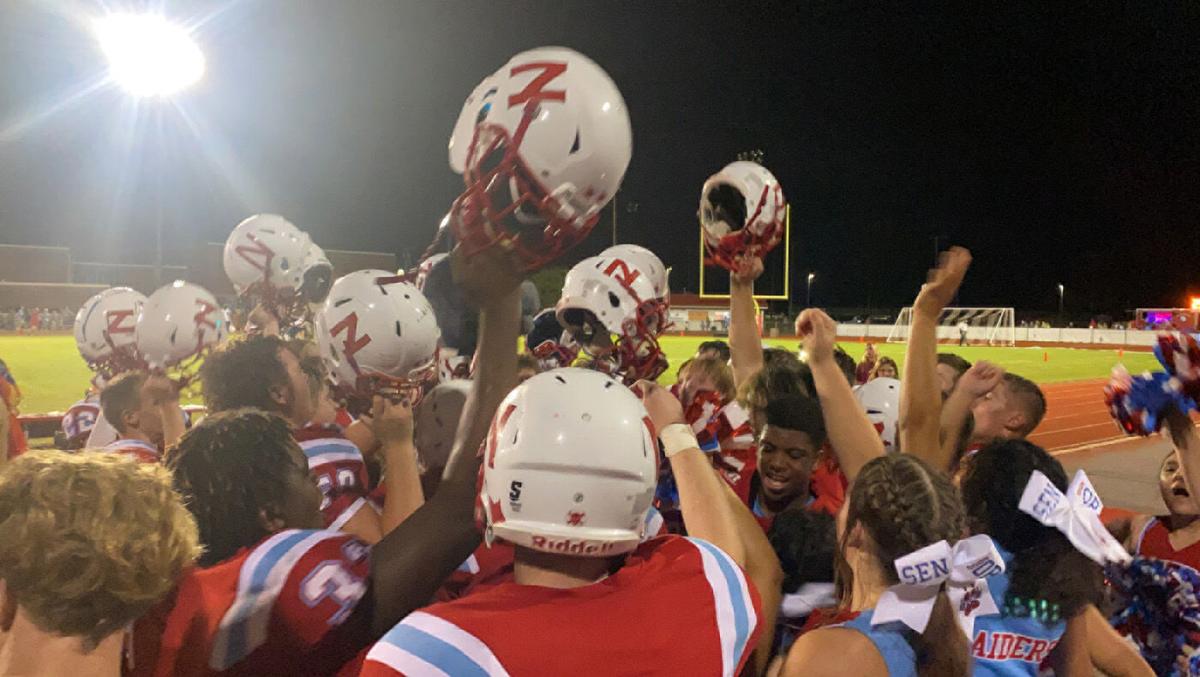 OLIN—As John Jackson Jr. crossed the goal line for the fifth time Friday night everybody in Raider Ravine could feel what was about to happen, but not many on the field actually knew what it was supposed to feel like.
It had been exactly 1,100 days, or just a few days over three years, since North Iredell had won a football game. Streaks like that don't end easily, the Raiders had to go out on the field and leave no doubt—and they did.
Behind a five touchdown performance from Jackson Jr., the Raiders (1-2, 1-0) beat down the visiting Fred T. Foard Tigers (0-3, 0-1) 34-0 to end a losing streak of 25 games that dated back to September 13, 2018.
"The guys are smiling...they haven't smiled a lot after a game lately," North Iredell head coach Andy Howell said. "We've got about eight guys in there that haven't won a game since elementary school and everything went right for them tonight.
"I just feel great for the kids."
There was plenty to feel great about. From the opening kickoff all the way through the ice bath that the players gave to Howell as time expired, the Raiders dominated the game in every facet. Jackson led the offense to a 315-yard night, with 218 of that coming on the ground.
Jackson, himself, racked up 108 of those rushing yards to lead North Iredell, doing all that damage on just 15 carries. Four of those runs ended in six points for the Raiders. He added a passing touchdown, a 55-yard rainbow to Logan Brooks, for good measure. Jackson finished the night throwing for 97 yards.
"John Jackson is a great kid first—he's a better kid than he is anything," Howell said. "He's really bought in and been a leader on this team this year. I can't say enough about him."
Jackson wasn't the only standout for the Raiders on Friday night. The entire defense stepped up and held Foard to just 33 yards of total offense, completely shutting down the Tigers running game. For the game, Foard registered minus-19 rushing yards on 19 attempts as the Raider defense orchestrated the program's first shutout since August 23, 2013.
"I hope so, I hope so," Howell said when asked if this was a turning point for his program. "These guys have all bought in and they're getting closer as a team. They could have split after last week, but they didn't. I'm happy they didn't."
Also contributing to the North Iredell cause was sophomore running back Sabino Moreno, who picked up the tough yards on the ground for the Raiders, rushing for 80 yards on 20 carries. To go along with his long touchdown catch, Brooks also made his presence felt on defense, picking off a pass in the third quarter and returning it deep into Tiger territory.
After making it through the handshake line, the Raider players, rather than meeting up and celebrating on the field, ran towards the home side grandstand, forming a moshpit with the rest of the student body in attendance and the cheerleaders. They jumped up and down to the music that was blaring from one of the student's portable speaker and eventually broke off to find their friends and family to celebrate with them, too.
"This is the best community in Iredell County," Howell said. "Everyone still comes out to support us even though we've been struggling. I'm just so happy."
Now, for the first time since September 16, 2018, the Raiders get to start practice on a Monday following a win and that's something that Howell is ready to see.
"It's always great to come back to practice on Monday after a win," he said. "We just gotta come back and go back to work. We've still got a lot of room to grow.
"I just told them to have fun. I'll stay here as long as they do tonight."
North Iredell 34, Fred T. Foard 0
North Iredell; 7;13;14;0--34
NI - Jackson Jr 10-yd run (PAT Good), 5:59
NI - Brooks 55-yd pass from Jackson Jr (PAT No Good), 9:29
NI - Jackson Jr 4-yd run (PAT Good), 0:21
NI - Jackson Jr 45-yd run (PAT Good), 10:15
NI - Jackson Jr 4-yd run (PAT Good) 3:04