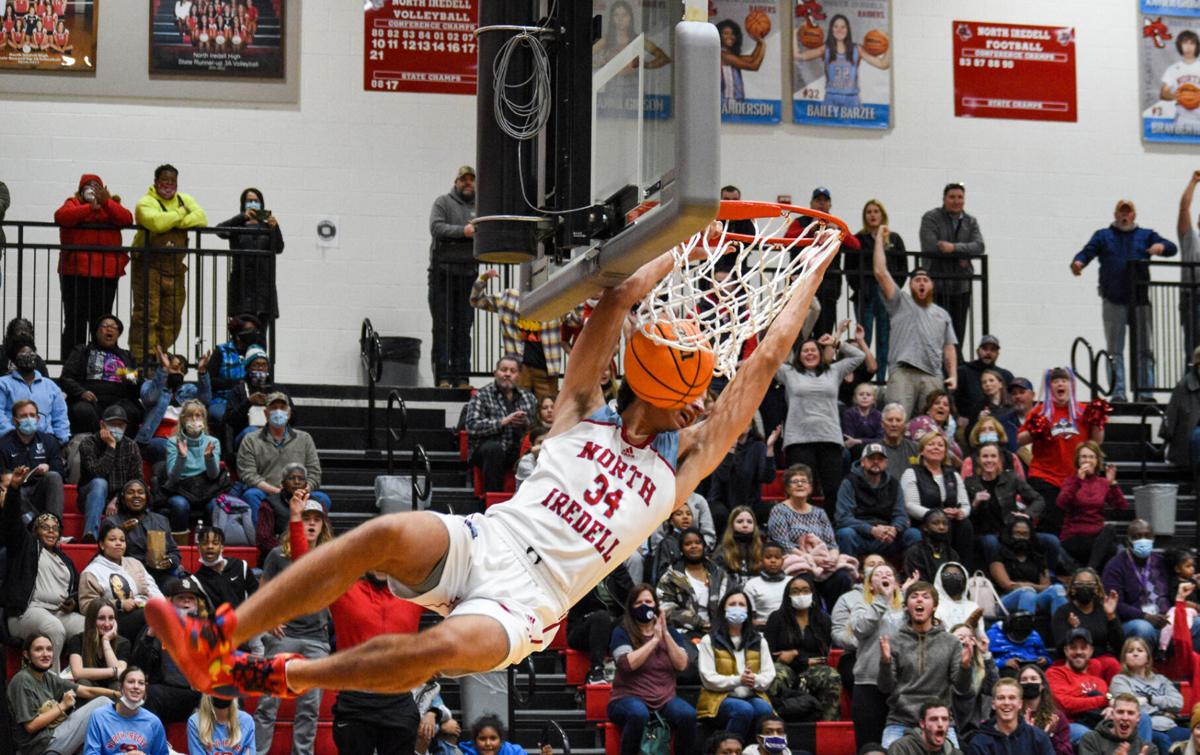 OLIN—North Iredell's Beckham Tharpe stole the ball at midcourt and drove in for a two-handed jam to open the scoring Friday night against Statesville.
It was a sign of things to come. There were three more dunks for the junior forward including an alley-oop slam on a lob from Jackson Hawkins in the third quarter. That one made it 50-21. The running clock mercy rule was not far behind.
The Raiders dominated from start to finish against their rival and picked up an 82-29 Western Foothills Athletic Conference victory.
"We came out and did exactly what we wanted to," North Iredell coach Jeff LeVan said.
Whether it was full-court pressure generating turnovers, running the floor in transition, rebounding or half-court offense, the Raiders had it going in their favor.
John Jackson Jr.'s fastbreak layup and subsequent free throw after drawing a foul on the play extended the Raiders' lead to 11-0 near the midway mark of the first quarter.
Another Tharpe steal and dunk made it 19-0. He followed that with a transition slam.
The Greyhounds couldn't buy a basket but failed to stop the Raiders at the other end. The result: North Iredell led 25-0 at the end of the opening quarter.
"We had a come to Jesus meeting Wednesday at practice," LeVan said. "We have a ton of potential but haven't played up to it.
"The execution, attitude and effort were all there tonight."
Messiah Robinson knocked down three 3-pointers in the second quarter as the Greyhounds found some offense. But their 19 points in the period only matched that of North Iredell's output and they still trailed by 25 (44-19) at halftime.
The lead continued to balloon in the second half. If not for a running clock after the lead reached 40 points in the third quarter the Raiders probably would've scored 100. And that's with their reserves playing a lot of fourth-quarter minutes.
"First time this season we've played four quarters of good ball," LeVan said. "We played 28 minutes against Lake Norman and 30 against Mooresville. This was exactly what we needed.
Tharpe led all scorers with 20 points. He also had 11 rebounds and three steals. Jackson supplied 19 points and four assists, and Jackson Hawkins tossed in 18 points to go with his seven rebounds, three steals and three assists.
Robinson led the Greyhounds with nine points.
Statesville (4-5, 1-3) steps out of conference play Monday when it visits Mooresville, champion of the North Iredell Holiday Classic.
North Iredell (10-4, 4-1) is at East Lincoln (12-2, 5-0) this coming Friday. The Raiders can move into a first-place tie in the WFAC with a victory.
"It's a huge game," LeVan said.
North Iredell 82, Statesville 29
North Iredell;25;19;25;13—82
STATESVILLE (29): Messiah Robinson 9, Miller 4, Smith 4, Owens 4, Clark 2, Bryant 2, Bailey 2, Moore 2.
NORTH IREDELL (82): Beckham Tharpe 20, John Jackson, Jr. 19, Jackson Hawkins 18, Kerr 5, Cloer 4, Saunders 4, Dancy 4, Kidd 3, Grimball 2, Mann 2, Coltrane 1.