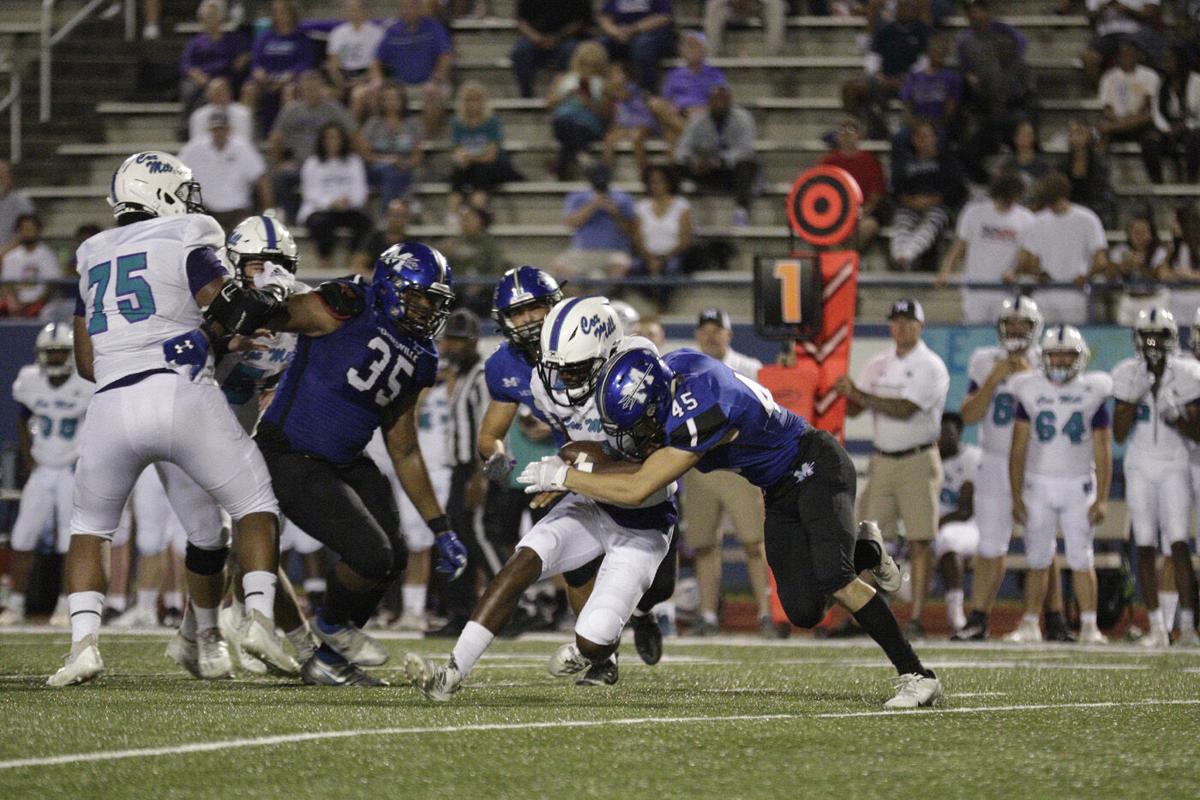 MOORESVILLE—The faint smell of nearing Autumn filled the air on Friday night at Coach Joe Popp Stadium as the Mooresville Blue Devils (2-2) won their first Greater Metro Conference game of the season defeating the Cox Mill Chargers (3-2) 33-14.
Mooresville jumped out to an early 21-0 lead at halftime behind a strong first half from junior quarterback Jamere Cherry. Cherry went 7-for-11 for 136 yards and two touchdown passes, both to senior Davyn Reid, to begin what ended up as the most complete performance the Blue Devils have had this season. Cherry was 8-for-16 for 141 yards in the game.
"We challenged our kids after last week's game and we knew Cox Mill was good, but we knew we're good as well," Mooresville head coach Joe Nixon said. "I really feel like we took a step in the right direction to being a great team tonight."
The Blue Devils stifled any Charger advancement in the first half holding Cox Mill to 45 yards of total offense. Senior cornerback Elijah Wilson made his return to the defensive backfield and anchored a solid performance by the Mooresville defense. Cox Mill sophomore quarterback Khalel Wright went 10-for-29 in the game and threw for 171 yards and two scores, 157 of those yards and both scores coming in the second half.
"He's been doing it for us for four years and you can't replace him," Nixon said. "I'm so glad for Elijah, it was weighing on him not playing but he stayed patient and was great tonight."
The Mooresville defense forced three interceptions out of Wright in the game. With the score 27-14 and just over four minutes left on the clock, the Chargers gained possession back. Senior Andrew Washburn dropped into coverage and intercepted Wright and took it 45 yards for a touchdown to push the game out of reach for the Blue Devils. Senior Casey Lettie-Walker and sophomore Caleb Edstrom each had one interception.
The Blue Devils averaged over seven plays per possession Friday night and controlled much of the clock the entire game. A heavy dose of junior running back Jawarn Howell in the second half won Mooresville the time of possession game. Howell had 24 carries for 121 yards and one touchdown in the game.
"We're always going to try and run the football," Nixon said. "The offensive line played great and our offensive staff did a great job putting us in good situations and the players executed very well."
Mooresville picked up its first conference win of the year and will travel to Hickory Ridge next Friday. Cox Mill drops its second game of the season and will look to rebound against West Cabarrus the same day.
Mooresville 33, Cox Mill 14
Mooresville;7;14;0;12--33
M- Jamere Cherry 64 pass to Davyn Reid (Matt Dean Kick) 2:07
M- Cherry 33 pass to Reid (Dean Kick) 8:55
M- Cherry 7 run (Dean Kick)
CM- Khalel Wright 29 pass to Colin Reese (Sam Weber Kick) :45
M- Jawarn Howell 4 run (Dean Kick Miss) 7:36
CM- Wright 53 pass to Kendall Harris (Weber Kick) 7:06
M- Andrew Washburn 45 interception return (Dean Kick Miss) 3:36