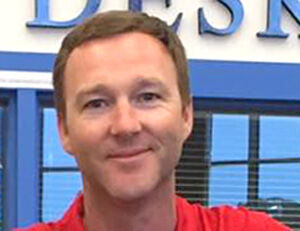 David Lewis recently updated his cover photo on Facebook. It features a Greyhound logo pictured on top of a solid black background.
It was a subtle way of letting family and friends know he had been reunited with his alma mater. There were plenty of likes, as well as welcome backs and congratulations in the comments section.
"Nothing but positive feedback," Lewis said Tuesday. "It's a nice homecoming."
A 1996 Statesville graduate, Lewis served as a Greyhounds assistant football coach for 10 years (2006-2016) before taking over as head coach at rival North Iredell.
But victories proved hard to come by in Olin.
In April, North Iredell let Lewis go after five seasons. The move came on the heels of an 0-6 season this spring. It was the fourth winless season for Lewis and the Raiders.
Lewis said he would lean on his faith in deciding what was next.
There were opportunities to coach inside and outside of Iredell County, he said, but ultimately he chose being an assistant again at Statesville.
"I just felt like I could have the greatest impact on young people at Statesville High and this community," Lewis said.
His role with the football team will be defensive analyst.
"I'm here to help any way I can," Lewis said. "If it's mowing grass, I'll mow grass. If it's watching film, I'll watch film. If it's encouraging a kid, I'm going to do that. If it's fundraising, I'll fundraise.
"The expectations of winning at Statesville are always high. I'm looking forward to that. I know I can help."
Lewis also relinquished his teaching duties at North Iredell to teach Career and Technical Education at Statesville.
Lewis said another thing that drew him back to Statesville was a conversation he had with principal Chad Parker, and he highlighted Parker's vision for the school going forward.
"It's been five years since I've been here," Lewis said. "There's been some changes. Some things have not changed. There's some really good people working all over the campus, and it'll be great to reunite with them."