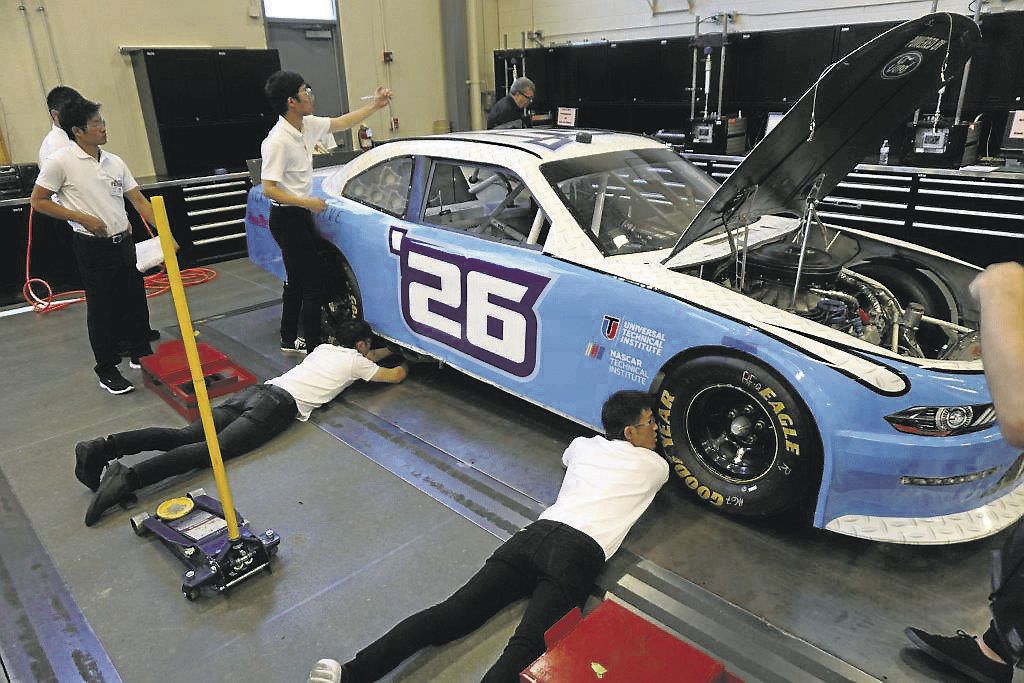 That was fast.
And it's a good thing, too.
For speed will most definitely be a factor when determining whether another rapid-fire international pit crew training session held at Mooresville's NASCAR Technical Institute will be considered a success.
NASCAR Tech recently opened its doors to some of the best and brightest Toyota technicians-in-training, to give them a glimpse into the fast-paced world of American auto racing.
Six students from Toyota Technological Institute in Tokyo, Kobe and Nagoya, Japan spent the week at NASCAR Tech to quickly learn the ins and outs of pit-road responsibilities. Their training will culminate on the track later this week at Iowa Speedway, where they will serve as the pit crew for Hattori Racing at the K&N Pro Series East race on Friday.
"Hattori Racing is a great partner of NASCAR Technical Institute, and we look forward to another opportunity to help them take the checkered flag," said John Dodson, vice president of business alliances and NASCAR at Universal Technical Institute. "NASCAR Tech's spec engine program already provides Hattori Racing with highly-competitive student-built engines. Through this program, we get to offer industry-leading training to a new set of students who are just as driven to succeed as we are."
This is the eighth year that students from Toyota Technological Institute visited NASCAR Tech for pit crew training.
"It's exciting for our team to host these students and offer them firsthand experience in NASCAR racing," said Shigeaki Hattori, owner of Hattori Racing Enterprises. "Most of the students who've participated in the program aren't familiar with NASCAR racing, so it's critical for them to get the training and instruction at NASCAR Tech before heading to the track.
"It's also the first time these students and instructors will visit the U.S.and the classes and training really help them understand the culture here. It's something that will benefit them when they return to the automotive field in Japan and stay with them for the rest of their lives."
NASCAR Tech is the exclusive educational provider for NASCAR and the only campus in the country to offer NASCAR-endorsed training.
NASCAR Tech's campus offers the standard Universal Technical Institute core automotive training program, with an optional 15-week elective to train students preparing for a career in motorsports. The 15-week elective trains students in everything from engines, fabrication, and welding, to aerodynamics and pit crew essentials. Through NASCAR Tech's elite Spec Engine program, select students have the opportunity to build engines that will compete in NASCAR-sanctioned races.
Be the first to know
Get local news delivered to your inbox!