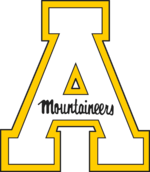 BOONE—USA Today on Thursday released its annual database for NCAA Division I public school athletics spending and revenue, with Appalachian State ranking 89th out of 230 schools in revenue during the 2015-16 academic calendar.
According to USA Today research, App State was third among Sun Belt Conference schools, behind Arkansas State and Texas State, with $31,712,155 in revenue for 2015-16. App State was listed as having $31,523,281 in expenses during that same time.
USA Today acknowledges that some schools interpret the reporting of revenue and expenses differently. As a private school, Wake Forest's financial numbers are not included in the list.
Appalachian State's revenue jumped from $7,634,231 in 2004-05 (the first year of the USA Today study) to $13,208,247 in 2007-08 (the final year of three straight FCS national championships, coupled with a memorable upset of Michigan), $19,414,754 in 2013-14 (the school's final FCS football season in the Southern Conference) and $29,695,016 in 2014-15 (the school's FBS debut in the Sun Belt).
Breaking down the $31 million-plus in 2015-16 revenue, according to USA Today, $11,233,314 came from student fees, $9,068,079 came from school funds, $3,861,260 came from contributions, $3,649,415 came from rights/licensing, $1,573,482 came from ticket sales and $2,326,605 came from other sources.
The ticket sales number from 2015-16 was the Mountaineers' lowest since 2007-08, as the school exceeded $2.3 million during each period from 2008-09 to 2012-13 as a Southern Conference member. Thanks to a record-breaking crowd of 34,658 for Miami's visit to Kidd Brewer Stadium, App State averaged a school-record 26,153 fans per home football game in the 2016-17 period that hasn't been documented.
From 2014-15 to 2015-16, App State had notable increases in contributions (up from the previous record of $3,792,320 the previous year) and rights/licensing (up from the previous record of $2,941,880 the previous year).
In regard to the $31 million-plus in 2015-16 expenses, according to USA Today, $8,798,829 came from coaching/staff, $5,426,717 came from scholarships, $4,462,090 came from facilities/overhead and $12,835,645 came from other sources.
Sun Belt leader Arkansas State ranked 68th nationally with $43,102,044 in 2015-16 revenue, and Texas State was 75th at $34,698,351.
Texas A&M led Division I with $194,388,450 in revenue, and AAC member Connecticut ranked 46th to lead Group of Five conference schools at $79,229,275.
The AAC had five of the top six 2015-16 revenue totals among Group of Five schools.