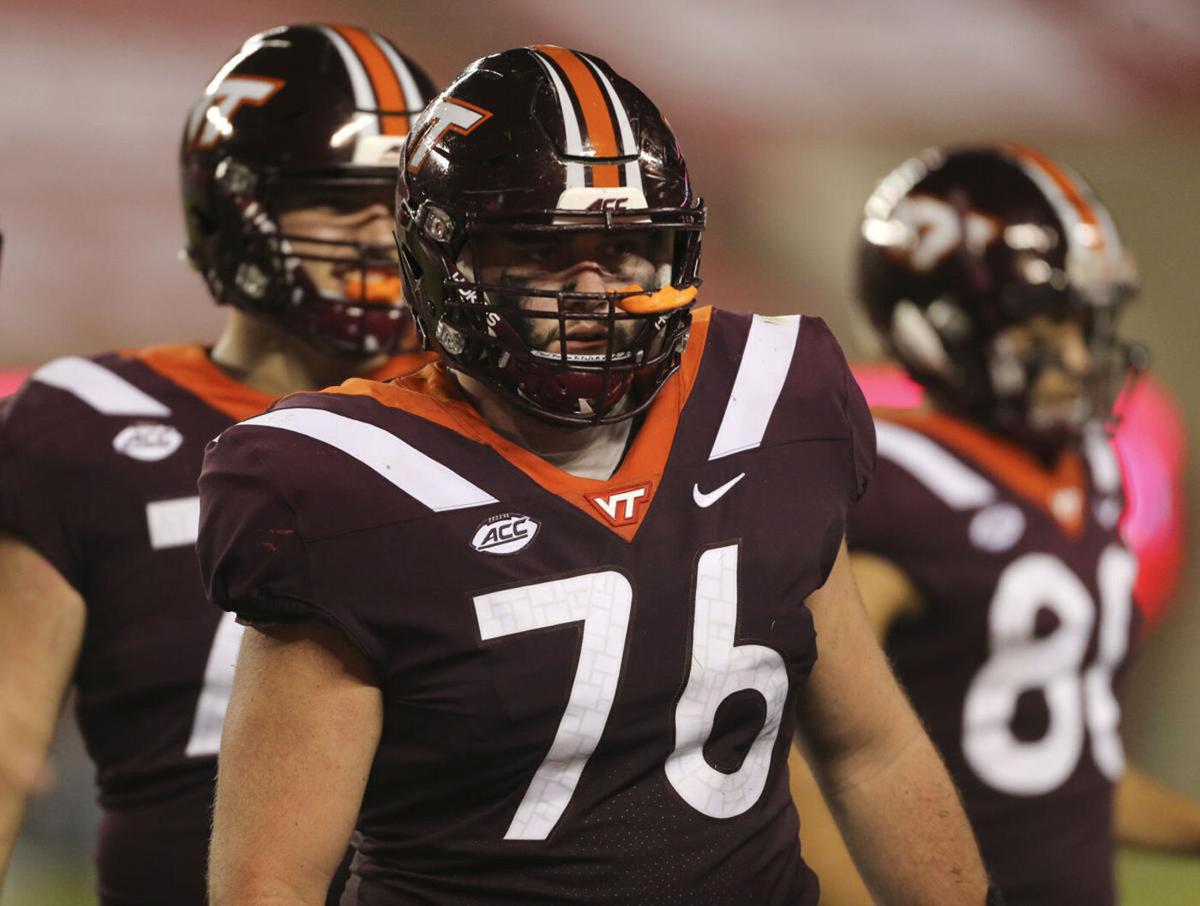 BLACKSBURG — Louisville linebacker Nick Okeke had enough of Brock Hoffman.
Okeke gave Hoffman a light one-handed shove after a short gain by Khalil Herbert late in the fourth quarter. He probably didn't expect Hoffman to go flying backwards with his arms flailing in the air.
"I obviously baited him into it," Hoffman said with a smile. "That just comes with us up front playing nasty all game and just kind of getting in their heads and taking advantage of what they do."
It wasn't the first time this season an opposing defender has tussled with Tech's starting center, and probably won't be the last given Hoffman's penchant for trash talking.
"As the game goes on, you can break them down physically, but if you can break them down mentally and they are more worried about you than the ball, you already won half the battle there," Hoffman said.
And Hoffman's play backed up his talking.
He was awarded ACC player of the week honors at his position on Monday for the second time this season. Tech rushed the ball 51 times for 283 yards in their 42-35 win over Louisville with all five touchdowns coming on the ground. It was the fifth time in six games the team has averaged more that five yards per carry.
"When you get to go at people 51 times — I didn't realize that, but yeah, it definitely is an offensive lineman's dream," Hoffman said.
The weekly honor was icing on the cake for Hoffman, who took to social media after the game to explain why the matchup against Louisville coach Scott Satterfield and offensive coordinator (and offensive line coach) Dwayne Ledford was personal.
"I never forgot and yes I do hold grudges," Hoffman tweeted.
Hoffman went on to explain that Satterfield and Ledford told him he wasn't "good enough" to play for them when he was a senior coming out of Statesville High School and they were at Appalachian State. Hoffman played them twice while at Coastal Carolina, but lost both times.
"There was no specific staff other than them that said that, but I mean, obviously, I felt like I got passed up a lot during high school," Hoffman said. "I didn't have any Power Five offers or anything like that, but I just kind of used that, what they told me, as motivation, and really everybody passing me up as motivation. I don't sit here and think about it every day, but when that game came up on the schedule and I knew who that staff was, it definitely stood out to me."
But the best feeling for Hoffman is the continued improvement of Tech's offensive line. While the team hasn't reached the 300-rushing yard mark in recent weeks, Hoffman is pleased with what he sees on film of the group.
"I think we've been pretty consistent," Hoffman said. "I think we're improving week-to-week, honestly, on the little details here and there and just trying to take it day by day, practice by practice and game by game, just keep improving."
Be the first to know
Get local news delivered to your inbox!