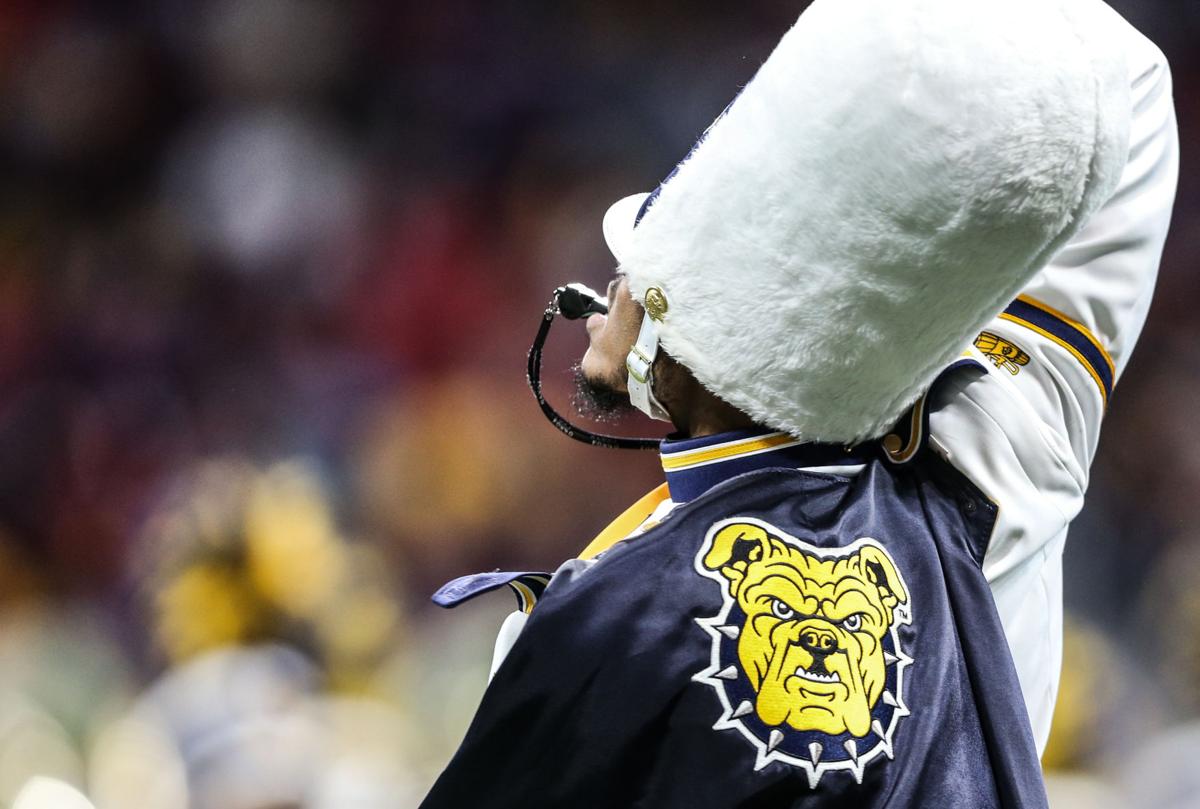 GREENSBORO — Take a deep breath, Aggies. This is a good thing.
N.C. A&T, the largest historically black university in the country, is preparing to leave the MEAC. The decision isn't so much based on the Aggies outgrowing the league it's been in since its inception, but that they've simply outrun the rest of the conference.
A&T had been considering such a move for some time. But not only did the Aggies want out of the league formed in 1971, they needed a soft place to land.
A&T is expected to announce this morning that it will join the Big South Conference effective July 1, 2021.
It's a good fit. The league is somewhat tighter in territory than the Mid-Eastern Athletic Conference, and it has some potential for new and old rivalries. Hampton, which left the MEAC in 2017, is a Big South member along with North Carolina schools High Point, Campbell, UNC-Asheville and Gardner-Webb. All of the league's 11 full members are in North Carolina, South Carolina and Virginia.
From a travel standpoint alone, this is a great move. And as hard as it will be to leave behind traditional rivals such as N.C. Central, not to mention A&T's annual trip to the Celebration Bowl, the new league is partly symbolic of the university's stated goal of becoming a "transformative" university in research and in athletics.
Chancellor Harold Martin told the school's faculty last August that such a move would be a sign of growth and success and should be seen as the school's "aspirations."
That hope is about to come to fruition.
Yes, it's going to cost the football program a shot at the $1 million haul the Celebration Bowl has provided in four of the last five years, and so you could be looking at a temporary budget situation that could be problematic.
But A&T would save in travel costs without annual trips to MEAC schools such as Bethune-Cookman and Florida A&M along with trips to Delaware State and the three Maryland schools in the MEAC.
The Aggies could also supplement the budget through scheduling "money-guarantee" games against bigger and richer FBS programs.
There have been several forays into the decision to leave — studies and mock plans for moving out of the MEAC. And most of those discussions were based on the likely scenario that A&T would be forced to compete as an independent, a school without a league, while wandering and waiting for an opening in some unknown conference.
Hampton's move to the Big South changed the thinking, both from A&T leaders wary of playing as an independent and from the Big South itself, which has carved out a niche in the region after years of looking for an identity.
The league now enjoys a period of relative tranquility after a long and uneasy time of transition, inviting schools such as UNCG, Davidson, Liberty and Elon, only to watch them move on.
The MEAC, on the other hand, is crumbling as some of its schools deal with financial nightmares.
Now comes the period of uncertainty for A&T. The flagship university of the MEAC and HBCUs nationwide is getting ready to spread its wings and follow its own path, one that will lead to unknown territory outside its historic footprint but also to unrealized potential away from its comfort zone.
Not everyone will be happy about this decision. Change is difficult. A&T fought long and hard to establish its history and traditions within familiar places and among familiar faces.
Now it's off to the next big thing, not just for football but for a research university with its eyes on a new horizon, breaking out of its East Market Street mold into a regional think tank in fields such as technology, engineering, mathematics, science, business and economics.
A&T isn't the same school it was 10 years ago, even five. And five years from now, we'll look back on this move as inevitable. For now, it's just stunning.
Contact Ed Hardin at 336-373-7069, and follow @Ed_Hardin on Twitter.
Be the first to know
Get local news delivered to your inbox!