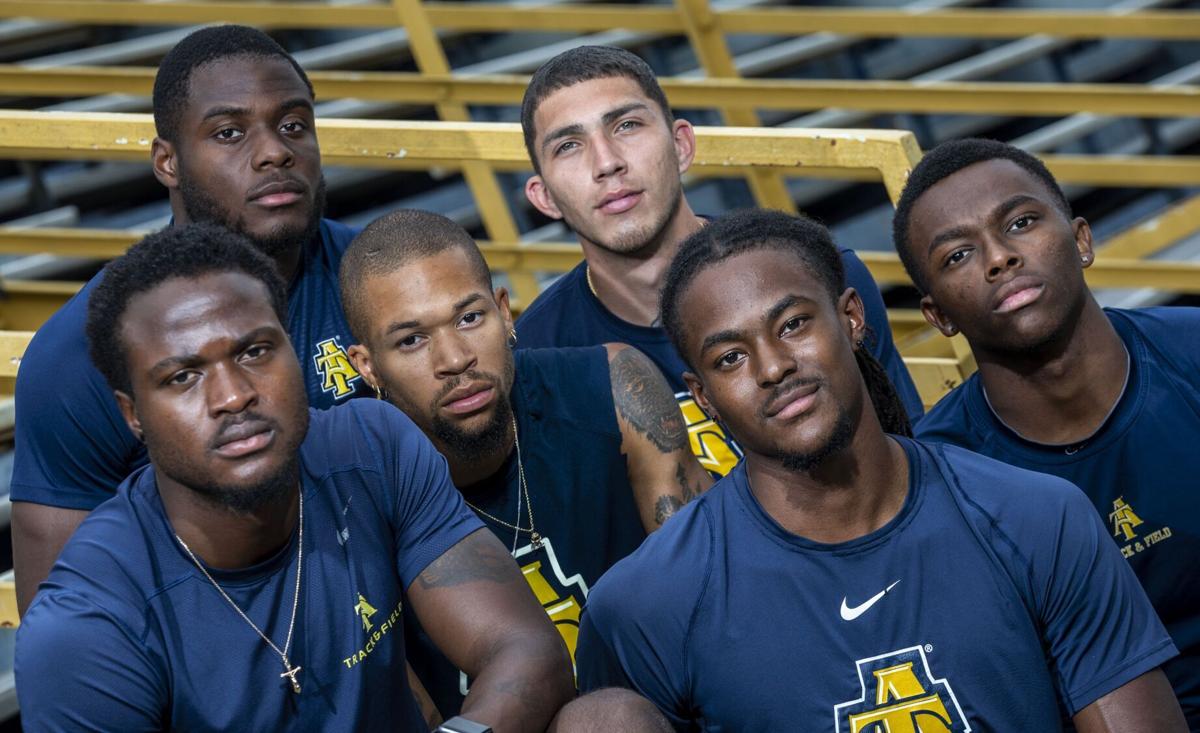 GREENSBORO — This week's NCAA Outdoor Track and Field Championships are not about making a statement for 18 N.C. A&T athletes and their coach, Duane Ross.
Oh, Ross is fully aware of his university's place in history.
"It's not just about races," he says. "We understand that what we're doing is making an impact in other areas."
But for four days and nights in Eugene, Ore., at the renovated cathedral of the sport that is Hayward Field, Ross would prefer the focus be on the four letters "NCAA" and not "HBCU."
"We love our alumni, we love our culture, we love our base," Ross says. "We're proud of that. But at the end of the day, we want to be the best team, period, not just the best HBCU."
The A&T men and women each finished 15th in the team standings at the 2019 meet. So regarding recognition as a high-flying historically Black college or university: Been there, done that.
But their times are faster, the expectations loftier and the predictions bolder this time.
Track & Field News projects A&T men to win national championships in both relays and to collect enough points for a fifth-place team finish, ahead of all but one Southeastern Conference program, ahead of everyone from the ACC. The publication figures 16th place for the women's team.
"It's not like he's had one or two athletes," says NBC Sports analyst Ato Boldon, a former world champion sprinter who won four Olympic medals. "It's the consistency with which he has turned out these kids that merits the recognition."
Any finish up the standings, whether it's fifth or 16th or elsewhere, would be cause for celebration for any Division I program. For the ninth-year A&T coach and his Aggies, they're still sprinting toward a goal that some people in the industry couldn't see a decade ago.
"That can't be done," other coaches told Ross, he says. "You're dreaming. You're going to fail."
Championship contenders
A&T's performances in 15 events, starting Wednesday, will rest heavily on the legs of its sprinters. Only Brandon Hicklin in the long jump and Kenady Wilson in the high jump will perform off the track.
While A&T has multiple contenders for event victories, a team national championship by the men or the women will be more of a challenge without depth in field events or entries in distance races.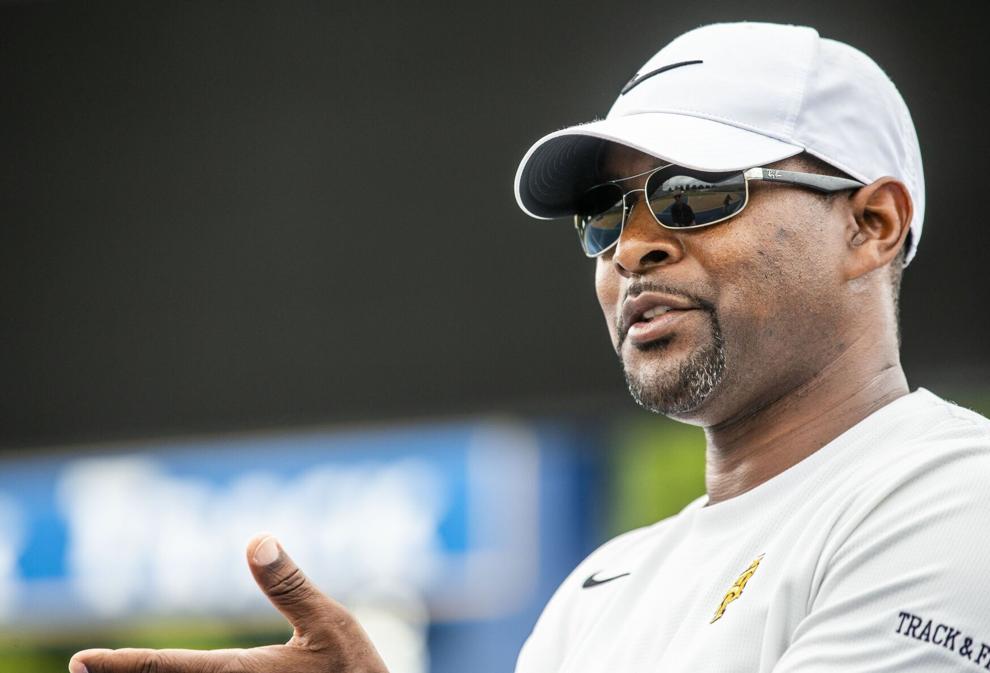 "The perfect week would be to win every event that we're in," Ross says. "Sweep the 400, win all the relays, for the young ladies get in the top three on the podium, all three hurdlers on the female side to get to the finals and make the podium.
"We might be outnumbered, but we're looking at 'We're going into the NCAAs; how can we win it?' It's not how can we finish third? How can we finish fifth? It's how can we win it?"
All eyes will be on the A&T men's 4x400 relay team, which turned in a world-leading time of two minutes and 59.21 seconds at the NCAA East Preliminary in Jacksonville, Fla., in May. The quartet of Daniel Stokes, Randolph Ross, Akeem Sirleaf and Trevor Stewart, the latter closing in 43.70 seconds, won the event by more than three seconds over runner-up LSU.
Being high-level athletes, well, of course they believe they can go faster. Maybe even a 2:57.
"Stokes ran a 200 about 20 minutes before the race, so he wasn't fresh," says Randolph Ross, son of the coach and a freshman who will compete in three events. "And our third leg (Sirleaf) can do a lot better than he ran.
"I was the second leg, and going into the third leg, we bobbled our handoff a little bit, causing him to do a little halt and then go. We left time in our handoffs."
A&T is chasing a second NCAA championship this year at that distance, having won the 4x400 at the indoor meet with Stokes, Ross, Stewart and Elijah Young.
A&T's 4x100 team, with Ross, fellow freshman Javonte Harding, Sirfleaf and Stokes won the regional in 38.66 seconds, the fastest time in East or West Preliminary history.
Besides Ross, Harding and Stewart also will compete in three events.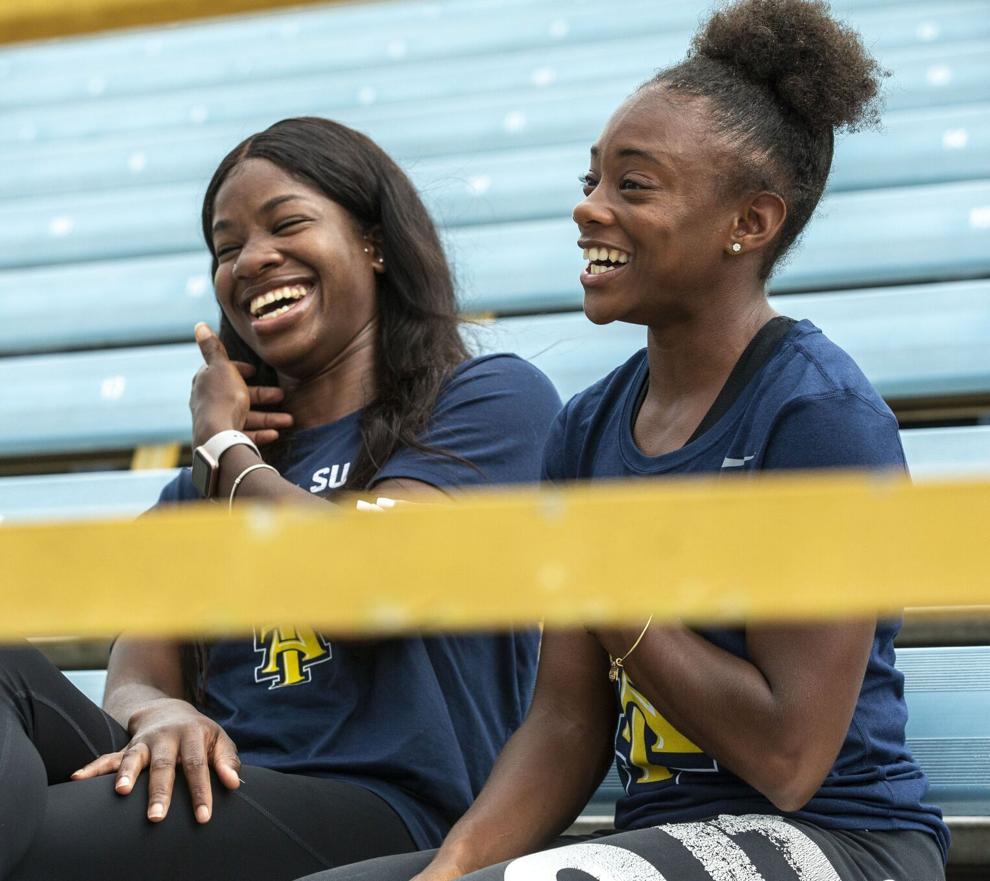 The A&T women's team, which has half of the school's record number of performers competing in six events, will be led by Cambrea Sturgis in the 100 and 200 and with the 4x100 team, which includes Symone Darius and three-event performers Kayama Debose-Epps and Jonah Ross — you got it, the coach's daughter.
"It's going to be hard," the legendary former St. Augustine's track and field coach George Williams says of A&T's team championship chances. "Most HBCU schools are sprint-and-jump schools."
But Williams' sprint-and-jump program won 39 NCAA Division II championships.
"Anything can happen in a national championship," says Williams, the 2004 U.S. Olympic track and field team coach and a fan of the Aggies' program. "This might be the year. You never know. I'm just telling you. I don't know whether we can win the national championship, but it just takes one mistake by somebody else."
A&T's turnaround
Though A&T hasn't reached the pinnacle, the program can now see it. And despite A&T's past success — long-jump legend Bob Beamon began his college career in Greensboro and alumnus Roy "Spaceman" Thompson coached league champions and All-Americas — Ross took over a program in disrepair in 2012 after he had spent five seasons at Division III Methodist in Fayetteville.
Jospin "Andre" Milandu died after a workout in August 2010. A&T didn't have physicals on record for 29 athletes, and an autopsy later showed that Milandu died from complications of sickle-cell trait and physical exertion. Athletics director Wheeler Brown lost his job, and Thompson, whose vision included the Irwin Belk Track inside Aggie Stadium and the recruitment of national youth championships to the facility, was forced into an early retirement.
"Everyone loved him," Ross says of Thompson, "and then here comes a coach to change everything."
The program, which had two short-team leaders after Thompson and before Ross, also faced issues with the NCAA's Academic Progress Rate. Ross dealt with reduced practice time for his men's athletes in 2013-14 because of academic shortcomings going back as early as 2008-09.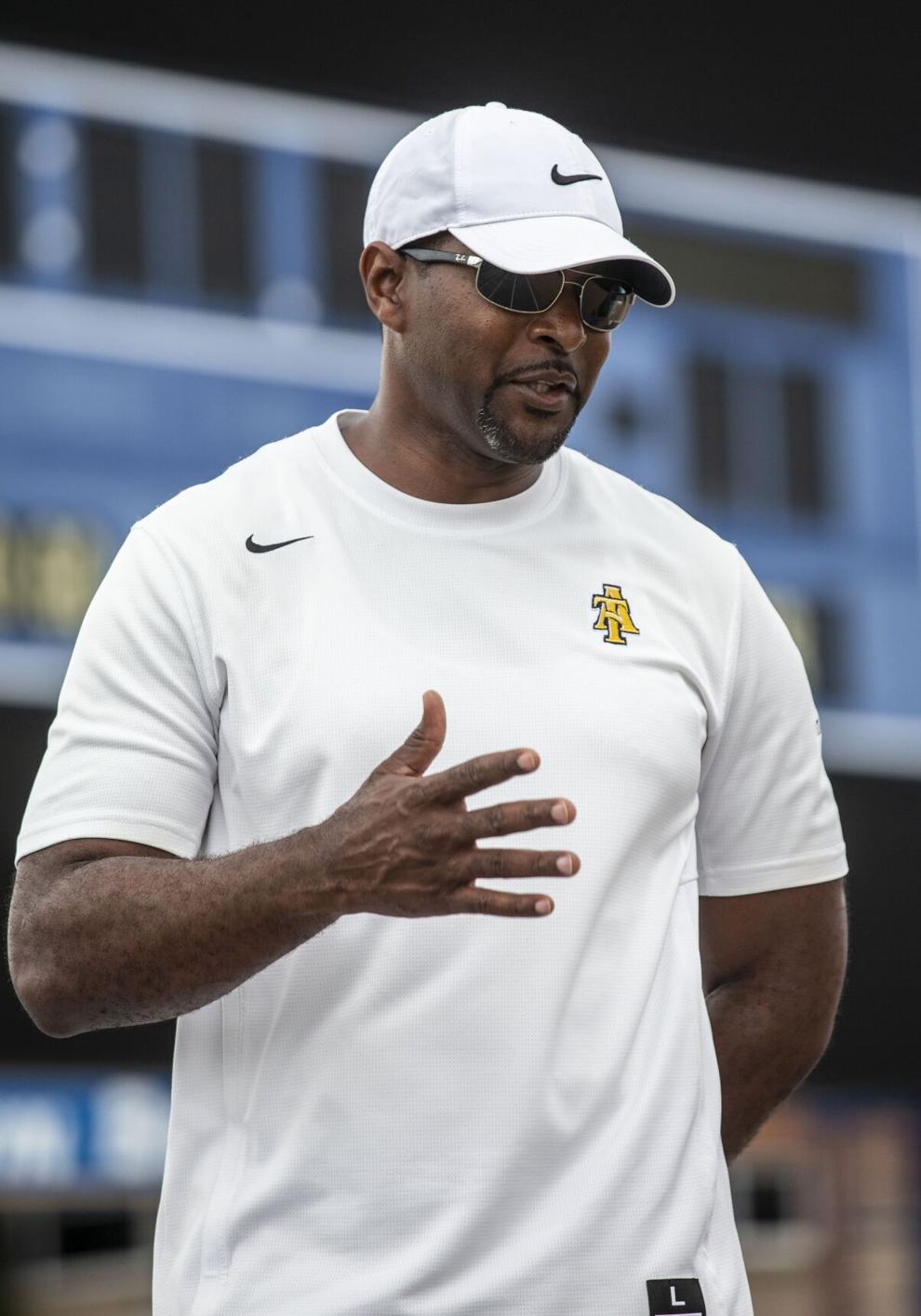 Ross, a former champion hurdler at Clemson and professionally, went to work, convincing athletes to give A&T a chance.
"The one thing I was always told was I wouldn't be able to get the good kids in here," Ross says, "that they're always going to go to the Power Fives, that we wouldn't have the money, wouldn't have the resources."
A&T can't match the resources of programs from some of Division I's highest-profile conferences. A&T's $15 million athletics department budget is minuscule compared to those of, say, LSU ($160 million), whose men's team is a strong favorite in Eugene, or Texas A&M ($143 million), whose women's team could claim the championship.
But A&T is committing within its means. Counting scholarships, the athletics department spends nearly $1 million of that $15 million budget on track and field, with the men's program fully funded at 12.6 scholarships and the women offering 10 scholarships of the 18 the NCAA allows.
A&T has recently replaced the Mondo surface at Irwin Belk Track, a project totaling about $1.3 million. And it is paying Ross $236,250 annually, a salary that ranks No. 2 in the athletics department behind football coach Sam Washington ($250,000), doesn't include bonuses that could approach $60,000 and is four times what the university was paying Thompson when he departed.
"Everybody in America loves the story of an underdog," Boldon says. "So it's easy for me to be effusive about North Carolina A&T on television because it introduces an American audience who barely cares about track and field and certainly does not know about the A&T program, that this is the little school that could, this is is the little track team that could, that this is a team that punches above its weight. They're not expected to be as good based on what is their so-called pedigree."
The results prove Ross, and Boldon, right. Kayla White, in the 200 meters, earned the university's first NCAA championship in 2019 in the indoor season. Sprinter Chris Belcher made the United States' sprint team for the 2017 world championships. And current and former A&T athletes will be part of the U.S. Olympic trials, also in Eugene, beginning June 18.
Ross has A&T, in its final athletic competition as a member of the Mid-Eastern Athletic Conference before a move to the Big South Conference in July, running with the sport's top programs.
"He's been able to get a lot of these top-tier kids," says Howard coach David Oliver, a former world champion hurdler, "saying you don't have to go to these Power Fives to get it done. Come to where we're supportive and get it done, and we can go out and whip the big schools' asses just the same."
Turning them into believers
Ross' athletes believe in his ways. Madeleine Akobundu, who will compete in the 100-meter hurdles in her fifth year at A&T, thought her time of 13.96 seconds as a freshman was fast. Ross saw a potential sub-13.
"I can fix it. I can fix it," she says Ross told her. "I can fix your trail leg. I can fix your arms. I can fix your starts.
"As an athlete, you don't see what he sees. He sees something completely different. And he knows what I'm capable of before I know it. I can run 12.5, and he says he sees it."
The rest of the sport sees it, too, although not always in the way that Boldon, Oliver and Williams do. Observers wonder how A&T has steadily climbed into the conversations and into the races for the wins. The cattiness that can often follow any team or an athlete reaching new levels of success is part of college track and field, too, and Ross hears it, although he stops short of naming names.
"They look at us as that stereotype of a Black student is not supposed to be able to do this. And we're doing it," Ross says.
"I remember taking one kid to the NCAAs. So now that we're starting to get better, don't try to tear us down for training harder, for training smarter, for being better at our jobs."
He also doesn't believe his own past is a factor, a two-year suspension in 2010, by the U.S. Anti-Doping Agency for using performance-enhancing drugs that resulted in his 2004 Olympic participation being stripped.
"Nobody directly says that to me," he says. "That has passed. Come on, I've been here nine years."
For the record, no A&T athletes have failed drug tests.
And A&T has not been the subject of NCAA allegations.
"Not a thing," Ross says.
What's ahead
A team national championship is yet to be achieved. Ross is still dreaming. He is not failing.
Oliver, the fellow MEAC coach and fellow hurdler, remembers Ross getting the A&T job and people thinking "he was talking kind of crazy."
Doesn't sound so crazy now.
"I know that's one of his ultimate goals," Oliver says. "A national championship is the next progression and the next logical step, and I think they can pull it off in the next couple of years."