GREENSBORO — Myocarditis.
It's a word most Big Ten football fans probably had never heard before that conference decided to postpone fall sports because of medical studies that appeared to show that COVID-19 could cause the disease in athletes.
But here in Greensboro, myocarditis not only has a name, it has a face. It's the smiling image of Josh Level.
Myocarditis caused Level's heart to beat irregularly and then stop during a high school basketball game Feb. 19, 2013. He collapsed and later died at age 17.
Myocarditis, which the Mayo Clinic defines as "an inflammation of the heart muscle (myocardium)," is usually caused by a viral infection. That can include COVID-19, the flu or the common cold.
When Penn State's team physician claimed a study showed that roughly a third of Big Ten athletes who had contracted COVID-19 and undergone a cardiac scan showed heart-related issues that could have a long-term effect, it put myocarditis in the news nationally. The numbers in that Ohio State study were revised downward to roughly 15%, but it still alarmed Joseph Level Jr. enough that he posted his thoughts on Facebook on Sept. 3.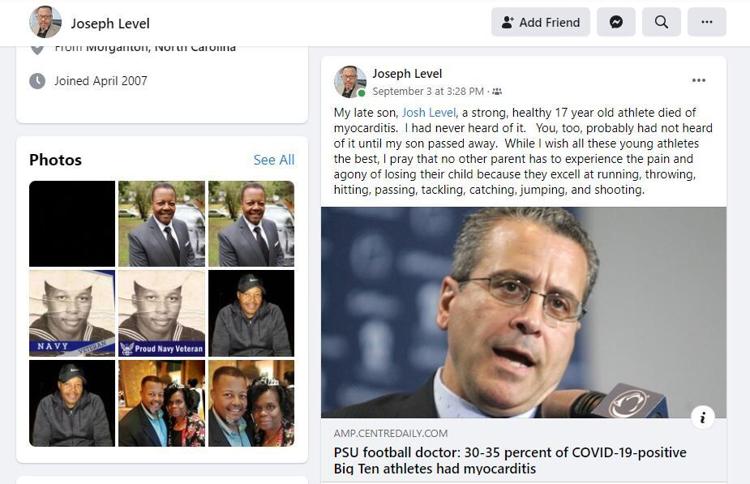 "Obviously, it got my attention," says Josh's father. "When the article surfaced initially saying 30%, but then reduced to 15% that's still significant. One person dying of myocarditis is too many."
Level said the study alarmed him for several reasons. The first is that he is a father of four sons and "all of them are athletes at different levels." Joseph III, also known as "Trey," played football at Dudley. Josh was a college prospect as a basketball player at New Garden Friends School. Jeremy recently graduated from Appalachian State after an injury-plagued football career for the Mountaineers, and Joseph Jr.'s youngest son plays recreational football.
"As a parent, you get excited," he says. "You've worked along with your child and they're living that dream of being a college athlete. You get caught up in it."
That certainly appears to be the case in Nebraska, where the parents of eight Cornhuskers players sued the Big Ten over the conference's decision to postpone football season. The league announced Wednesday that it will resume play Oct. 24.
"I just get concerned," says Level, who is the public-address announcer for N.C. A&T athletics. "I don't want anyone thinking I'm rooting for the season not to be played or I'm rooting against their son or daughter's success. No. I wish nothing but success for every athlete from Greensboro, from Hendon Hooker to Tré Turner to Madison Cone … all of them."
Are those football players and other athletes at greater risk of developing myocarditis as a result of COVID-19?
"We don't fully know," says Dr. Matthew Belford, assistant professor of cardiology at Wake Forest Baptist Health. "Myocarditis is a bad disease, but fortunately incredibly rare. We do know that almost all cases of myocarditis are viral in nature. What we don't seem to know is whether COVID-19 is worse than anything else" in terms of potentially causing myocarditis.
"There was concern about a month ago raised by a German paper where they took a bunch of minimally symptomatic patients and basically did cardiac MRIs on them," Belford says. "That paper has since been, not fully retracted but pulled back. Then there's an interesting paper out of Ohio State" that got everyone's attention in relation to the Big Ten.
"The correlation is there," Belford says. "The question is the causal piece, and that's the part that at least some of us who are walking this back a little bit say, yes, myocarditis is a bad disease, but at the moment I'm not sure this is due to COVID-19."
Even after losing his son to myocarditis, Joseph Level Jr. is not an expert on the disease. But he is concerned about that colleges may be putting the economics of playing sports ahead of the long-term health of athletes.
"It's a tough pill to swallow," he says, "because if I had never experienced what I did with myocarditis, I'd be thinking the same thing. My son or my daughter is healthy. It's a one-in-a-million chance. You're thinking it's not going to happen to us. But I'm telling you this is real."
Level mentioned the recent death of Jamain Stephens Jr., a California (Pa.) University football player whose father played at N.C. A&T and in the NFL. Initial reports said the younger Stephens died of COVID-19 complications, but the cause of death has not been confirmed.
"That kid is gone," Level said softly.
Belford says his clinic at Wake Forest Baptist Health has "seen a few cases, but it's not this thing that we're awash in, that my clinic is full of at this time."
"There are these devastating myocarditis cases, and I've been involved in more than a few of them unfortunately, but it's so rare," Belford says. "That's the piece that's hard for us to pick out. There are certainly going to be those (cases) involved with COVID, but I just don't know if it's going to be any different than your normal, run-of-the-mill flu season or cold season."
One thing Level wants to see is every school or travel athletics team with at least one portable AED (automated external defibrillator) in case an athlete's heart does stop because of myocarditis or any other heart ailment.
"Shame on them if they don't," he says. "It has to be right on the bench, right on the bus, right in the car when they're traveling. … With COVID especially, there's no excuse."
The SmileForJosh Foundation was founded in his son's name in 2017, and the 501(c)(3) nonprofit's stated mission is "to transform the lives of inner-city youth with community events, athletics and mentorship, as well as raise the awareness of cardiac health risks in high school student-athletes through education and advocacy." Getting AEDs into schools and athletics venues is a big part of that mission.
He knows an AED might have saved Josh, and he doesn't want any other parents to go through what he has.
"The important numbers on that scoreboard used to be Home and Visitors," Joseph Level Jr. says. "But since my son passed away the biggest number on that scoreboard is when it says 0:00 at the end of the game, because that's when I want to be able to walk onto the field or down onto the court and chat with my son and hug him, whether he played or not and say, 'I'm proud of you, man.' That's what has become the most important. I just want to see everybody walk off the court or off the field, and I want to see everybody alive and healthy."
Contact Joe Sirera at 336-373-7034, and follow @JoeSireraNR on Twitter.
Be the first to know
Get local news delivered to your inbox!