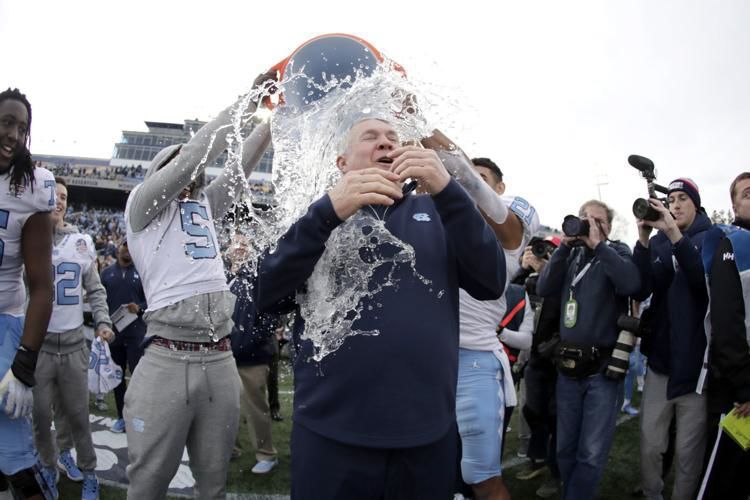 Updates at 10:11 a.m. Monday to correct information about moratorium:
Life in a bubble, perched on a platform.
College football will begin a six-week re-entry plan in the middle of July, coaches tasked with keeping entire teams safe and players empowered and changed from months of pandemic and social unrest.
These are different times, and college football will try to convince us otherwise. You get the impression though, that everything has changed.
Mack Brown and his Carolina football program are learning on the fly as examples all over the country fly in the face of football as we knew it. Players are revolting, demanding change among coaching staffs, on campus and on Twitter.
Athletes are testing positive, though some schools, such as Carolina, will not reveal results of testing.
And all of this as the pandemic begins to spike again, here and in Texas and Oklahoma, Florida and Alabama, the college football capitals of the country. In quiet little Chapel Hill, where Brown is trying to create such a program, we're getting a glimpse of how he plans to do it.
In a Zoom conference meeting with media on Thursday, he and three of his players talked openly and honestly about the challenges and the opportunities this strange new year will hold.
"We're learning how to stay safe," Brown said.
He said he's learning a lot these days.
His players are keenly aware of what's going on around them, and the pandemic is just one aspect of their lives. Some have been on the streets among the protesters in wake of the George Floyd killing. Some have noticed players from other programs taking their coaches to task.
And all understand that they're part of a changing world, and in fact have a platform to effect change.
"Being a student-athlete you know you have some type of power," said senior linebacker Tomon. "It may not be that much, just a little bit, but we have to use it to the best of our ability to make something happen And it's not just like one player. Every player on the team has a platform they can use to reach out to different kinds of people."
At places such as the University of Texas, students and athletes alike are demanding wholesale change, from the names of buildings to the school's unofficial fight song, "The Eyes of Texas," a song Brown instructed his incoming freshmen to learn the words to when he was the Texas coach.
At the University of Iowa, current and former players forced the resignation of their strength coach, and at Oklahoma State, the team's best player called out the head coach for wearing a T-shirt emblazoned with the controversial TV network that called Black Lives Matter "a farce."
The movement has begun, and while the pandemic has seized the attention of college coaches, the platform has gotten the attention of the players.
Where this ends up is anyone's guess. But at Carolina, at least for now, there's a unified voice coming from the program.
"We had a meeting two days ago with Coach Brown, and he just wants to help as much as he can, and he wants us to use our voice to help change," Fox said. "It's disappointing that it's 2020 and we still have all this racial injustice going on.I'm proud of all the people of color going out and standing up for what's right.We have to be optimistic that change is going to keep coming."
Earlier this week, the UNC-Chapel Hill Board of Trustees lifted a moratorium on preventing the school from lifting names on buildings named for people associated with slavery or white supremacy. We haven't seen the last of demands from students and athletes at Carolina.
To his credit, Brown senses just that. He said he wants players to come to him to express concerns about anything and everything. He said he has no idea what the names of the buildings are or what they might stand for.
For now, Brown is listening to what his players are saying and trying to convince them to "build a bubble" around the team to keep physically away from everyone else on campus and at home.
But nationwide, athletes are melding more and more into the social fabric of their schools, protesting themselves and being in anything but a bubble.
Running back Michael Carter said he protested in the streets of his hometown in Florida just last week. He said the team dialogue has been positive in virtual meetings, but that the future is still uncertain.
"We've had that dialogue and it's been really good so far," he said. "The objective is, once it's started then keep it going, and I think that's what our next challenge is."
So on one hand, athletes have a responsibility to their team, their teammates and coaches.
"We can't go out and party and be around a lot of people like normal college students would," said quarterback Sam Howell. "We have to be responsible. Football is not the most important thing in the world right now. Our health is the number one thing."
There are a lot of number one things going on right now, and he's right about football. But there's so much more waiting for the student-athletes if and when they return to school. Yes, there will be bubbles. But there will also be social issues demanding change. And for the first time, the athletes themselves are empowered to stand on those platforms and be heard.
"Every day something new comes up," Brown said. "We're educating each other, but we're honoring each other's differences. We're asking each other questions."
You get the impression that no one knows what's getting ready to happen, while some coaches nationwide insist on doing things the way they've always been done.
You get the impression that everything is about to change, and the education of college football coaches is about to begin.
Contact Ed Hardin at 336-373-7069, and follow @Ed_Hardin on Twitter.
Be the first to know
Get local news delivered to your inbox!