CHARLOTTE - The first question concerning Mack Brown's return to Carolina has been answered.
Sort of.
Does the 67-year-old former Tar Heel coach have the energy to once again drag the Tar Heels out of their cyclical malaise? The answer is yes.
So far.
Brown has set out to repair Carolina's tarnished image in-state, introducing himself to a new generation of high school coaches who weren't around when he took UNC to the verge of national prominence and both posed and answered the biggest question about Carolina.
Why can't the Heels compete for national titles in football?
Brown showed that UNC can indeed compete at a high level, if only for a short time. His departure after 10 seasons in Chapel Hill left Carolina in a situation they know all too well. Rebuilding. Recoiling. And returning to insignificance.
They still call UNC "a sleeping giant" in college football, a program that would seem to have all the necessary ingredients to sustain excellence, a national brand, a natural recruiting advantage and a willingness to do almost anything to get there.
So here we go again with UNC coming out of yet another failed attempt at the big time, reloading with a 67-year-old coaching legend who has promised he'll stay this time and drag Carolina out of the darkness if it's the last thing he does.
Which it very well might be.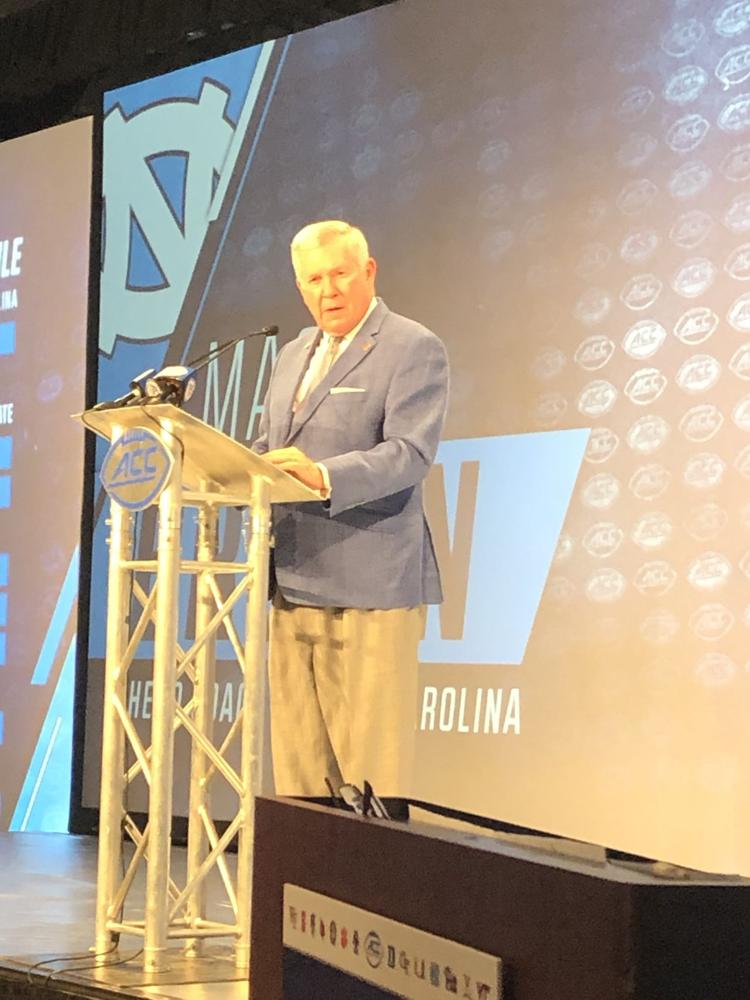 Brown spoke at the ACC Kickoff media day this afternoon, and it was almost as if he'd never left. He recognized old sportswriters and talked about old times. But things have changed at Carolina, and he knows it.
"I love fixing things and right now we're struggling," he said. "We need to get more people in the seats, we need to improve the game day atmosphere."
He also needs players, both starters and depth. And all those are short-term fixes. Long-term, Brown has a major project to fix everything from the culture to the foundation of the program itself.
It's not 1997 anymore.
"We have some unfinished business," Brown said. "When we left, we were fourth in the country I think. We had just won 10, then won 11. We were recruiting as well as anybody in the country. We were getting most of the guys we wanted out of the state of North Carolina, some out of Virginia, some out of South Carolina and Georgia. We were really on a roll.
"Because of a lot of different circumstances, Sally and I thought it was best for us to leave at that time. But we did feel bad leaving a great team. I think there were 20 or 22 guys off that defense drafted in '96 and '97.
"We want to come back and get it back like it was. But even better, we'd love nothing more than to win a national championship here."
Again, that's the long-term goal and a short explanation about a goal long ago. Now, the immediate concerns are five games to open the season that the Tar Heels could lose.
And the most pressing concern is obvious.
"The biggest decision we have to make in the next month and a half is who starts at quarterback against South Carolina," Brown said.
There will be bigger decisions down the road. And a lot of people in Chapel Hill have short-term memory.
He never won an ACC title in his 10 years. And after his first two 1-10 seasons at Carolina, the fans were incensed. When he left with UNC on the doorstep of a dream, they swore they'd never forgive him.
They have, for now.
Brown returns bigger than when he left, the winningest active coach in college football, a two-time national coach of the year, the only active hall of fame coach in college football and one of only five who have won a national title.
But around here, he's know for one brief and shining moment when he woke the giant, closed the borders for recruiting and dragged UNC to the mountaintop without getting the school on probation.
Looking back on it now, it seems like a miracle.
Mack Brown has come home again, and he's being celebrated as a returning hero. He's the same guy we remember, confident, upbeat and full of energy.
If he's staring 0-5 in the face, you'd never know it.
Contact Ed Hardin at 336-373-7069, and follow @Ed_Hardin on Twitter.
Be the first to know
Get local news delivered to your inbox!