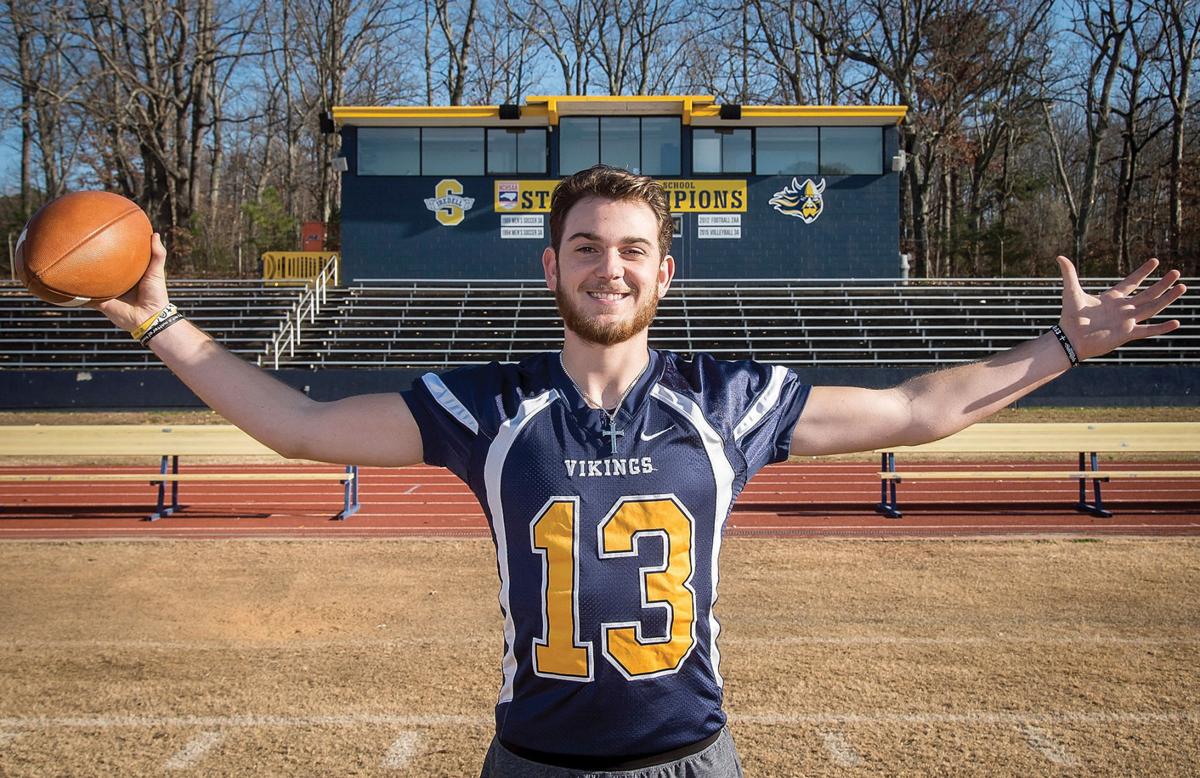 TROUTMAN—On Nov. 27, the Monday after South Iredell's season ended in the third round of the 3AA state playoffs, Brady Pope welcomed some visitors to his home. Among them were Charlotte head football coach Brad Lambert.
"It was pretty cool," said the Vikings' record-setting quarterback who signed with the 49ers. "I was excited they cared enough to come and talk to me. We talked about the future."
Theirs looks brighter with the addition of Pope. Their young program could begin to turn a corner, South Iredell coach Scott Miller believes, after five seasons of growing pains resulting in a 16-37 record.
"They're getting a great leader who truly wants to be part of a championship program," Miller said. "…They can't help but get better with a player like him."
South Iredell enjoyed plenty of success with Pope behind center directing the offense.
The 2017 campaign was no exception. The senior completed 64.5 percent of his passes for 4,052 yards and 43 touchdowns and, despite putting the ball in the air that many times, only threw five interceptions. His 292 completions rank fifth in the N.C. High School Athletic Association record book for a single season.
The North Piedmont Conference offensive player of the year was chosen as the R&L County Football Player of the Year.
Pope's total passing yards and TDs passes undoubtedly would have been even greater had he and South Iredell not been so dominant, particularly in the NPC. The starters sat out portions of the second half in many games because the Vikings were so far ahead of their opponents.
South Iredell went 11-3. The NPC championship and appearance in the third round of the 3AA state playoffs were each accomplished for the second time in three seasons.
"The biggest thing was listening and doing what our coaches say, and that's play that week, don't look ahead, and give 100 percent every night," Pope said. "I think that showed. … Guys came together and performed well."
The way it ended still haunts him. Asheville A.C. Reynolds held South Iredell to a season-low seven points in a 17-7 victory that sent the Rockets to the 3AA West region final and the Vikings home.
"Every day," Pope said he thinks about that loss. "You miss these guys and coaches. Knowing you came up two games short of getting to the state championship hurts a lot."
Pope leaves South Iredell with the best passing numbers of any high school quarterback in Iredell County history. They also stack up well beyond these borders.
Pope ranks among the top 10 quarterbacks in NCHSAA history for career completions (757; tied for third), completion percentage (.641; fourth), passing yards (10,624; seventh) and passing touchdowns (112; tied for sixth).
"I'm comfortable saying he's the best I've seen in Iredell County since I've been in the area and that's 2002," said Miller, noting Pope got better every year. "Brady is a great quarterback. There are a lot of great athletes who play the position, but he is a true quarterback."
A three-sport athlete, Pope didn't hang up the basketball sneakers this winter. He stepped off the football field and onto the court with South Iredell.
Pope expects to lace up his baseball cleats for the Vikings this coming spring.
"I wanted to stay active and not just stay in one sport," Pope said. "I have that—one sport—to look forward to.
"This is fun. A bunch of guys I play football with are playing, and it's great to build on that relationship we already have."
Brady Pope, South Iredell
Tavis White, South Iredell
Ty Everhart, South Iredell
Izaiah Gathings, Statesville
Deshon Holmes, Statesville Christian
Jack Cutler, South Iredell
Demarcus Mills, Mooresville
Jabril Williams, Statesville
Dean Arriviello, South Iredell
Kevin DeWalt, Statesville Christian
Chandler Medeiros, South Iredell
Gabriel Young, South Iredell
Storm Monroe, Mooresville
Sharod Phelps, Statesville Christian
Jermie Green, South Iredell
Cole Cameli, Statesville Christian
Jaleel Johnson, Mooresville
Matthew Martinez, Mooresville
Dydrion Leach, South Iredell
Zack Nicholson, Statesville
Julia Knapp, South Iredell
Honorable mention--QB: Brennan Settle, Statesville Christian; RB: Jamie Turner, Statesville Christian; WR: Brandon Joyner, Statesville; John Menscer, North Iredell; TE: Dylan Bahr, Lake Norman; OL: Chance Carroll, Lake Norman; Riley Williams, North Iredell; DL: Tacari Clark, Statesville; Drake Liles, North Iredell; LB: Derrek Dulin, South Iredell; Kobe Turner, Statesville; TaHeer Wyatt, Mooresville; DB: Hasim Hall, South Iredell; A.J. Lanton, Statesville Christian; ATH: Cole Jackson, Lake Norman.