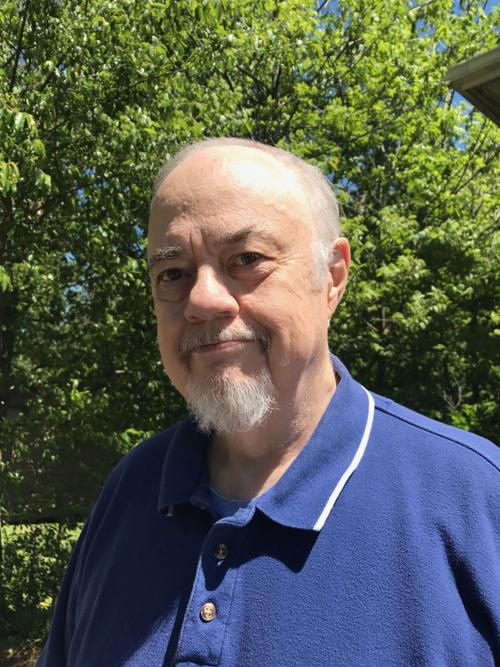 Russ Winterbotham's 1958 science fiction novel, "The Space Egg," was the first book I actually read. I checked out books from Mooresville's Park View Elementary School's small library, but honestly, I usually just looked at the pictures and perhaps read a smidgen of the text. I read a little above grade level, mostly because my mother often read to my brother and me at bedtime. She read to us most of the popular Hardy Boy series and some poetry. And then we discovered comic books, Superman, Batman, etc., which could be purchased at Mooresville Drug for one thin dime, two nickels, 10 pennies, a 10th of a dollar.
One day when I was a sixth-grader in Mrs. Sandra Coleman's room, I noticed a classmate reading a book titled, "The Space Egg," a novel with a cover you would definitely not find on a book from the shelves of Park View's basement library. It was the book's cover art that hooked me. It showed an astronaut staring, wide-eyed, at two pink, veined eggs floating before his helmet. You see, the space egg was a kind of parasite which got into the astronaut's body, causing him to become a monster.
As the blurb on the book's cover put it, "Flying 42 miles above Kansas, something phenomenal had happened to Test Pilot Fayburn. A space egg had smashed thru the cockpit plexiglass and then pierced his pressurized suit. Blood on the pilot's seat indicated that he'd been injured, but there was no wound. The loss of pressure in the cockpit and in his suit should have killed him instantly — yet here he was, alive and unharmed, but definitely a changed man…."
At this time — about 12 years old — I was already a fan of all types of airplanes and rockets. The American space program was just getting off the ground, so to speak, following the launch of Sputnik, the Russian satellite. NASA was established in 1958, the year this book was published. My brother and I watched "Science Fiction Theater" on TV and went to as many science fiction movies at the old State Theater as we could.
Back to the story. I asked my friend where he had gotten the book.
"Town library," was his curt reply.
"They have books like that?" I queried.
"Lots, but you gotta have a library card."
"How much does a library card cost?" asked I.
"Library cards are free," he said.
My friend said he'd be through with "The Space Egg" before Saturday, so I could get it then if I had a library card. Saturday morning I hoofed it to the Mooresville Public Library. We lived on West Park Avenue, just off North Main Street. The library was all the way on the other end of South Main Street, and then there would be the walk home, for a round trip of perhaps three miles.
Undeterred, I made it to the library, got my treasured library card and met Head Librarian Florence (Mrs. Hal) Johnston. Assisting her was Mrs. Clara Price, our Park View librarian. Two sweet, sweet ladies who affected my intellectual development more than either of them knew. They were helpful, encouraging and suggested other books and authors I might like.
I checked out two science fiction books to take home with me, one of which was "The Space Egg." Each book was some 220 pages in length, and no pictures, save the book cover.
And believe this or not, but I read the entire "Space Egg" that day. This was probably more reading than I had done the preceding year. The next day I had the worst headache you can imagine. Well, maybe you can imagine.
Finishing "The Space Egg," I launched into the second book, whose title I have forgotten. Before the next Saturday, I was back at the library and got two more books, the limit, again of the sci-fi genre.
I continued going to the library, reading sci-fi almost exclusively, and started reading the works of H. G. Wells and Jules Verne, whose books were already familiar to me through the Classics Illustrated comic books.
I eventually got "filled up" on science fiction and began reading history books, thanks to my seventh-grade teacher, Mr. Dan Woody, and that led to a career as a history/social studies teacher. By the way, between 1960 and 1961 my "Present Reading Level" as determined by the California Achievement Test went up by 3.7 grades. I have documentation of this. Of course, it was not the sci-fi, per se. Any reading would have improved my vocabulary, comprehension, etc., whether mysteries, fantasy, romance, Westerns, non-fiction, whatever.
The point is, in case you missed it, that I was reading about anything I could get my hands on.
Besides writing sci-fi, Mr. Winterbotham (1904-1971) also wrote Westerns and several novels of crime fiction, although I have not read any of those. A hardback, first edition of "The Space Egg," published by Avalon Books, on eBay goes for $50 plus shipping. Paperbacks of the book can be obtained from the same source for $3 plus $3 for shipping.
Catch the latest in Opinion
Get opinion pieces, letters and editorials sent directly to your inbox weekly!