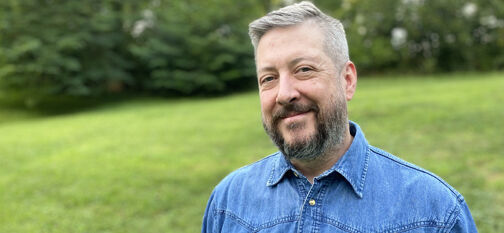 Author's note: Here's a lightly edited blast from the past, circa 1994, about an eventful trip to a motorcycle and tattoo convention. I'll be back next week with brand new musings.
I didn't return from the Easyriders Bike & Tattoo Show Tour 1994 with a cool bike or a new tattoo, but I did bring back this vivid memory: a woman lay face down on what appeared to be a modified dentist's chair with a pair of spandex shorts pulled down to her thighs while about a hundred people watched a guy with a self-described "killer hangover, man" stitch a dragon on her backside.
"She won't be sitting down for a while," said a woman next to me who craned her neck to get a better look at the artist at work. "I know I didn't when I got my spider web."
The Easyriders Bike & Tattoo Show was sponsored by Easyriders magazine, the only periodical in which one can find both a lengthy discourse on helmet laws and photos of scantily-clad women straddling Harley Sportsters.
The show at the convention center in Charlotte drew thousands of people, many of them colorfully illustrated.
There were bikers and bankers and ol' ladies and young ladies and all manner of people in between rolling up their sleeves and pants legs to show friends and strangers alike the pictures or phrases they had chosen to live with for the rest of their lives, or at least until the removal process.
I didn't know what kind of crowd to expect when I showed up on a Sunday, but I already had a story made up in case anybody sniffed me out as a member of the lame-stream media and wanted to rough me up. I was ready to tell them I was an award-winning journalist from "Scantily-Clad Biker Women Illustrated" and invite them to our next photo shoot in Fayetteville if they didn't punch me in the throat.
But the crowd was overwhelmingly friendly and well-behaved.
The only trouble I had was being cornered by an overly enthusiastic fellow from Cleveland, Ohio, who approached me out of nowhere to compare and contrast strip clubs in different parts of the country.
Each time I tried to politely ease away, he grabbed me and said, "Wait a minute, man, lemme tell ya about this show I saw in Fort Wayne, Indiana."
The most entertaining part of the entire bike and tattoo show was "tattoo alley" where 10 or 12 booths were set up along a wall of the convention center. People were lined up three or four deep at each booth waiting to get their bodies adorned.
I thumbed through some of the thick books on the tables in front of the booths and saw that the choices ranged from pictures of Jesus and Bible verses to demons, snakes and pronouncements of behaviors or beliefs that just may disqualify the wearer from being inducted into the Kiwanis Club.
If you were so inclined, you could be tattooed with the Chinese symbol that means "to vomit."
Most of those doing the tattooing looked fairly trustworthy. They wore rubber gloves and kept bottles of alcohol nearby. A few had certificates that said they were tattoo artists, and one had a sign declaring that his utensils were medically sterilized.
Others, though, were a bit sketchier.
I watched as a skinny youth plopped down in a kitchen chair and offered his right arm to a guy with no rubber gloves and a chemical gleam in his eye.
"I got no liquor this morning," the tattoo artist told skinny.
"That's alright," skinny said wearily. "I had enough last night."
People got their girlfriend's names on their arms, cartoon characters on their backs and pirate ships on their shoulders. One man walking around the convention center shirtless had every inch of his torso tattooed.
As I said, I left with no cool bike or new tattoo. I did admire that backside dragon, though. Maybe next time.