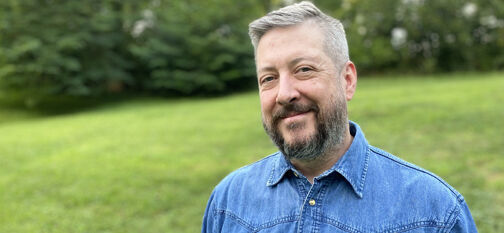 Editor's Note: I am on vacation this week. Please enjoy this lightly edited column from 20 years ago, where I accurately forecasted many of us will eventually shop from the safety of our own homes.
Sometimes, when I'm at a store and a woman runs over me with a shopping cart loaded with 478 pounds of chocolate chip cookies and a case of diet soda or someone's little angel rips into an ear-splitting, screaming hissy fit because he can't open his Choco-Blast Sugar Flakes cereal box immediately and extract the burning skull rub-on tattoo, I say to myself, "If I can get home, I will never leave my house again."
Perhaps I can find a home-shopping channel that will send groceries and toothpaste and underwear and ammunition right to my door, and the only outsider I will ever see is the UPS man.
People will say, "He don't get out much." Then they'll say, "He don't get out at all." Then they will eventually say, "Stay out of the crazy man's yard." I won't have to stand behind the guy with 50 items in the 10-items-or-less check-out aisle, and I'll never have to bear the indignity of a price check on a tube of anti-itch ointment.
And I won't have to put up with stuff like this:
I was at a huge store that sells everything from clothes to office furniture to surplus government computer equipment that probably contains the missile launch codes for a couple of dozen nuclear warheads. Anything that falls off a truck, gets put on lay away and never picked up or just sits on the shelf in another store until it rusts or expires comes to this store for people to poke, paw through and scatter.
As I perused the merchandise, a pair of snazzy shoes nearly leapt right off the shelf at me. I could almost hear them saying, "Purchase me and you will walk tall and proud. Men will want to be you and women will want to be with you."
It was a fine pair of shoes.
I sat on a bench, untied my old left boot and slipped the new snazzy one on.
As I was lacing it up, a man, a woman and a child came up the aisle sounding much like a demolition derby, only louder.
The kid, who appeared to be about 7 years old, was raking his hand down the shelf, knocking shoes into the floor and yelling, "Mama, lets go! Mama, I wanna get out of here! Mama, I SAID, I want to go!"
To which the kindly matriarch of the family replied, "Shut up! Shut the #$@!& up!"
I recalled a similar episode of "Ozzie and Harriet." It's the one where the lady from social services takes Ricky away.
The man, who was wearing a T-shirt depicting a demon with a ninja sword riding a Harley-Davidson, sat down on the bench beside me and said, "What size are them shoes?"
"Nine and a half," I replied.
Then, just as I was finishing lacing the left shoe, the guy picked up the right shoe from the floor beside me and began putting it on.
He wasn't going to pass up an opportunity to try out a pair of snazzy shoes just because somebody else already had one of them on.
I stared at him in disbelief.
"That's pretty comfortable, ain't it?" he said.
"Uh ... yeah, it is," I said, trying to determine whether I wanted those shoes badly enough to wrestle him to the floor and rip the right one off his foot before a security guard pepper sprayed me.
"You want to try this one, too?" I asked him. "Yeah." I gave the guy the shoe, put my old boots on and left the store.
I may never leave my house again.