Nothing brings a community together quite like demolition.
For the better part of a week, friends and neighbors gathered at various times to watch an excavator — a large piece of equipment on tracks with a bucket at the end, manufactured by the fine folks at Caterpillar — tear down a house that was no longer fit for humans or anything else to occupy.
I currently hang my hat in a former mill village, a neighborhood on the mend after a couple of lean decades. And mending sometimes means tearing down and starting over, just like what happened at the lot across the road.
Word spread quickly that destruction involving a piece of heavy machinery was afoot. My friend John, an artist, philosopher, raconteur and Kris Kristofferson look-alike, learned I had the day off and volunteered to help supervise the festivities from the front porch.
He didn't bring along Bobby McGee, but he did show up with a couple of frosty beverages.
"I enjoy hard work," I told him when he arrived. "I could sit here and watch it all day long."
The excavator operator, which sounds like the title of a <&underline>Jim Croce</&underline> song rather than one by Kristofferson, was a true artist.
He would knock a while and crush a while, and then use the jaws on the bucket to sort metal, masonry and wood.
It involved both brute force and precision.
I spend most of my days working with other people building the latest newspaper a piece at a time until it's complete and arrives on doorsteps or inboxes.
Tearing something down looked like so much more fun, like being in the saddle of a prehistoric hell-raising beast that could also operate delicately when needed.
I decided then and there my next career would be traveling freelance excavator operator, driving from town to town knocking stuff down for the good of humanity.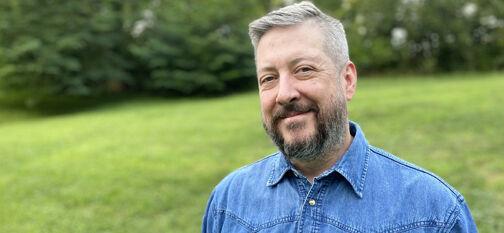 "Excuse me, sir. I noticed that building yonder is in disrepair. May I present you with my card? Yes, it is me, traveling freelance excavator operator. For a reasonable sum, a mere pittance if you will, I will tear down that unsightly structure. Also, I am sorry I crushed your mailbox on the way in. I'm still getting the hang of this thing."
Then, I looked up how much a used excavator of this a magnitude costs and realized I would have a better chance of being Kris Kristofferson's tour manager than purchasing this particular piece of equipment.
But it was a nice thought for as long as the frosty beverage lasted.
As the project continued, more people showed up to watch, tailgating and pulling up lawn chairs. We all sat around and speculated on what kind of animals would scamper from the wreckage.
A city worker during a pre-demolition walk-through inspection was startled by a rat the size of a Chihuahua, according to one person on the scene. Another said a raccoon once lived there and entered and exited through a hole in a basement door but it probably moved away when feral cats took over and started renting to groundhogs. Groundhogs are notoriously bad neighbors.
As onlookers came and went over the next several days, the excavator operator continued to work his magic, knocking and crushing and sorting. The dump truck went away full and came back empty over and over and soon it was done.
We, the members of demolition coalition, said our goodbyes and promised to stay in touch.
The contractor seeded the empty lot with grass and put down straw. Something else will eventually be built there in our neighborhood on the mend.
Hopefully, John will come over and watch that, too. I want to talk to him about us going in together on a used excavator.