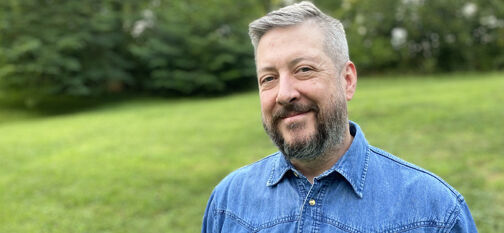 As of this writing, nearly 107 million Americans have been fully vaccinated against COVID-19 and I am happy to say I am among them.
I pulled up to the drive-thru shot clinic for my first dose, rolled down the window of the truck and asked the check-in team, "Is this the place for free vasectomies?"
Once I convinced them I was joking, I was allowed to proceed down the line and get poked in a highly efficient and near painless manner. A couple of weeks later, I repeated the process, sans the joke. Now, I may still have to wear a mask to the beer store but I can walk around outside without one and suck in pollen until my head explodes.
When I told my distant relative Cousin Junior — who many (rightly) believe exists only in my imagination and previous columns — about my vaccinations, he asked if I would be willing to sit down for an interview for his newsletter called The Truth Hurts (But I'll Hurt You Worse.)
It's a weekly publication he distributes by riding around in his truck and throwing copies out the window. About half of those are picked up from side ditches by people doing community service, but enough get out there to, as Cousin Junior puts it, "provide an alternative to the MSM."
That could mean the mainstream media or possibly Marvin Seymore Mooneyham, Cousin Junior's neighbor, who has taken out four restraining orders on him in five years.
I told Cousin Junior I would be interviewed for his newsletter but only if I could also publish the conversation in my column. He grinned and said, "Hell, boy, ain't nobody reads that thing anyway, so have at it."
The following was edited for clarity and to remove a profanity laced-tirade midway through when Cousin Junior looked out his kitchen window and saw Marvin Seymore Mooneyham turning around in his driveway.
Cousin Junior: Well, it looks like you got yourself a couple of them so-called "vaccines" that all the sheeple are getting because the mainstream media and Marvin Seymore Mooneyham brainwashed them. How does it feel to have Billy Gates tracking your every move?
Me: I don't think Bill Gates or anyone else has reason to track my every move. The science behind these vaccines is years in the making, with medical professionals and researchers devoting their lives preparing for just this kind of situation.
Cousin Junior: I heard when you got that second shot, your arm fell off and you had to go down to urgent care and have it sewed back on, crying like a baby the whole time, a-blubbering, "I want Dr. Fauci! I want Dr. Fauci!"
Me: No, after the second shot, I had some chills, minor arm pain and fatigue but it didn't last long. It was certainly less severe than getting COVID-19.
Cousin Junior: You mean the flu.
Cousin Junior: Like I said, the flu. Moving on, what would you like the loyal readers of The Truth Hurts (But I'll Hurt You Worse) to know as we bring this interview to a close?
Me: That we all need to be vaccinated. It isn't a hoax. It isn't a government conspiracy. It isn't the flu. Get the shots for yourself and, most importantly for others. As Dr. Tom Frieden, former CDC director, said in a tweet "…when you get infected, the virus replicates all over your body and could cause long-term health problems, even for people not sick enough to be hospitalized. The vaccine teaches your body to fight the virus, then disappears."
Cousin Junior: You know I'm going to edit most of that out, right?
Scott Hollifield is editor and general manager of The McDowell News in Marion and a humor columnist. Email him at rhollifield@mcdowellnews.com.