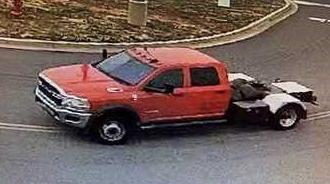 A Guilford County man, Martin Calvin Cox Jr., 41, of Browns Summit, faces charges in the shooting deaths of two motorcyclists along Rockingham County's U.S. 29 bypass on Monday, Sheriff Sam Page said in a Tuesday night news release.
Cox is charged with two counts of first-degree murder and is alleged to have also wounded a third rider, sheriff's officials said.
Kentucky State Police arrested Cox as he traveled through Sheperdsville, just outside of Louisville, in Bullitt County, Kentucky. Bullitt County is an eight-hour drive from Reidsville.
Cox, whose last-known address is being held in the Bullitt County Jail and will be extradited to Rockingham County, Page said.
While Page said he believes the killings were targeted crimes, he has not disclosed investigators' theories about a motive in the shootings.
The victims were shot Monday afternoon around 4:45 p.m. as they rode north along the U.S. 29 bypass between Barnes Street and N.C. 14, officials said Monday.
Rockingham sheriff's investigators said the deadly gunfire came from a red Dodge dually pickup. A dually is a dual rear-wheel truck. Page said on Tuesday that the truck was recovered at the time of the arrest in Kentucky.
"This type of crime is horrific. It's not something we see here in Rockingham County. In fact, in my more than 30-year career in law enforcement in this county, I don't think I've seen anything like it,'' Page said in a Tuesday email.
Motorists alerted authorities that two victims were lying along the road, Public Information Officer Lt. Kevin Suthard said Monday night.
"We will not be releasing the names or identifying information about the victims at this time out of concern for the surviving victim's safety as well as any family members of any of the victims involved,'' Page said Tuesday, explaining his decision was based on a recommendation by Rockingham County District Attorney Jason Ramey.
Deputies and other first responders found a third victim shortly after arriving on the scene.
A caller to 911 can be heard describing a woman who told him she'd been shot. He said he'd found the woman near Exit 153 on U.S. 29.
"She's yelling, 'Help Me.' She says he's been shot. That's what she just yelled when I pulled up and said, 'Are you OK?,''' a driver told a 911 operator shortly after 4:30 p.m. "I thought I seen her motorcycle fly off into the woods,'' the witness told the operator.
Suthard said the survivor is being treated at a hospital. He did not share the victim's condition.
The northbound lane of U.S. 29 was closed from the Barnes Street intersection to N.C. 14 for nearly seven hours Monday as investigators combed the crime scene. The road reopened Tuesday.
Anyone with information about the shootings is asked to call the sheriff's office at 336-634-3232 or the Rockingham County Crime Stoppers Hotline at 336-349-9683.