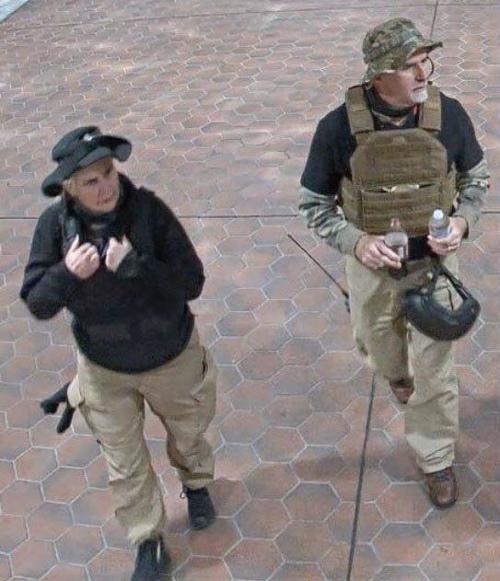 A former High Point police officer facing charges for her alleged role in the Jan. 6 U.S. Capitol breach will be released from federal custody, a judge ruled Wednesday.
Laura Lee Steele, 52, of Thomasville, is facing a number of charges, including conspiracy and destruction of property, in connection with the Jan. 6 violence at the Capitol. Federal authorities say Steele and nine other defendants, including her brother, Graydon Young, 54, of Englewood, Fla., conspired to gather in Washington, D.C. in an effort to stop the U.S. Congress from certifying the results of the presidential election.
Protestors broke into the U.S. Capitol, assaulted 139 law-enforcement officers and caused millions of dollars in property damage, federal prosecutors allege. Five people died.
Steele and her co-defendants are associated with the Oath Keepers, a far-right, antigovernmental group that believes elites are trying to strip Americans of their rights. The loosely-organized group heavily recruits from military and law-enforcement.
U.S. District Judge Amit Mehta made the ruling regarding Steele's release after a hearing in U.S. District Court in Washington, D.C. on Wednesday morning. 
Mehta said he was troubled by the allegations against Steele but ultimately ruled that, based on the available evidence, she doesn't appear to have played less of a role in the insurrection than her co-defendants. He said there was no evidence that she personally damaged property or confronted law-enforcement officers. 
But Mehta placed strict conditions on her release. She cannot have any contact with the other co-defendants, including her brother, and she is under house arrest. She will be staying in the Thomasville house she shares with her husband, Kenneth Steele, who retired earlier this year as an assistant chief with the High Point Police Department. The couple has two sons, both of whom are in law-enforcement. 
She also cannot possess any weapons and cannot use any electronic devices, including cellphones and computers. 
Laura Steele was a police officer with the High Point Police Department from 1992 to 2004, when she was fired for conduct toward superior personnel, absence from duty and violation of communications policy. While at the police department, she worked as a school resource officer. Steele was investigated — and later cleared — in two separate incidents where she pepper-sprayed students, an 11-year-old girl and a 16-year-old boy. 
Steele was most recently an armed security guard for Novant. She had been registered with the Private Protective Services Board since 2018, but that registration was suspended due to the federal charges. According to court documents, she is on leave from her security job. 
Mehta's decision overturns a previous ruling from U.S. Magistrate Judge Joe Webster in the Middle District of North Carolina. Webster ruled in February that Steele should remain in jail.
Steele's next court date is April 6.