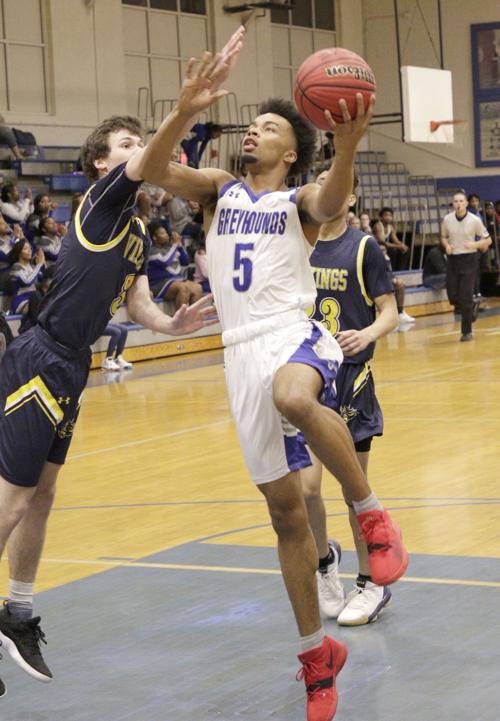 Statesville outscored South Iredell 17-6 over the last five minutes of the fourth quarter to win the teams' North Piedmont Conference opener Tuesday night, 74-63.
Tied 57-57 with 5 minutes, 30 left, Statesville used a 13-4 run to take control of the game, running their lead to 9 with less than two minutes left. The Greyhounds hit four crucial free throws in the last two minutes to seal the win.
The win comes after a multi-week layoff for the Greyhounds, who last played in the holiday tournament championship game Dec. 30.
"We were rusty," Statesville coach Sonny Schofield said. "Shots were rusty, decision making rusty and defense real rusty. We traded baskets with them most of the night and gave them easy looks most of the night. That's not how we play defense."
In what was a back and forth game from the start, South Iredell took a 36-30 lead with less than two minutes left in the second half. But Statesville (10-3, 1-0) closed the half on an 8-0 run to lead by two at the break.
South Iredell responded out of the locker room, using a 9-2 run to take the lead 45-40 with 5 minutes left in the third quarter. The two teams traded runs before sending the game to the fourth quarter tied at 52.
The Vikings (3-11, 0-1) tied the game for the final time at 57-57 with five minutes left in the fourth. But the Greyhounds' offensive firepower proved too much at the end.
Chris Brown poured in 20 points to lead the Greyhounds, while Jasaiah Gathings, Messiah Robinson and Tarez Hamilton pitched in 17, 13 and 10 points, respectively.
Gavin Morrison led the Vikings with 22.
Next, the Greyhounds host in-county rival North Iredell Friday night, while South Iredell travels to West Rowan.
Late FTs help propel South girls past SHS
South Iredell's girls basketball team hit six consecutive free throws in the final 30 seconds of the game to seal a 52-47 conference win over Statesville on Tuesday night.
Leading 46-45 with 36 seconds left, South Iredell's Lindsay Durham was sent to the foul line by Statesville. Durham hit both free throws to begin a string of clutch points from the charity stripe to give the Vikings an important win to start NPC play.
After a defensive stop on the other end, the Vikings' Tae Brown followed Durham's lead, hitting two free throws of her own to extend South Iredell's lead to 50-45 with less than 20 seconds left.
A Statesville lay-up brought it back to a one-possession game with 10 seconds left. But staying true to the previous two possessions, Ashtyn Zeigler was fouled and hit both of her free throws to give the Vikings a 52-47 lead and clinch the win.
Sarah Nelson led the Vikings with 13 points and Zeigler pitched in 11 to round out South Iredell scorers in double digits.
Sha'kiya Bowman scored 12 to lead the Greyhounds.
BOX SCORES
(boys)
Statesville;20;18;14;22—74
South Iredell;19;17;16;11—63
STATESVILLE (74): Chris Brown 20, Jasaiah Gathings 17, Messiah Robinson 13, Tarez Hamilton 10, Fields 9, Miller 3, Coleman 2.
SOUTH IREDELL(63): Gavin Morrison 22, Hunter Barnette 13, Smith 9, Alquiza 9, Labelle 5, McLeod 3, Watson 2.
(girls)
South Iredell;11;11;11;19—52
Statesville;5;18;12;12—47
SOUTH IREDELL (52): Sarah Nelson 13, Ashtyn Zeigler 11, Mercer 9, Houser 9, Durham 8, Brown 2.
STATESVILLE (47): Sha'kiya Bowman 12, Swift 9, Keaton 8, Summers 8, Hoffman 3, White-Connor 3, Wilson 2, Bailey-Scott 2.
Be the first to know
Get local news delivered to your inbox!