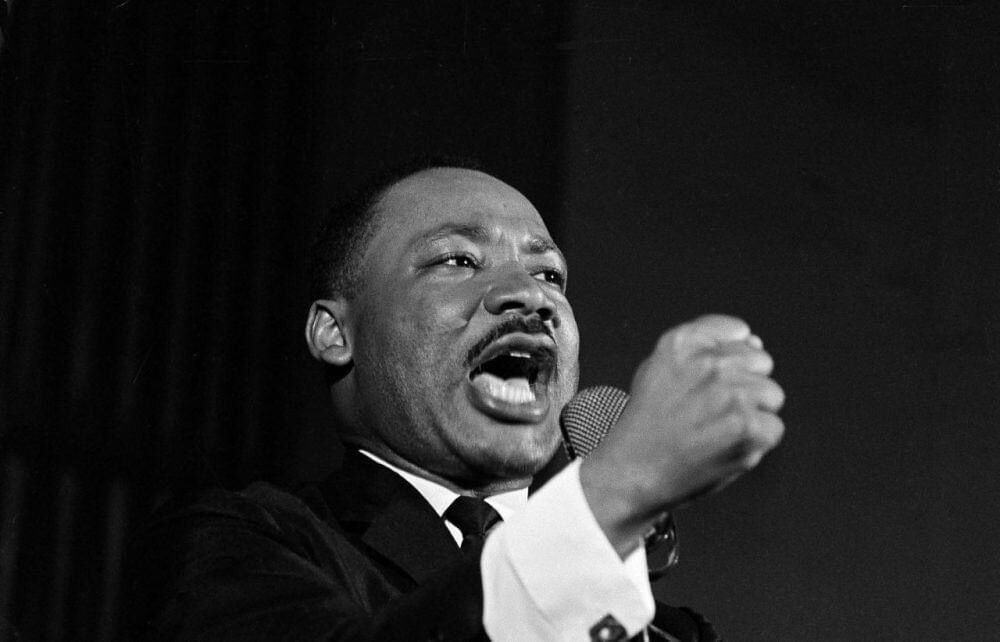 Two Statesville natives search for the spirit of Dr. King
Martin Luther King Jr. died the day after marching in Memphis for the rights of sanitation workers. Like the cafeteria workers at Duke, Chapel Hill and UNCG in 1969, they did not have basic employee rights and were paid slave-like wages. Is $15 an hour too much to pay a sanitation worker today who picks up your garbage or a cafeteria worker at your child's university? He went to jail for workers' rights? How is that threatening?
There is, as always, a lot of lip service today purporting to embrace Dr. King and his vision.
For years there has been two Statesville's. Poverty doesn't have to be an inheritance. Opportunity can replace it.
But we challenge this lip service to be something more — to be backed up with policies that impact the lives of the most vulnerable.
What kind of action could we take that would improve the living conditions of the poor in Statesville? What about city/county government? Should there be more equity in hiring? There is not a lack of qualified people of color. There is a lack of professional positions offered to them. There are many Black graduates from North Carolina universities like UNCG, NC A&T, etc. I have taught them there. They were "A" students. All they want is a chance. Jobs-Here-Now. Professional, good paying JOBS, HERE, not in Charlotte, NOW, not later.
Oh, how comfortable it is to praise Dr. King when he is dead. But Dr. King had little patience for preserving the comfort of the status quo at the expense of the oppressed. The call to honor Dr. King must be more than just one day but a year-long commitment.
There will be no justice until those with more than they need have to give up something until it hurts. Something more than a guilt-appeasing donation to a nonprofit. It has to hurt our lifestyle, our comfort. Hiring a person of color could be a first step.
Will you honor him by doing more than simply giving him lip service and quoting the "dream?"
Dr. King said, "the Negro lives on a lonely island of poverty in the midst of a vast ocean of material prosperity." He said this more than 50 years ago. Deserts and islands.
Do you share Dr. King's vision for Black children and white children? Dr. King said, "I have a dream that [in the red clay of Statesville], the sons of former slaves and the sons of former slave owners will be able to sit down together at the table of brotherhood … where they will not be judged by the color of their skin, but the content of their character." If so, why are young Black men especially at risk. Some go to college or trade school only to come home and no one will give them a job. They shouldn't have to be relegated to fast food or a temp agency. All they want is a chance and respect. Race was constructed over centuries of economic and political bargains. It doesn't have to be the lens through which we see the next century.
We must practice compassion to the least of these. When kids are out of school and parents are out of work or have too few hours to make ends meet, it is not the time for local government to cut the families' utilities.
Should Statesville have a rainy-day fund for "times that try men's souls" to help tide people over with rent and utilities? Is homelessness the consequence of poor decisions of a poor person or is it the lack of a true safety net.
Where is the pride and determination of Dr. King when a life is lost through senseless gun violence from illegal guns; when there is a lack of opportunity to access decent-paying jobs; when there is too little affordable housing, broadband and transportation access, and child care, when there are too few sidewalks. Yes, sidewalks. Sidewalks to connect communities and neighborhoods, to give every resident of our community the access to the basics needed to live quality lives and to live lives of independence with long-term sustainability. This is not about welfare but well-living — and being committed to the well-living of every individual.
Our commitment to Dr. King also must focus on opportunity.
Where is the spirit of Dr. King when we ask our kids to behave and study hard in school, but they graduate only to return home to find no opportunities?
What is the unemployment rate of Blacks with a college degree in Statesville or is that information even available? Or a high school diploma? Many of the students where there are many students of color graduating with high honors like UNCG, NC A&T and others are not able to find, much less apply for professional jobs for which they are qualified.
Where is the spirit of Dr. King when teachers earn four-year degrees, but cannot earn enough to live because their wages are too low?
I taught middle school for one year. I had 40+ students in one of my classes. I wasn't doing it because of the money. You are proud of your low taxes. Teachers are proud of their chosen career. Has pride in our low tax rate jeopardized the future generation by underfunding education?
Where is that "We love Dr. King spirit" when we cut child nutrition programs and tolerate communities in food deserts, transportation deserts, and health care deserts?
South Statesville is a food desert. It is also a school desert. Years ago, the school board decided to close down the schools in what has become "South Statesville" because the school buildings were too old. I wonder if you look at the minutes from those school board meetings in the 1970s, 1980s if that was the real reason. Should young Black men have their driver's license taken away if they don't pay for a speeding ticket? Isn't that the worst thing you can do to someone barely able to hang on to a job and the job requires transportation. As King said, "you have been the veterans of creative suffering." We enact laws that seem fair to us, but they devastate those who live on the edge of poverty every day, often because of no fault of their own.
Where is that spirit of justice to help victims of child and sexual abuse, to tighten protections and curb monsters who get bail? We want justice but won't take the simple steps to register to vote and serve on a jury?
We are a country of laws. That is why immigrants want to move here. A democracy or republic is only as good as those who want to keep it and keep its laws. We all have to do our part.
Where is the spirit of Dr. King when a struggling Black family has saved enough for a "first time homebuyers" program only to be victims of "red-lining" from banks that are all too happy to hold your money and cash your checks, but never sit down with you to get a loan.
How can you get a loan if you can't get a job when you graduate from college. We are afraid of those we don't know or understand. What do you think a Black person would think if a white person moved in beside them? Gentrifying instead of redlining. We have habits they don't like. We should treat our neighbors as we would like to be treated. With RESPECT and PRIVACY. A diverse neighborhood is a safe neighborhood.
Where is the spirit of the beloved community? Or is your commitment to community only if you agree with me, or if you are in my social class, or if you are from my side of the tracks? And these are not just questions for the white community. The Black community also has its social cliques for the few, well-connected gatekeepers eager to help themselves. They must do more than have titles, they must show courage.
When will we see each other horizontally as equal in our humanity rather than vertically as to how we rank within our race, within our community and within our society. One of us cannot see the other as less than human, or less deserving of the American dream.
If only we would practice in policy what we are so comfortable celebrating for one day on the third Monday every January.
No amount of top-down action will change the hearts of man. None of us are going anywhere. We need to learn how to build a better country together, as if we are truly "in this together."
Yes, we all quote John Lewis and his call for "good trouble, necessary trouble," but only on the third Monday of January.
Let's make "good trouble" a daily habit. Make "good trouble" like we make coffee.
Too often, our commitment to make "good trouble" lasts just for a moment and then we return to business as usual.
We can't keep trying to get our slice of the American pie at the expense of our fellow citizen. It can't be me first and everyone else later anymore. Time to make the pie bigger and mix it with all kinds of berries.
These words may seem harsh. But hopefully they will disturb your conscience and push you to get up and walk and take action for freedom, responsibility, and accountability.
Where is the spirit of Dr. King?
It is inside all of us, whether we are willing to admit or see it.
Too often, he is out of sight, out of mind 364 days a year.
Because we don't want to see the pain and poverty, reflected in the mirror of our wealth and privilege. Looking at each other comparatively, the inequality is obvious.
Brian Summers, a Statesville native was an aide to former President George W. Bush. Thomas Alexander, a Statesville native, is a Spanish instructor, PhD student in Comparative Literature University S.C., and 1983 graduate of Statesville High School.