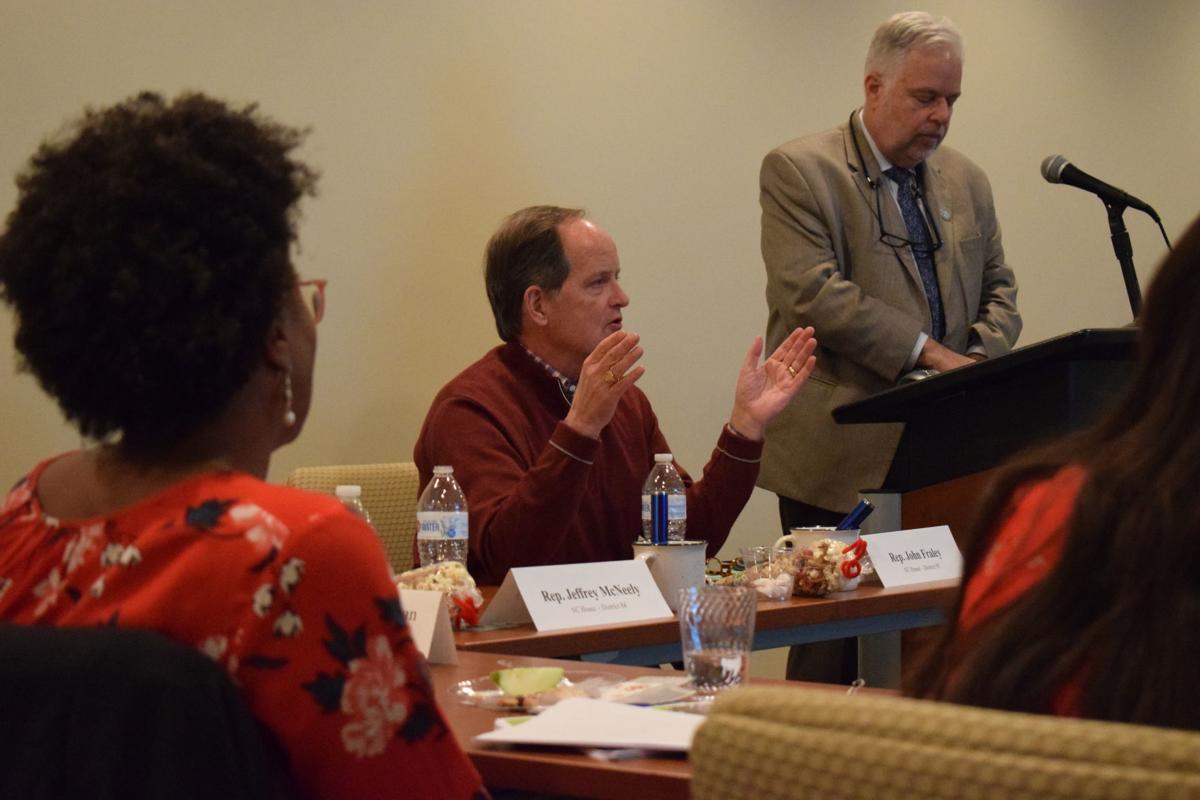 Local and state officials updated the Iredell County Board of Health on the studies and panels being organized concerning the thyroid cancer cluster in the region at the board's meeting Tuesday.
Health Director Jane Hinson said the county health department spent two years trying to figure out why there are elevated levels of thyroid cancer in the Mooresville ZIP codes 28115 and 28117.
Hinson said she became aware of the elevated cancer rate when she was copied on an email of a report of Iredell County cancer levels a Stateville resident requested from the state. Concerned by the levels, the county and state departments worked together to figure out what type of cancer was causing the higher-than-average levels and the area these cases were coming from.
At the same time, a Mooresville resident was raising money for a study by Duke University in an attempt to see if there was a link between thyroid cancer and coal ash. The two efforts met, and the government and community began to cooperate.
"At the end of the day, when this is all said and done, there's going to be an ask for money," Hinson said. "There has to be money to do research. There has to be money to continue to work. What I like about what's happening is it's going to be science-based. It's not just going to be, 'We're going to need money.'"
Hinson said there will be a plan before money is requested. Currently, there is a group of experts making a research plan to move the process forward. Next steps will involve a partnership among the county and state health departments, legislators and academics.
"There are a lot of brains much smarter than ours that are scientists and researchers," Hinson said. "We cannot do this without them. They are our experts. They have the data, and they have been given the ability through legislation and the work of our elected officials to be able to push this forward with other research institutions."
State level
State Epidemiologist Zack Moore said the state health department created a report in January studying the thyroid cancer rate in Iredell, reviewing academic literature about thyroid cancer and environmental monitoring data from the Department of Environmental Quality to see if the areas with high thyroid cancer rates coincided with areas where contaminants exceeded department guidelines.
The health department also analyzed thyroid cancer rates statewide to see if other areas were similarly affected.
The one confirmed cause of thyroid cancer is ionizing radiation. With a nuclear plant nearby, the health department tried to find an event where people would have been exposed to radiation, but couldn't find one.
Moore said improvements in diagnostic equipment and the availability of health care have caused an increase of global thyroid cancer rates. Because more people can afford to be tested and the tests are more thorough, more instances of thyroid cancer are being identified.
In the January report, the health department says that between 1995 and 1999, the thyroid cancer rate was 3.3, while between 2010 and 2014, the rate was 11.6.
Ultimately, though the report explored water and air monitoring data, no conclusions could be drawn regarding the cause of the elevated rate of thyroid cancer.
Moore said the state was continuing to record the thyroid cancer rate and to monitor any changes. The health department is also continuing to look at new scientific literature being released. Thyroid cancer is a popular topic for research because rates are rising in many areas.
Academic world
Andrew Olshan, a cancer epidemiologist from the University of North Carolina, leads a panel focused on thyroid cancer in the state. He is also on a legislative panel advising action on cancer research in the state and an Iredell County Environmental Working Group developing a study for the county.
Olshan said the panel for thyroid cancer in North Carolina suggested a statewide study of thyroid cancer patients, gathering information on the places patients have lived, potential environmental exposures and their diet. This study is being planned now.
The panel also suggested studies of clinical procedures, other thyroid diseases and applying data gathered from other epidemiologic studies, or studies researching the cause of a disease, to the situation in North Carolina.
Studies at UNC are underway and being planned to learn more about clinical procedures and other thyroid diseases.
A study is underway at Duke exploring possible correlations between coal ash and thyroid cancer. Academics are gathering soil, water and air samples in the area.
The panel also suggested studying thyroid cancer rates in states around North Carolina and comparing other cancer rates with thyroid cancer rates in Iredell. These studies are underway at Duke, UNC and at state-level government.
"It's very hard to study any association between expected environmental factors and causing cancer just in general, not even in a cluster-type situation," Olshan said. "It's very hard, long-term, expensive studies to do. These recommendations are trying to get at this problem in different ways to try to tease out if there are any clues to explain elevated instances."
Olshan then discussed the N.C. Cancer Research Advisory Panel, created by the state bill written by Sen. Vickie Sawyer. He said the panel was focused on how cancer clusters are researched, how clusters are geographically identified and how many people are needed in an area to make the study group statistically reliable.
If a group is too small, even a change of one can have a large impact on statistics that doesn't accurately reflect reality.
Olshan said the federal Centers for Disease Control and Prevention is also studying how a cancer cluster is defined and identified.
The panel will make recommendations in April.
Finally, a group has been created in Iredell to develop a study of the elevated thyroid cancer rates in the county. The group includes representatives from UNC, Duke and the state health department.
The group is considering many study designs, types and techniques to get accurate data.
A pilot study will be done to determine how feasible the study is. If it is feasible, it will help reveal more clues about what might be causing thyroid cancer in Mooresville.
Input from elected officials
"There's a lot going on. There are a lot of people involved," Rep. John Fraley said. "I'm simply not going to let go by the narrative that people aren't doing anything and that there's not money being spent on this. There's lots of time and money being spent with all of these institutions that's coming out of system budgets."
Fraley listed many academic institutions in addition to Duke and UNC, as well as state and county groups, that are involved.
The county work group may soon include members of the local education community and other important stakeholders.
Fraley said the elected officials are available any time for any question.
Rep. Jeff McNeely said Fraley, Sen. Sawyer and he were a team working for all parts of Iredell County.
"Just because we don't have an answer now doesn't mean we don't care, right?" Sawyer said. "We just care enough to get you the right answer."
Get local news delivered to your inbox!
Subscribe to our Daily Headlines newsletter.