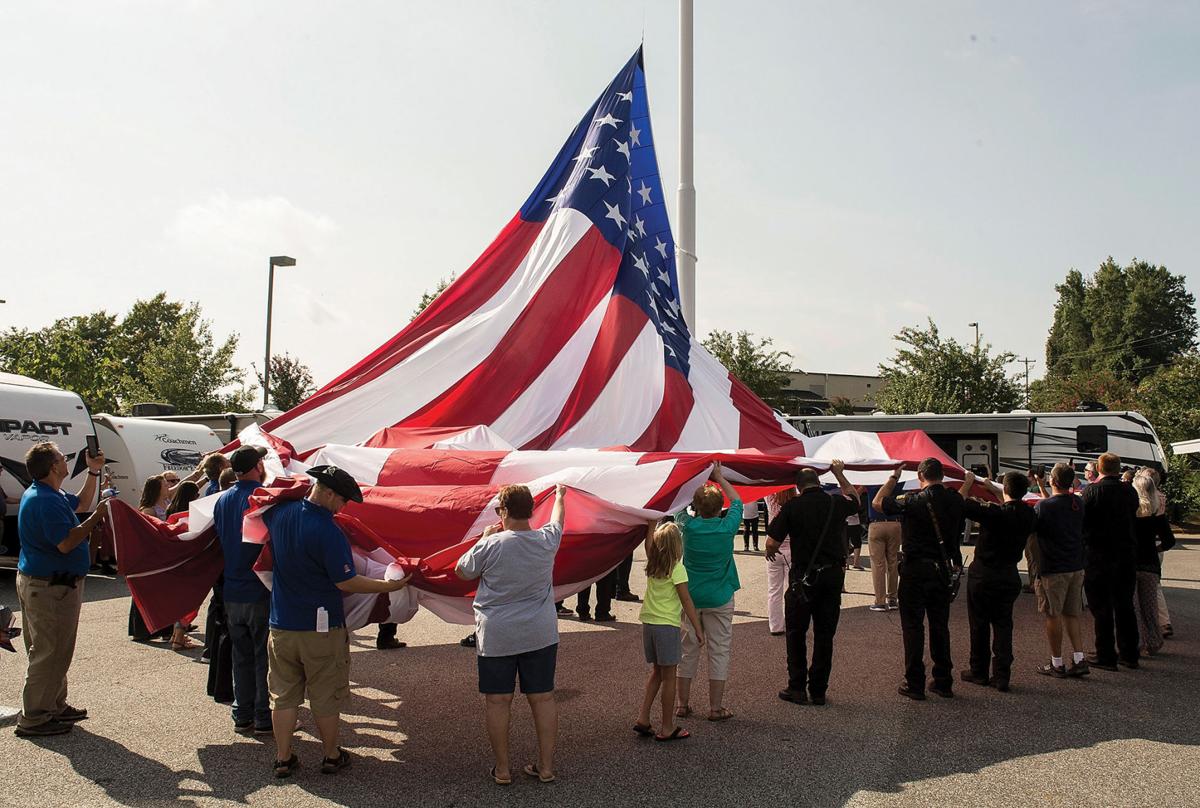 Despite Mayor Costi Kutteh's expectations in May, Statesville City Council and Gander RV will remain at an impasse over a giant American flag after council's 3-5 vote refusing to increase the size limit for flags.
At Monday's City Council meeting, council members Steve Johnson, John Staford and C.O. "Jap" Johnson voted for the amendment to allow 40-by-80 foot flags. Council members Kevin Williams, Michael Johnson, Doris Allison, Roy West and William Morgan voted against the amendment, keeping the flag size limit at 25 by 40 feet.
Council members for and against amending the flag ordinance dredged up the five-year history between Gander RV, formerly Camping World and the city of Statesville.
"This guy (Camping World CEO Marcus Lemonis) has abused this town and scammed this town, and I just don't think we ought to let him get away with it," West said. "Camping World has just not shot straight with us from day one, and I think we're setting a horrible, horrible precedent by letting someone come in here and violate our ordinance when we made a compromise."
Other council members echoed the desire for Gander RV to follow an official process of requesting the ordinance be changed rather than calling for national response to the city's ordinance on social media.
Staford pointed out that in 2015 Camping World did apply for a variance, or an exception to an ordinance, allowing the business to fly its 40 by 80 foot flag. The Board of Adjustment, which is responsible for variances, rejected the request because an individual or business has to prove an ordinance is causing hardship to receive a variance.
Council rejected a change in the ordinance again in 2017 when Staford requested staff explore options to allow Camping World to fly their flag.
"The definition of insanity is to do the same thing over and over and expect a different result," Staford said.
Staford said he wanted to get the city out of the national spotlight regarding this issue.
"We didn't put ourselves in this limelight," Allison said to Staford. "He put us in this limelight."
When asked by West about the compromise council made in May 2018 by approving an increase in the flag size limit to 25-by-40 feet, Staford said that was a compromise made between council members. Camping World had never agreed to a smaller flag.
Staford said he had hoped increase the size limit would help the situation.
Staford also clarified that he didn't support eliminating the more than $10,000 in fines Gander RV has accrued since Oct. 15.
City attorney Leah Messick said Statesville could still collect the fines even if the ordinance was amended. She also said Gander RV could pay the fine at any time.
When some council members questioned whether the fine would be paid if council approved the amendment, Staford said Camping World CEO Marcus Lemonis had said he would pay the fine when he visited Gander RV in Statesville.
"You want to pay the fine? Pay it," Allison said. "You want to go to jail? Tell him to hold on for a while longer. He can go to the big jail (the new Iredell County jail nearing completion)."
Lemonis has claimed he is willing to go to jail for contempt of court before he will take the flag at Gander RV down.
Lemonis did not immediately return a phone call seeking comment.
When the issue first came up in 2017, Morgan was the council member that voted against increasing the size of the flag and then signaled willingness to compromise in May 2018. However, he said he's not willing to change the ordinance again.
"At some point, you have to draw the line in the sand," Morgan said. "This is not about patriotism. My father was a World War II veteran. We're an All-American city. The size of the flag has nothing to do with patriotism. We're a nation of laws."
Two years ago, Camping World's stock prices took a drastic hit, the company hasn't recovered from. Morgan said, if he were in charge of a company in a similar situation, he would be looking for free marketing.
Morgan and Williams both voiced concern about the precedent changing the ordinance to appease Gander RV would set.
Williams mentioned a time where council had not allowed a business to have a table and chair by their storefront because there was an ordinance against it.
Morgan said years ago, council made a business whitewash over a mural, apply for a permit and paint it again once the permit was awarded.
"There's nothing to say that, if we allow this, that somebody that doesn't like any ordinance we have is going to come ask for it and use 'Well, you did it for them, why not for us?'" Morgan said.
C.O. "Jap" Johnson said council had changed ordinances in the past and it could be done in this instance as well.
"I don't think anyone should have the right to tell somebody what size flag they can fly as long as it's not a safety hazard or blocking someone else's business. That's my belief," Jap Johnson said.
Michael Johnson reiterated that the conflict with Gander RV had nothing to do with patriotism.
"It has nothing to do with that. It's an ordinance," Johnson said. "You in the audience, who we make cut your grass, we make take your signs down, have abided by those ordinances as dutiful citizens."
Michael Johnson said all ordinances weren't perfect, and together, the council and citizens could fix those ordinances.
"It's been a mutual task between you and us. It hasn't been a unilateral situation where you walk in and say, 'You're going to do it,'" Michael Johnson said. "We have an opportunity to say 'You're above it. You don't even have to ask. We're going to give it to you.' Or, we can say, 'No, but you have the right to ask again.'"
Get local news delivered to your inbox!
Subscribe to our Daily Headlines newsletter.