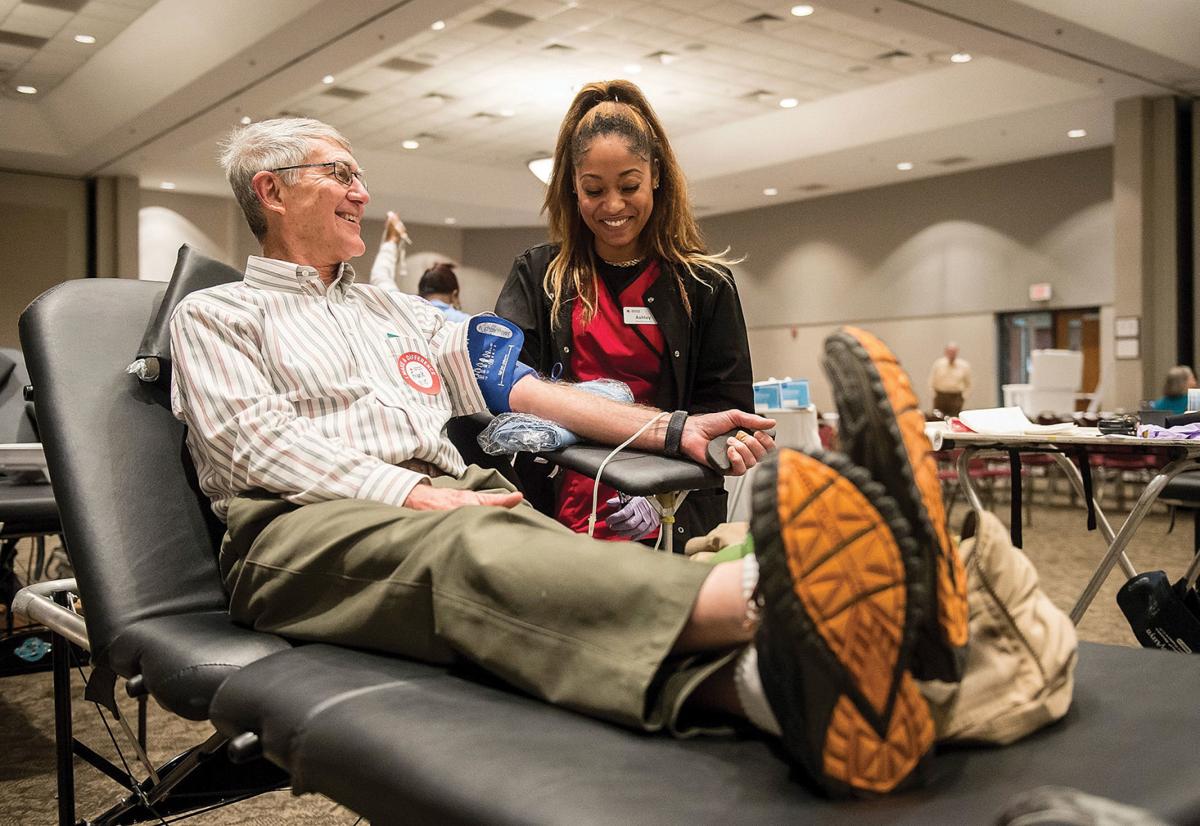 Since its inception more than three decades ago, the Masonic Community Blood Drive has likely impacted thousands of lives.
One pint of blood potentially saves or impacts three lives, so during its 30-year history, the number of people reached by this drive is beyond measure.
The 31st Annual Masonic Community Blood Drive is Friday at nine sites across the region. The Mooresville Masonic Lodge will also sponsor a drive at the Charles Mack Citizen Center, 215 N. Main St. In Statesville, donors can visit two sites — the Statesville Civic Center, 300 S. Center St. and Snow Creek Lodge 571, 558 Dobson Farm Road.
Maya Franklin, external communications manager for the American Red Cross in Charlotte, said this annual drive comes at a critical time.
"With people traveling for the holidays or just busy with the holidays, donations are down at a time when blood is needed the most," she said. "We are extremely grateful for the partnership with the Masons for the past 30 years."
Duane Smyth, who is heading up the blood drive for the Masons, said the partnership began with two Masons, Tom Gregory and Lew Ledford. Traveling around and talking with different Masons, Gregory and Ledford wanted to do something that would have an impact on their community.
The idea of a blood drive was born, and Ledford and Gregory talked with representatives of the American Red Cross.
"They found out that right after the holidays donorship is down but the need increases. So they landed on the first week in January," Smyth said.
The first blood drive was held in the lodge building in Statesville.
"They had lines out the door," Smyth said.
The next year the drive was moved to Broad Street United Methodist Church and, soon, even that larger facility couldn't accommodate the number of donors. A few years later, it was moved to the civic center.
And the event itself continued to grow, branching out to other communities. Some of those drives in other areas encountered the same problem as did the one in Statesville — outgrowing their facility.
That is the case in Mooresville, Smyth said. Held at a church in past years, the decision was made to rent the citizen center to provide more room.
The civic center and citizen center are the only two facilities the Masons rent for the blood drive and, fortunately, Smyth said, the costs are covered by sponsorships. Smyth said Randy Marion Automotive and PauMac Tubing, Smyth's company, are among the gallon sponsors, who each contributed $1,000.
Banner Drug, Iredell Health System, Piedmont HealthCare, Derek Osborne Builders, EnergyUnited and the Red Cross are also on board as sponsors.
Sponsors are vital, Smyth said, not only for the facility rental costs but to buy the RTIC coolers that will be given away at each site and to provide one of the most enticing parts of the drive — the cookies that are baked on site.
"I'll definitely be there for that," Franklin said.
All donors will also receive a T-shirt specially made for this drive and will automatically be entered in a drawing for one of the coolers. Some donors will earn two chances for the cooler, Smyth said. Those donors are called Power Red, which is similar to a whole blood donation but a special machine is used to allow for the safe donation of two pints.
Smyth said the coolers and fresh-baked cookies are among the ideas organizers developed to encourage folks to come out and donate.
The organizers are also reaching out via social media and text messaging to ask people to donate.
Smyth said he reached out to contacts via text messages.
"I sent 40 or 50 texts and got eight or nine to answer that they would give," he said.
To continue to support the drive after 30 years means bringing on new blood as well, Smyth said. After Gregory and Ledford coordinated the drive for many years, Raymond Burnette took over. "He nearly single-handedly ran it for years," Smyth said.
After a few years of handling the duties, Smyth said, the decision was made to form a committee called the Masonic Community Blood Drive Committee and to gain 501(3)© status.
That committee will be the backbone of the drive in years to come, but the concentration for now is on this year's drive.
In 2019, the community blood drive brought in 504 pints and the goal this year is 525. Smyth said appointments for donations are down from last year, but organizers are hoping that picks up and walk-ins will also come in Friday.
Franklin offered tips for those wanting to donate. Donors should drink water before and after their donation and bring a photo ID. Potential donors should also prepare for a good time.
"It's a great opportunity for people to come out and be around like-minded people who want to help their community," she said.
To schedule an appointment, visit RedCrossBlood.org or use the Blood Donor App and enter code MASONIC or call 1-800-733-2767.
Get local news delivered to your inbox!
Subscribe to our Daily Headlines newsletter.