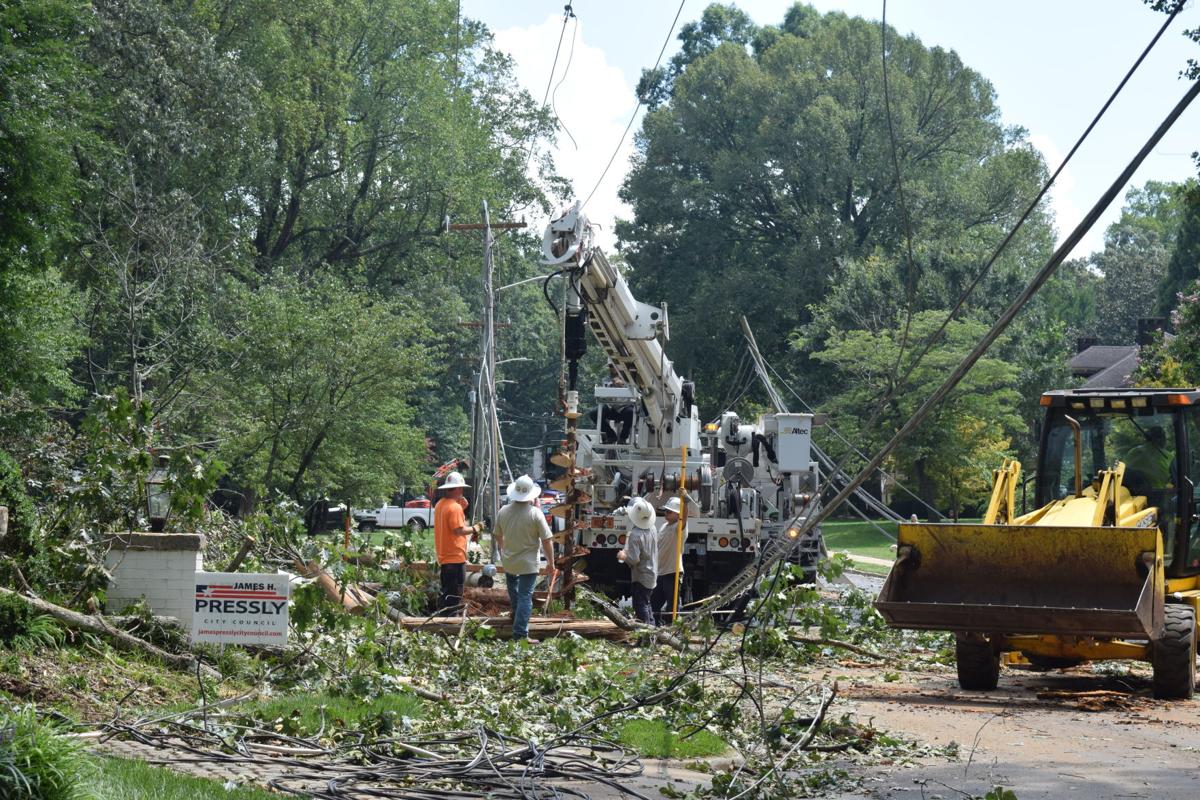 The powerful storm, packing a recorded high wind speed of 95 mph, closed in on Iredell County in minutes, said Emergency Management Director Kent Greene.
"The severe thunderstorm warning came out at 5:05 p.m.," Greene said, and two minutes later, phone calls began pouring in at the Iredell Emergency Communications Center. "We had very little notice," Greene said.
There were a couple of injuries reported, Greene said, but neither person was transported via Iredell EMS to a hospital.
The storm left massive damage in its wake, Greene said. A total of 13 homes had varying degrees of damage, and the roof was damaged on the City of Statesville's Public Works building, he said.
Damage assessments will take weeks, Greene said.
There was no report of tornadic activity and most of the damage likely came from straight line winds, which are produced by a thunderstorm, Greene said. "I talked to the National Weather Service this morning (Thursday) and they said there no signs of a tornado," he said.
The storm knocked out power to thousands of homes thr oughout Iredell, mainly in western Iredell County and inside the City of Statesville. At one point, outages exceeded 10,000 homes. Most were expected to be repaired by late Thursday afternoon.
Both the City of Statesville and EnergyUnited brought in outside crews to help begin the restoration process.
Adam Martin of EnergyUnited said the majority of outages were caused by either trees falling onto power lines or from utility poles that were snapped.
Statesville Public Information Officer Nancy Davis said at peak of the storm about 9,000 to 10,000 homes were without power and by late Thursday morning, that number dropped to around 3,000.
EnergyUnited reported 5,600 homes were without power during the storm and by late Thursday morning about 300 were still in the dark. Martin said the utility company experienced 16 different areas of outages.
Duke Energy didn't indicate its peak outage numbers but by Thursday morning, the number was below 200.
The storm was fast and furious and 911 lines were constantly busy, Greene said. Nearly 150 calls for service came into ECOM during the heart of the storm, Greene said. And that's not counting law enforcement or non-storm related calls, he said.
Iredell Sheriff Darren Campbell said the sheriff's office disaster response team went out Wednesday to help remove downed trees. And deputies, along with Statesville Police Department officers, helped direct traffic at major intersections due to power outages.
In addition to the 13 homes damaged by falling trees, Greene said, there were a total of 66 other tree-related calls, many with trees across roads. Another 41 calls involved fallen power lines
He said the western part of the city and downtown Statesville sustained the majority of the damage.
  " It was a bad storm," Greene added.
Get local news delivered to your inbox!
Subscribe to our Daily Headlines newsletter.