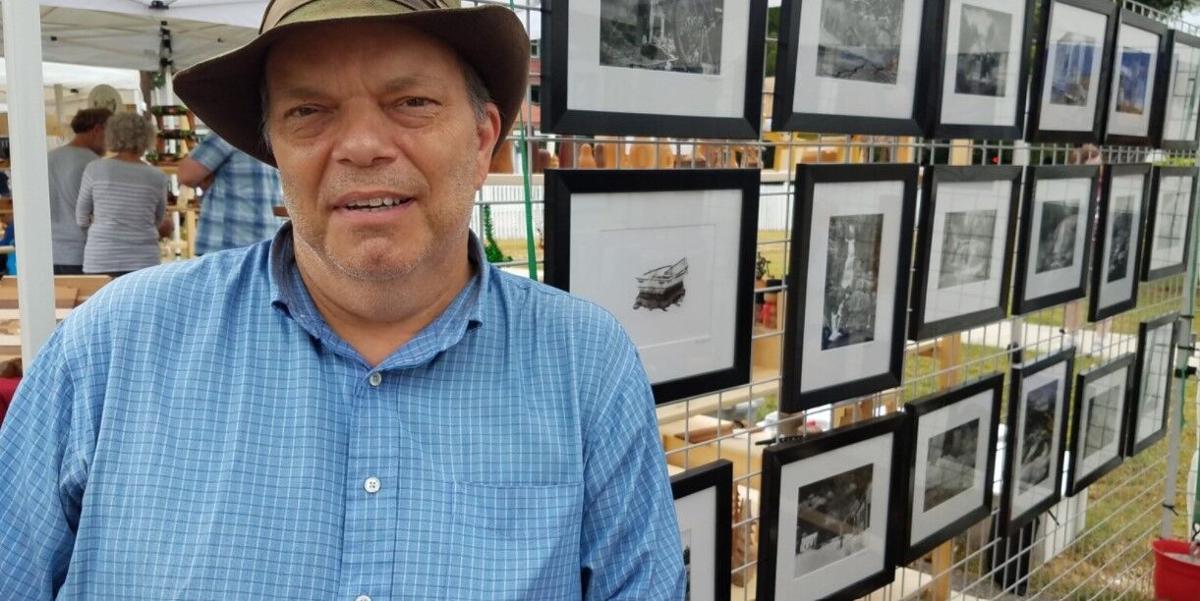 During the months of June and July, the Hiddenite Arts & Heritage Center's Lucas Mansion Gallery will feature the work of Marty Harris in his new photography exhibit, "The Journey Continues."
Located on the second floor of the center's Lucas Mansion, 316 Hiddenite Church Road, the gallery is free to visit Monday through Friday from 10 a.m. 4:30 p.m. and on Saturday from 10 a.m. to 3 p.m.
Marty Harris' interest in photography began with a fifth grade field trip and a $5 Kodak instamatic camera from a drug store. Although he no longer makes a living as a photographer, photography is still his passion, and he puts his whole heart into it, finding beauty where some others may not. He is drawn to a bare tree in winter, a boat on the rocks at low tide, or a barn aged with sun, rain, and time.
After graduating from South Iredell High School, Harris continued his education at Mitchell Community College. He worked as photographer with the Statesville Record & Landmark until he left that position to begin "The Walk" across North Carolina. "The Walk" ended in May 1991 with Harris's photographs of North Carolina landscapes being published in his book, "What the Road Passes By."
Harris has participated in the Center's annual Regional Artist Exhibit/Competition, and shows and sells his work at festivals including Hiddenite Celebration of the ARTS. "What the Road Passes By" may be purchased in the Hiddenite Center's Gift Shoppe.
The public is cordially invited to a Meet the Artist reception July 17 from 1-3 p.m. in the Lucas Mansion Gallery. Harris will greet visitors and share his passion for photography and art. Call the center's office at 828-632-6966 for information or details.
Classes available
Painting classes — Tuesday 6:30-8:30 p.m. with Heather Friday at the Center's Educational Complex. This class is for the beginner and the experienced artist ages high school through adult.
Ballroom and line dances — Ballroom dances, at 6-7 p.m. and line dances from 7-8 p.m. Monday with instructor Dirk Myers II at the Center's Educational Complex.
Barn quilt class — July 10 and Aug. 14 from 10 a.m. to 2 p.m. with Carol Mitchell. Instruction in painting your own 2x2 barn quilt, all materials are included for this make-and-take class. Call now to register and pre-pay for either class. $50 non-members, $45 members.
Wild herbs and foraging class — July 17 10 a.m. to 2 p.m. with Amy. Learn identification of wild herbs and learning their uses, making a first aide spray from wild herbs. This make and includes tour Amy's of small animals farm and basic gardening concepts. This is a make and take class. Bring a bag lunch and outdoor shoes. Call now to register and prepay. Cost is $35 for nonmembers, $30 for members.
Basic sewing/beginning quilting class — Fourth Monday each month. Contact Micki Earp at 828-632-6967 with the Brushy Mountain Quilters Guild for information and registration.
To receive class discounts: Friends memberships may be purchased via hiddenitearts.org or call 828-632-6966.
Class location: Educational Complex, 70 Hiddenite Church Road, Hiddenite.
Safety: Class sizes are reduced to allow social distancing with safety protocol in place.