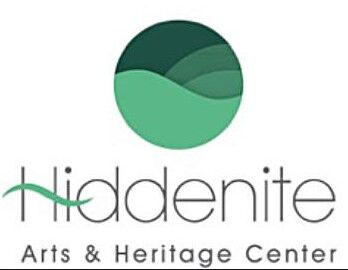 May 2021 marks the 40th Anniversary of the Hiddenite Arts & Heritage Center and the realization of the dream and vision of Hiddenite native, Eileen Lackey Sharpe. Mr. and Mrs. R.Y. Sharpe founded the center in 1981 as a nonprofit art and cultural organization. The result is a museum and art center encapsulating the arts, culture and traditions of the foothill region. The Center is housed in the James Paul Lucas Mansion, which is listed on the National Register of Historic Places, with an educational complex a few blocks away.
As a feature of the 40th Anniversary commemoration, the center presented a gallery exhibit of the personal collections of Chuck and Allison Houchins. As the center's director of education and gallery curator since its beginning, Allison Houchins has been involved with the heritage artists and demonstrators who have shared their skills in the center's mission of preserving the valuable heritage for future generations. This 40-year journey resulted in her family's collection of paintings, weavings, pottery, baskets and skills learned and passed on to their girls.
"We are grateful to the Houchins family for sharing these treasures and their stories as they have been blessed by friends and acquaintances through their shared mission of the Hiddenite Center," said Executive Director Donna Latham.
Classes and workshops
Herbal remedies and foraging class — Saturday, from 10 a.m. to 1 p.m. with Amy Barr. Barr's workshop will offer herbal identification and the use of herbs growing at your back door for first aid and other uses. Register for this make and take workshop as Barr demonstrates the preparation of herbal remedies. Participants will join Barr on an excursion to her farm for the identification and gathering of herbs for their own use. Call now to register and prepay. The cost is $35 for nonmembers, and $30 for members. Bring a bagged lunch and outdoor shoes.
Barn quilt class — Saturday from 10 a.m. to 2 p.m. Carol Mitchell will instruct participants in painting their own 2x2 barn quilt. All materials are included for this make-and-take class. Call now to register and prepay. The cost is $50 for nonmembers, and $45 for members. Bring a bagged lunch. Registration is open for barn quilt classes scheduled for July 10 and Aug.14.
Class location: Educational Complex, 70 Hiddenite Church Road, Hiddenite.
Kid's Summer Art Camp to begin June 14
The Hiddenite Arts & Heritage Center's Annual Kid's Summer Art Camp begins on June 14 and registration is now open for students ages 4 through 14.
Trackin' Turtles Summer Art Camp is a two-week series of fun and innovative art projects is designed to lead campers on an exciting journey of creative discovery. Classes are designed for children just beginning to develop their creative skills, intermediate students and advanced student artists alike.
The art camp will be held Monday through Friday for two weeks — June 14 through 18 and June 21 through 25 at the center's Educational Complex, which is located at 70 Hiddenite Church Road in Hiddenite. Classes each day for the little Tarpins (ages 4-8) will be held from 10 a.m. until noon and from 1 until 3 p.m. for the Tortoises (ages 9-14). Class sizes allow social distancing with safety protocols in place.
Classes will offer a wide range of artistic mediums. Week 1: Lorin Pemberton and Savannah Shanley will teach campers drawing, watercolor painting, and hand-built pottery. Week 2: Art in the Garden instructor Jeff Menzer will lead campers in creating garden art, outdoor activities, planting plants and connecting with nature. Supplies will be provided.
Optional supervised lunch and play time will be available from noon until 1 p.m. for an additional $15 per week. Campers are asked to bring their own bagged lunch.
The cost for attending the Summer Art Camp is $55 for friends members and $75 for nonmembers per week. Friends memberships may be purchased via hiddenitearts.org or by calling 828-632-6966. Reservations are required for the Summer Art Camp and may be made by calling the center's Office at (828) 632-6966. For more information visit hiddenitearts.org, call 828-632-6966 or email info@hiddenitearts.org.