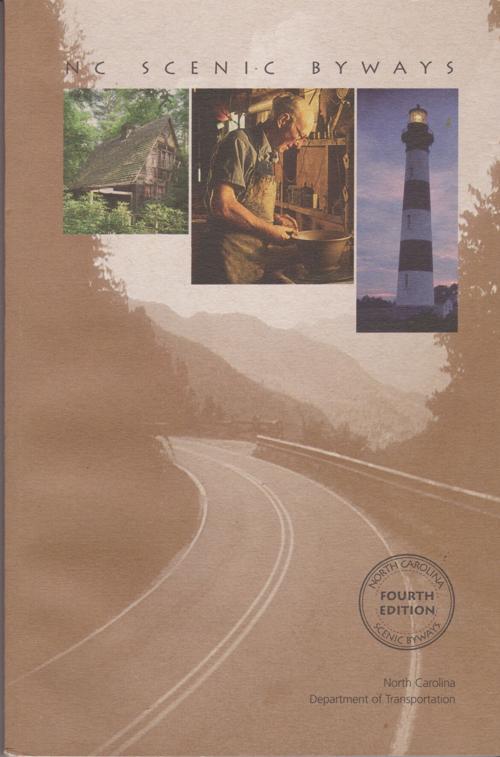 Fall is approaching and cooler temperatures and vibrant leaf colors will be welcomed. North Carolina, besides being a beautiful state having three distinct geographical regions and four distinct seasons, was one of the thirteen original English colonies and therefore has a wealth of history to share with natives and visitors to the Tar Heel State, not to mention the native peoples who were here for thousands of years before Wally Raleigh's people arrived on Roanoke Island.
These thoughts were brought home to me recently when I reviewed "NC Scenic Byways," published by the N.C. Department of Transportation. You should get yourself a copy of this well-written 170-page book. I have a copy of the 2008 (fourth) edition, which lists 51 scenic byways. A fifth edition, updated and expanded to 62 byways, is due out this fall, according to Kyle Cooper, the Scenic Byways coordinator for the state.
The current paperback book measures 6 by 9 inches, making it a perfect fit for your car's glove compartment, rather than your bookshelf.
A "scenic byway," is a trail, route or path with lots of scenery to enjoy. As the NCDOT notes, "The byway routes are carefully selected by the N.C. Department of Transportation as safe and interesting alternatives to the faster pace and commercial areas found along major highways and interstates."
Each byway begins at a specific location and is usually 20 to 40 miles in length. An estimated time to drive each of the byways is provided. There are two byways in the state that are only three miles long.
The longest byway in the Piedmont Region is the "Colonial Heritage Byway," 92 miles long, which begins near the town of Monticello in Guilford County, and ends in Durham.
The longest byway in the Mountain Region is the 98-mile long "Waterfall Byway," which traverses five mountain counties. According to the book, 200 waterfalls surround the route.
The two longest byways in the book are in the Coastal Plain Region: "Lafayette's Tour Byway" and the "Outer Banks Scenic Byway." The first is based on an 1825 tour of the United States made by French Gen. Marquis de Lafayette, a trusted aide to George Washington during the War for Independence. The tour begins on U.S. 1 at Henderson, the Vance County seat, and runs eastward through seven North Carolina counties — 173 miles — ending at Lynch's Corner in Pasquotank County.
The Outer Banks tour begins at Dare County's Whalebone Junction and stretches south for 111 miles, ending at Beaufort in Carteret County.
The Byways are well spread across the state, with some in the mountains, some in the piedmont and some in the coastal plain region. Alas, there is no Scenic Byway going the length of Iredell County. We need to get one and I have inquired about how to go about this.
Mr. Cooper, mentioned above, hints that there may be a byway involving Iredell County in the next edition. "The College Town Ride," 5.5 miles in length, beginning at the Iredell/Mecklenburg line on N.C. 115 and includes some of southern Iredell.
The paperback is loaded with color photographs of places on the tours — at least one for each byway — and the book also has detailed maps and directions. Included also is a handy listing of our state parks and recreation areas, with a brief description of what may be seen there, the address of the park or area, and the telephone number of the office. There is the same information for our state historic sites, all 51 of them.
There is a bibliography of the sources consulted for "Scenic Byways," which lists books you might want to have or to consult before going on the road.
My point is this: America has a vast number of places to see, but why drive to, say, New Mexico or Oregon or New England, when there are places right here in the Tar Heel State you haven't seen? This book will tell you where the places are and how to get to them.
As I mentioned, autumn is fast approaching, just the time to tour some of the scenic byways in the mountains. Some folks prefer going to our Outer Banks when it is not so crowded. Of course, there are many, too, who enjoy day trips close to their Piedmont home.
To get your copy, email to www.ncdotorg/-scenic. Or mail your request for your free NC Scenic Byways with your full mailing address to:
North Carolina Byways Program
If you had a copy of "Scenic Byways" you could easily answer the following questions:
A little quiz
1. Under what president was the Blue Ridge Parkway begun in 1935, and under what president was it completed 52 years later?
2. How long is the North Carolina portion of the Blue Ridge Parkway?
3. The oval lakes, known as "Carolina Bays," found in Bladen, Cumberland and Sampson counties are thought to have been created by what?
4. The 1987 movie, "Dirty Dancing," starring Jennifer Grey and Patrick Swayze, was filmed in part at Lake Lure, part of which Scenic Byway?
5. Which byway delineates the trails those herding market-bound livestock took through Hickory Nut Gap?
Answers to "A little quiz"
1. Franklin D. Roosevelt and Ronald Reagan.