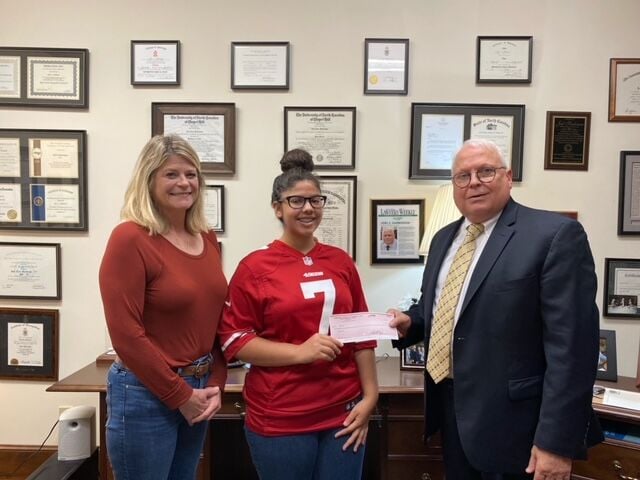 Ana Gray, of Taylorsville, was awarded a full scholarship to attend a special program of Stanford University Law School for talented high school students
Gray is a rising junior at Alexander Central High School. She is in the Advance Placement course of study with a 4.6 GPA and is currently ranked No. 1 in the Class of 2023.
She wants to attend an Ivy League school and major in journalism and political science, with an eye on attending law school.
Recently, Gray partnered with Stanford Law School to attend a virtual course of study this summer.
A description of the program is:
"Endorsed by the American Mock Trial Association, the Virtual Intensive Law & Trial curriculum will give you critical insights into the legal profession, including real-world simulations and professional workshops. You'll work in groups with other high school students like you from across the country virtually, making connections and building self-assurance."
"Your Virtual Intensive Law & Trial experience culminates with a mock trial simulation — you and your peers arguing a case from start to finish in a virtual courtroom. Here, you'll put into action the knowledge and skills you've gained throughout the program, such as delivering effective oral arguments, the rules of evidence, directly examining and cross-examining witnesses, making appropriate objections, managing a courtroom and more."
Local lawyer Joel Harbinson became aware of Gray's situation and contacted fellow members of the 22A District Bar Association in Alexander and Iredell counties to fund the endeavor.
Lawyers Caryn Brzykcy, Mark Davis, Robert Campbell, Melissa Groff, Bill Pope, Costi Kutteh, Ed Pressly, David Minor, Brittany Cartner, law firms Whitfield and Mock, and Benbow, Davidson and Martin, and Judge Christine Underwood donated funds to cover the entire cost of $2,500 of the program, allowing Gray to attend.