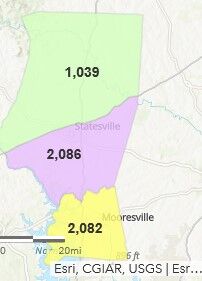 The Iredell County Health Department's Friday afternoon report showed 5,207 COVID-19 cases with 85 new coronavirus cases confirmed in Iredell County.
The county also reported an additional death from COVID-19 on Thursday, bringing the total to 59.
The North Carolina Department of Health and Human Services reported an increase of 3,688 coronavirus cases on Friday afternoon. Statewide, 328,846 cases have been reported by the NCDHHS.
Earlier this week, the NCDHHS also introduced a new "COVID-19 County Alert System" that assigns a county one of three colors (yellow, orange, and red) based on their current rate of infection. For the time period from Nov. 1-14, Iredell County was ranked in the orange tier. This denotes "substantial community spread," stating that Iredell had a 14-day case rate of 308 of 100,000. It also ranks the impact on Iredell County hospitals as "moderate."
The state of North Carolina has reported 19,728 COVID-19 cases since Sunday, already a 10.4 percent increase in last week's seven-day total of reported cases in just 6 days.
The number of people hospitalized statewide is 1,571. The total number of completed tests is 4,819,029.
The NCDHHS also reported a daily test positivity rate of 8.3 percent on Friday, an increase from Thursday's percentage. According to the NCDHHS, Iredell County has a positivity rate of 8.4 percent.
There have been 4,979 deaths statewide attributed to the pandemic.
In Iredell, 26 are currently hospitalized, and 4,199 are assumed or estimated to be recovered. A total of 923 are isolated at home.
According to the NCDHHS, of the major zip codes in Iredell County, 28625 has had the most confirmed cases with 1,192 infected. Next is 28677 with 1,137, 28117 with 1,095, and 28115 with 887.
The county is divided into three regions, with the south (ZIP codes 28036, 28115, 28117, and 28125) reporting 2,082 cases.
The central region (27013, 28166 and 28677) reports 2,086 and the north (27020, 27028, 27055, 28678, 28634, 28636, 28660 and 28689) has 1,039.
The 28625 ZIP code is split between the north and central regions as the line runs along Interstate 40.
Among neighboring counties, Mecklenburg has 39,880 cases with 427 deaths, Rowan has 5,133 cases with 126 deaths, Cabarrus has 6,197 cases with 103 deaths, Catawba has 6,056 cases with 79 deaths, Wilkes has 2,422 cases with 45 deaths and Yadkin has 1,341 cases with 13 deaths.
Lincoln County has 3,081 cases and 20 deaths, Davie has 1,074 with 13 deaths and Alexander has 1,396 cases with 13 deaths.
Get local news delivered to your inbox!
Subscribe to our Daily Headlines newsletter.