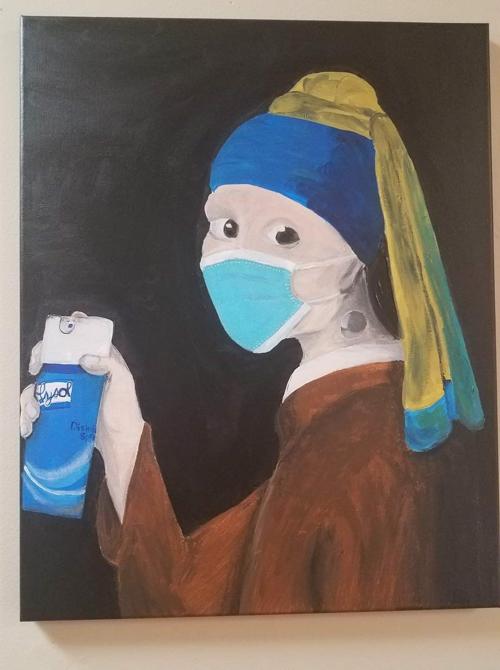 The Hiddenite Arts and Heritage Center announces the Art in Lockdown Challenge.
People of all ages are invited to share works of art created as a result of the pandemic lockdown experience. Works may range from paintings, drawings, quilting, sketches, songs, poetry or other creative forms. All experience levels from beginners to advanced are welcome. A $100 award will be given to the most thought provoking entry judged by the center's board of directors.
An example of this challenge is a painting by Elizabeth Krumroy who is currently the center's emerging artist. "The Girl with the Face Mask" wears a face mask and holds a can of Lysol in her painting as a spin off of the "Girl with a Pearl Earring" originally painted by Johannes Vermeer.
Entries will be accepted through Oct 31. Entry forms will be available on the center's website www.hiddenitearts.org, by emailing info@hiddenitearts.org, or by calling the center at 828-632-6966.
Works must be submitted digitally in jpeg format, media files, or word documents for literary works and emailed to the center at info@hiddenitearts.org.
Works will be displayed for viewing in the center's Art In Lockdown exhibit, which will be featured digitally, November through December on the website (www.hiddenitearts.org), Facebook page and E-news.
Multiple entries will be accepted in multiple categories.
The center encourages participation as a way to bring healing and joy to the community as they document the Great Lockdown of 2020 for generations to come.
To learn more about the Hiddenite Arts & Heritage Center call 828-632-6966, email info@hiddenitearts.org, visit www.hiddenitearts.org or visit the Center's Facebook page.
This project is supported by the N.C. Arts Council, a division of the Department of Natural & Cultural Resources. www.NCArts.org.
Hiddenite Arts & Heritage Center events, exhibits, and programs are made possible in part through the funding of Alexander County government, the town of Taylorsville, the Eileen and R.Y. Sharpe Family Foundation, The Winston Salem Foundation, and the Friends of the Center membership program.
Get local news delivered to your inbox!
Subscribe to our Daily Headlines newsletter.