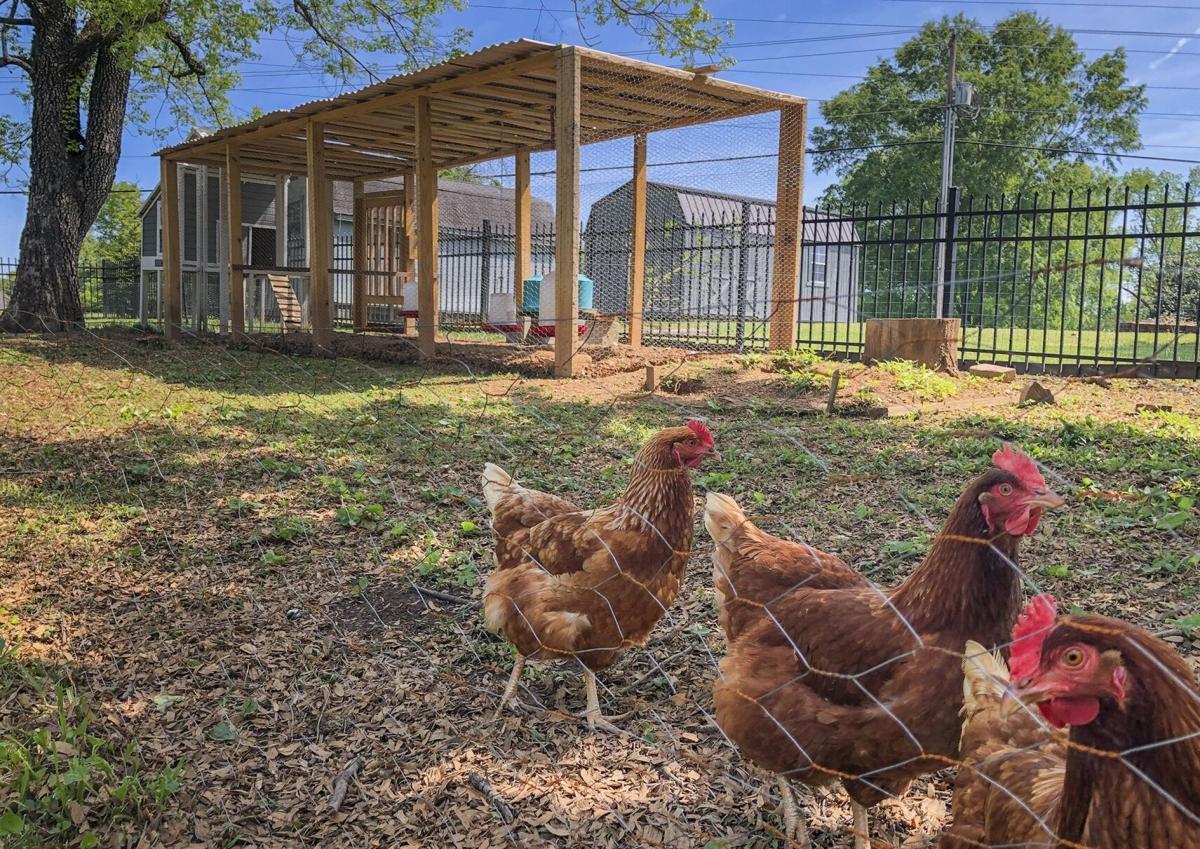 BERMUDA RUN — The letter, an unsigned rant really, landed over the weekend in a bunch of mailboxes with all the subtlety of fingernails being dragged across a chalkboard.
SUBJECT: Multiple Live Chickens Being Kept on Premises at … Riverbend Drive, Bermuda Run.
It runs to five paragraphs, cites an anonymous "highly experienced real estate agent" about property values and reads like the work of a law-school dropout who panicked at the prospect of taking the bar exam.
Our author — we'll call her (or him) Karen since she (or he) lacks the courage of conviction to sign the screed — continued by imploring residents to contact local authorities.
The world is burning down. Growing unrest over social justice dominates the news cycle, and this person has the time, energy and disposable cash to pen and mail a stack of letters about … hens?
A lot of squawking
One of the caretakers of said hens, a Canadian transplant named Lynn Pitson, an OB/GYN who works 24-hour shifts in a big city hospital delivering at-risk babies. So she might be owed some relaxation — even if it's watching chickens.
I know this because I've known Pitson and her husband Kerry for at least three years. And neither one does things halfway.
They put up the coop more than four years ago and only after checking with relevant local authorities.
The consensus, and I'm paraphrasing here: You're kidding, right? This is Davie County. We have a long, rich agricultural tradition and a history of backing property rights. Go for it.
So they got seven chickens and brought in a coop with a neatly painted henhouse. And after rebuilding their porch, they added free-standing flower boxes.
Hens, for those raised in cities and suburbs, produce eggs. They're fun to watch, often playful and some enjoy being petted. Hens do not raise a ruckus at daybreak; those would be roosters, of which Pitson has none.
Nor does a single coop in any way resemble — or smell like — one of those enormous commercial chicken farms that have sprouted across the region in the past 25 years.
Those chickens, by the way, are raised to be sold to such companies at Tyson Foods and Perdue Farms for slaughter and the dinner table. Some of Pitson's chickens have names, another enormous difference.
Nevertheless, that didn't stop Karen from squawking about them.
A complaint was registered with the operators of the golf club even though Pitson and Shields don't live on the course. The couple offered through that third party to build at great expense a privacy fence and/or a hedge — which apparently has been turned down as Karen, to date, has not bothered to knock on Pitson's front door or initiate an in-person conversation.
Instead, Karen buried her (or his) head in a deed book at the Davie County Register of Deeds office to find a decades-old restrictive covenant item that he (or she) quotes as sayings "no swine, chickens fowl or other livestock shall be kept on the premises."
"We have been advised that … the 'keeping of live chickens on the Premises in our Complex will have an 'extremely negative financial affect' (sic) on our property values and the resale prospects for all homes and properties in the Complex," Karen wrote.
And there it is. M-O-N-E-Y, the cause of much evil.
Reading the tone of that letter makes me wonder if Karen has ever worked a day in her (or his) life, if they profited off someone's else's sweat or simply had money fall into their laps via inheritance. In some cases, that can breed entitlement.
'A glimpse of home'
Winston-Salem allows chickens. Charlotte, too. Any number of towns and cities have come to the realization that a small number of hens in a single coop causes no harm.
The whole thing is sad. We've been at each other's throats for too long now. Common courtesy, decency and old-fashioned neighborliness sometimes seem to be as rare as … wait for it … hen's teeth.
A chicken coop is, as it should be, way, way, way down on any list of problems and priorities.
Yet the way the "issue" was raised — and I use the word "issue" only in its most general sense — says something about the way we treat and speak to one another.
But in an odd way, the emergence of Karen Doe has sparked something positive, an unintended consequence, among other recipients of the unsigned missive.
A small parade of Pitson's neighbors have gone out of their way to interrupt dog walks and exercise runs to offer kind words of support. A lawyer, a real one who passed the bar and actually tries cases in a grownup courtroom, offered pro bono, off-the-cuff advice.
"I haven't seen the Deed Book myself so they might be able to make them get rid of the chickens," he said. "But they can't make them move the coop. I'd put it right smack on the property line."
Susan Fishel, another neighbor, took the time to send — and sign — a sweet handwritten note of support as soon as she saw the angry letter.
"Your chicken coop and flower boxes are lovely! … My grandmother always kept chickens," Fishel wrote. "They are smart, and I always find them entertaining. Thanks for letting me get a glimpse of home."
Grumpy Gus, Crabby Karen, whoever he/she/they are, did raise one valid point about property values, however.
Who'd want a jerk like him (or her) for a neighbor?