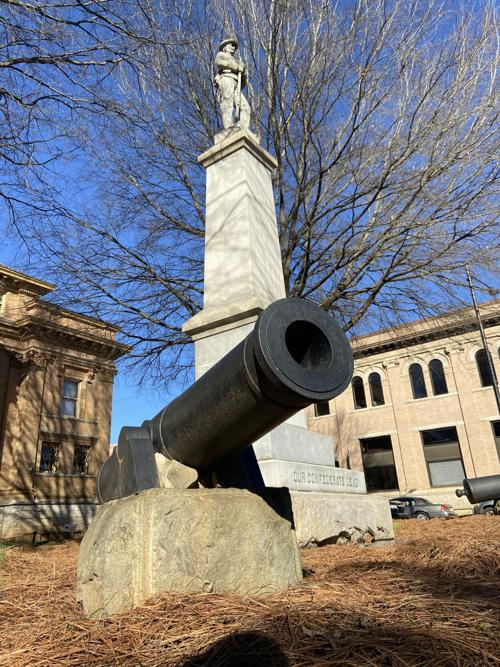 After Tuesday's 4-1 vote in favor of moving the Iredell County Confederate Memorial, the process of having the statue moved falls to County Manager Beth Jones.
The Iredell County Board of Commissioners members cast their votes Tuesday to relocate the memorial.
Because of the massive size and weight of the granite statue, as well as its historical nature, Jones said she isn't sure at the moment what the cost or the timeline of moving the lightning rod for controversy will be.
"It's a large monument, so it's going to be a very delicate process of getting it relocated and not damage it," Jones said.
She said she's started reaching out to appropriate parties to determine the cost of moving the statue but that this is early in the process.
The county's resolution calls for three steps as officials plan for and move the statute.
First, the county requested that the Statesville City Council assist in the relocation, with the Fourth Creek Cemetery or Oakwood Cemetery being chosen as suitable locations. Both are on land owned by the city.
Second, The Sons of Confederate Veterans Camp 387 and the local chapter of the Daughters of the Confederacy are to be consulted in the site selection and relocation.
Finally, Jones will investigate the costs of relocation and report back to commissioners. The board says the county should pay for the relocation when the money becomes available.
Jones also said while its next location will be on city property, residents looking to comment on where the statue should be moved should contact the county.
" The resolution is pretty specific as far as either at Fourth Creek Cemetery or Oakwood Cemetery, so if there are concerns about one of those two, they need to contact the county. I don't want to put an undue burden on the City of Statesville," Jones said.
Jones said that those locations were chosen because most of Statesville's soldiers who were killed in the Civil War are buried there. The county hopes the statue will serve as a memorial, similar to the Tomb of the Unknown Soldier located in Arlington National Cemetery.
While the cost of moving the Statesville statue is unknown, examples from other cities that moved their Confederate monuments show a wide range in cost.
Baltimore paid $40,000 to move four statues while it cost $225,000 to move a 5-ton statue of Jefferson Davis in Lexington, Kentucky. The Richmond Times-Dispatch reported that Charlottesville, Virginia, has estimated it would cost $700,000 to move two Confederate statues in its downtown area.
New Orleans paid $2.1 million to remove four Confederate statues last year, according to the Times-Dispatch, the cost was first estimated at $170,000 but rose due to security concerns when the initial contractor pulled out after his car was set on fire.
Follow Ben Gibson on Facebook and Twitter at @BenGibsonSRL