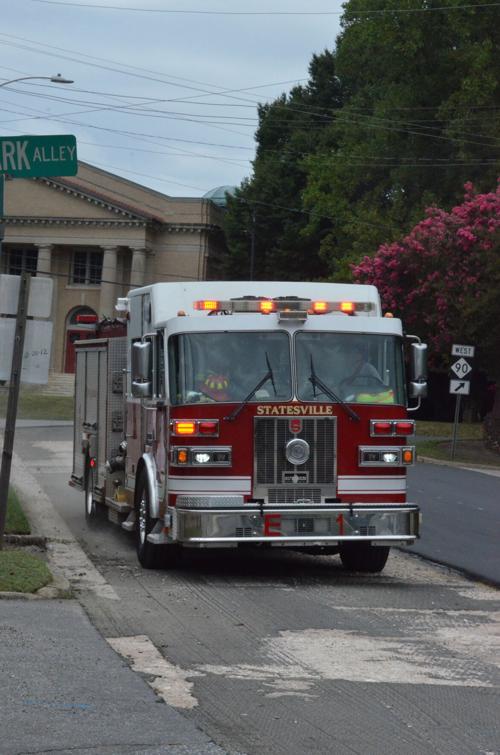 The holiday season may conjure up images of Christmas trees and stockings hanging over the fireplace, but there are dangers that come with more electronics plugged in and heating equipment running.
However, according to local fire officials, a few steps can be taken to help avoid those hazards.
According to the Statesville Fire Department from Dec. 24-26, on average throughout the United States, there are 12,600 fires reported each year, 205 reported injuries, 34 fatalities and $92 million in fire loss.
While there are different factors in each fire, they sometimes include Christmas trees not watered properly, improper use of extension cords and candles left burning unattended.
Christmas trees
Live Christmas trees can be beautiful, but proper care can make sure it doesn't become a fire hazard.
If it isn't watered properly, it can be one of the most dangerous things that you would ever bring into your home, according to the SFD. Signs to look for include the shedding of needles from the tree. Once a tree dries out, it should be removed from the home, as it can catch the entire room on fire within 30 seconds, according to the SFD. To keep a live tree from drying out, you should make about a 1/2-inch slanted cut from the bottom of your tree to allow the tree to rehydrate. After a tree has been cut, the very bottom will dry out and water cannot feed up through the tree unless it is cut off at the bottom.
That's one reason why it shouldn't be placed anywhere that can block an exit from the home.
Another thing to look out for is overloading an electrical outlet by plugging too many extension cords into one and also making sure an outdoor one is used outdoors. Cords should not be run under rugs or through doorways, either. And don't forget to unplug them before going to bed.
And those stockings? Don't hang them directly over the fire or near open flames. Even though the material is not touching the flames, enough heat could be generated to cause them to catch fire, according to the SFD.
Don't burn wrapping paper in a fireplace either, as small particles of lit paper can float up the chimney and ignite the roof, travel to your yard and catch the grass on fire or could be blown out from the fireplace and start a fire elsewhere in the room.
And whether you're celebrating Hanukkah or lighting candles for other reasons, make sure to use a study and fire-safe menorah or candle holder. Only place them somewhere where the flames aren't near any other potential sources for fires and don't leave an open flame unattended.
Now at any time of year, make sure every level of your home has a working smoke detector, and be sure to check and clean it on a weekly basis. Plan and practice a home escape plan with your family.
Contact your local fire department for advice if you have any questions about home fire safety.
Heating your home
According to the National Fire Protection Association, on average heating equipment is involved in an estimated 56,000 fires per year in homes in the United States. Those fires resulted in 470 deaths, 1,490 injuries, and $1 billion in property damage per year.
Those fires can sometimes be prevented by following a few safety tips, according to the Iredell County Fire Marshal's Office. It said heating equipment is involved in one in every six reported home fires and one in every five home fire deaths.
To help keep our community safe and warm this season, the Iredell County Fire Marshal's Office recommends that you follow these guidelines:
Install smoke alarms in every bedroom, outside each separate sleeping area, and on every level of the home. For the best protection interconnect all smoke alarms throughout the home — when one sounds, they all sound. Test smoke alarms at least once a month.
Be sure your home has both photoelectric and ionization smoke alarms or combination ionization and photoelectric alarms, also known as dual sensor smoke alarms.
Space heaters need space. Keep all things that can burn, such as paper, bedding or furniture, at least three feet away from heating equipment.
Turn portable heaters off when you go to bed or leave the room.
Plug power cords only into outlets with sufficient capacity and never into an extension cord.
Inspect for cracked or broken plugs or loose connections. Replace before using.
Have your chimney inspected each year by a qualified professional and cleaned if necessary.
Use a sturdy fireplace screen.
Allow ashes to cool before disposal. Dispose of ashes in a metal container.
Install and maintain a carbon monoxide alarm in a central location outside each sleeping area and on every level of the home.
Never use an oven to heat your home.
For fuel assistance, contact the National Energy Assistance Referral Line at 866-674-6327 or email energyassistance@ncat.org.
Carbon monoxide
Carbon monoxide, called by some "the invisible killer," is an invisible, odorless, colorless gas created when fuels burn incompletely. Heating equipment that burns fuel makes November, December and January peak months for (non-fire) carbon monoxide incidents.
To reduce the risk of carbon monoxide and other home heating hazards this winter, the nonprofit National Fire Protection Association (NFPA) and the U.S. Fire Administration (USFA) have teamed up to promote their joint fire safety campaign, "Put a Freeze on Winter Fires," and urge everyone to take the following precautions to prevent carbon monoxide in their homes:
Make sure all fuel-burning equipment is vented to the outside. During and after a snowstorm, make sure vents for the dryer, furnace, stove, and fireplace are clear of snow build-up.

Have heating equipment and chimneys inspected and cleaned annually by a qualified professional.

If you use a generator, make sure it's used in a well-ventilated location outdoors away from windows, doors and vent.

Install CO alarms in a central location outside each sleeping area and on every level of the home and in other locations where required by applicable laws, codes or standards.

If the CO alarm sounds, immediately move everyone in your home to a fresh air location outdoors or by an open window or door and call for help. Stay there until emergency personnel arrive to assist you.
Follow Ben Gibson on Facebook and Twitter at @BenGibsonSRL