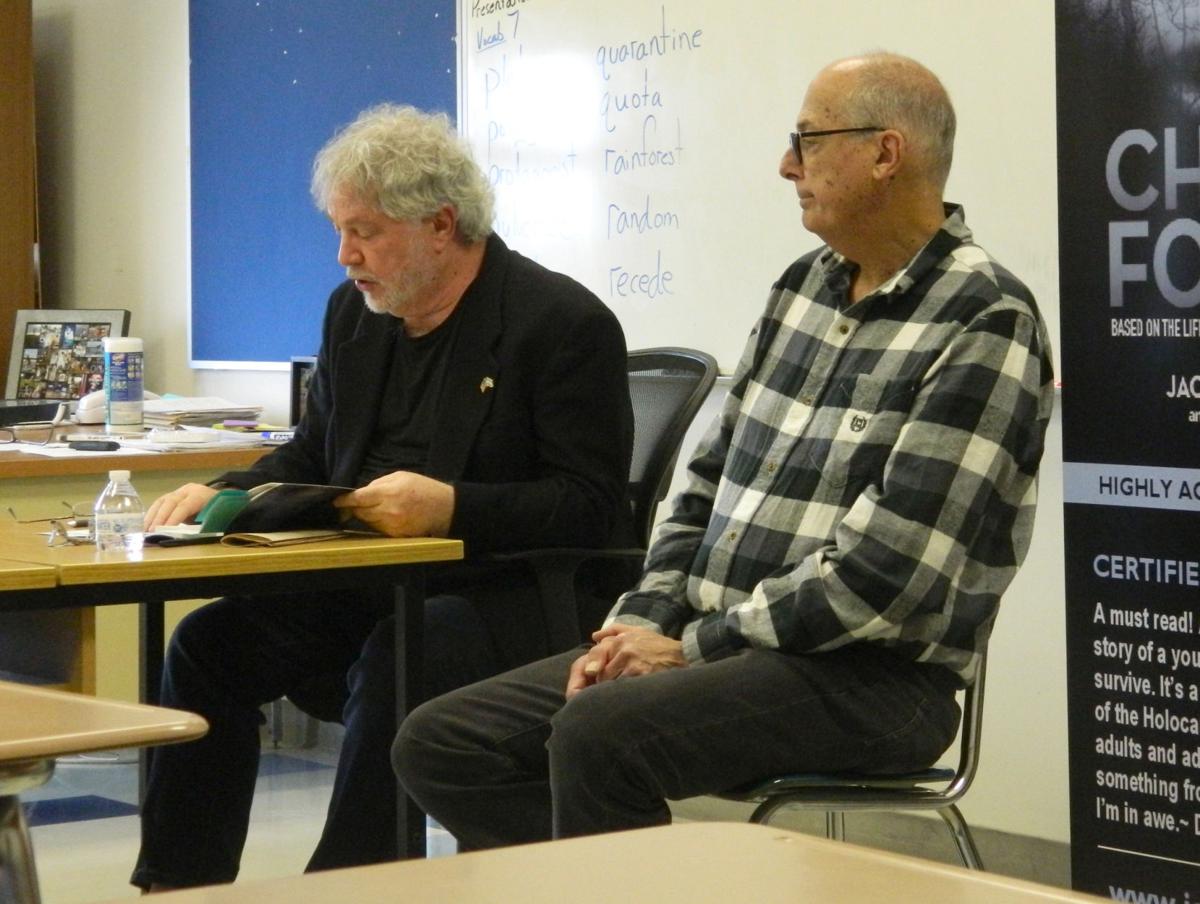 History came to life for Grant Hodges' Senior AP honors English class at Lake Norman High School.
On March 13, author Jack Grossman visited to tell about "Child of the Forest" and the events surrounding his writing of the book, which is based on the life of Charlene Perlmutter Schiff.
Rich Cooper, a friend of Jack's and an assistant coach at the school, introduced his friend to the class and thanked the students for the chance to be there. Cooper shared how he met Jack 20 years ago as they discovered that "we are both Jewish and the opportunity to practice our faith at the time was non-existent. And as I sit here today, we both have experienced anti-Semitism in some way."
Cooper said that he and Grossman had other similarities, including experiencing near death experiences, being strong in volunteerism, being founders of the Lake Norman Jewish Community in Davidson and being involved in this project of the "Child of the Forest."
As Grossman began talking to the youth, he recounted experiences of facing anti-Semitism - and noted that it is on the rise.
But he also shared with them, "I love to talk to young people. You hold the candle to light up the darkness in this world. You are our hope."
Grossman read several passages from his book to the students, but he prefaced that time by sharing how he came to learn about and even consider writing about this story.
It was in 2006 and he was traveling to Washington, D.C. as a chaperone for his youngest daughter's field trip. The busload of 12-year-olds and other adults arrived in Washington, D.C. very early and made their first stop – the Vietnam War Memorial. After a prayer service there, the group made its way to the Holocaust Museum. Having visited there previously, Grossman said he prepared himself for what they would see. However, this visit became different from the others as they were escorted to a room and were seated and shortly this "little lady walked in, and shared experiences about the Holocaust in Eastern Poland," Grossman said. "I thought that what she was saying was her unbelievable."
He wasn't sure he had heard her correctly as she told of how she, as a 12-year-old, had lived through it all.
Grossman was deeply moved by what he heard and as soon as they returned home, he searched for more information about Charlene and her story. He wanted to make sure he had his facts straight before he shared her story with his family. After much searching, he found nothing. So he told his wife Kristie that he was determined to "tell Charlene's story to the world."
"When I first asked Charlene (about writing her story), she was taken aback, and very honored."
Grossman returned to Washington, D.C. and met up with Schiff and her husband. Grossman said that "Charlene was incredible. You would think she would be bitter, but she was the kindest person ever."
Health issues arose for both of them and time went on and then in 2013, Charlene died. But Grossman had promised her that he would tell her story.
"If you have any dreams, keep going," he told the students. "Stick with it. I have gone through hurdles, today, I'm living proof of it happening," he said as he showed them the book.
Thanks to underwriters Clifford and Rebecca Frost, all of the students received a copy of the book. Hodges noted that they would be reading it together as a class.
Grossman read to the class how Charlene survived and slept in the forest. He told them how she dug little pits and covered herself with leaves to stay hidden from the enemy.
He asked the class if they were lost in the forest, what they would do to stay warm in the winter and what would they eat, all things that Charlene had to think about as a young girl to survive.
Grossman shared that in the town where Charlene grew up there were 5,000 Jews. She was one of only two to live.
She asked me "why did I live?" to which Grossman told her "to tell your story to the world." He had hoped they would be able to go around and tell this story together that she lived and he wrote about, but that was not to happen; however, he is keeping his promise to her to tell her story.
Get local news delivered to your inbox!
Subscribe to our Daily Headlines newsletter.