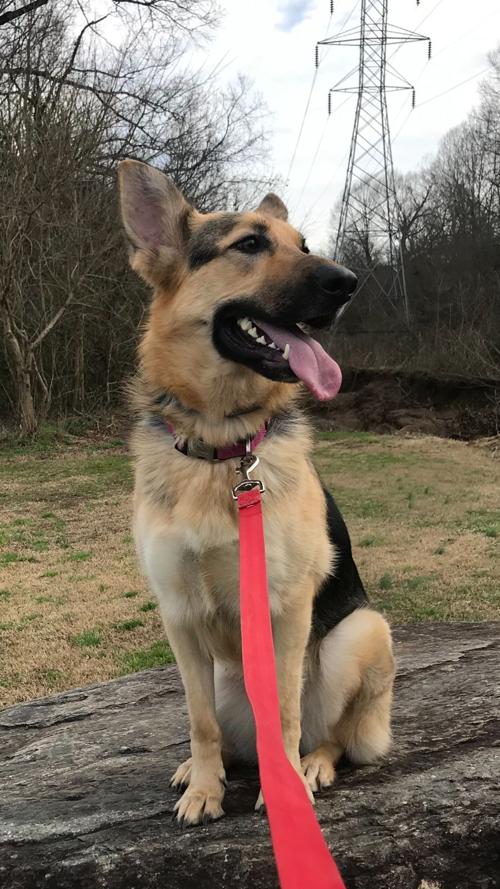 A pet being hit by a car is a nightmare scenario, but for Jerry Jones, it became not only a reality but a harsh lesson in how the legal system views pets and other animals.
A dog may be man's best friend, but under the law, they are just property.
"The laws are unfair and unjust, dogs are 'property' but that doesn't mean they aren't living creatures who deserve to be protected as well," Jones said.
Jones' experience started June 21 when he said a man drove through his neighborhood recklessly and hit his dog, Khalessi, which wasn't on a leash. Jones said Khalessi suffered major bruising, an air pocket in her chest, and mild internal bleeding. Her left hip was also pushed out of the socket. The initial costs for care were more than $1,000 and any surgeries could push it above $4,000. Jones started a GoFundMe to help pay for the costs.
He said the driver, Raymond Jessop Jr., of Westfield, yelled at him after hitting the dog. Jessop said he swerved to avoid the dog and that the trailer on the truck did make contact. He was adamant he did what he could to avoid the dog, but did not want to say anything else about the incident.
Jones was in a whirlwind of emotion when the incident happened.
"At the time, I was still filled with adrenaline and anxiety because my dog was just hit by a truck, the man yelled at me and had no sympathy. Then he ran away from the scene without ever even coming to see if she was OK or just to apologize. Frustration and anger were definitely one of my strongest emotions towards the police response," Jones said but was still understanding of how Statesville Police dealt with the situation. "Hats off to the Statesville PD who handled it correctly and to the best of their abilities."
But this is where things got into some legal gray areas, and unfortunately for Jones and his dog, some of the black and white issues with driving and pet laws weren't on his side.
Jones filed a police report accusing Jessop of the verbal threats, but then there were issues with jurisdiction as Jessop was pulled over by Davie County Sheriff's deputies. A North Carolina State trooper could have been called in to assist since it now was an issue spanning two counties, but it still goes back to what the heart of the issue is when it comes to the animals themselves.
Under the law, dogs and other pets are property, meaning they are the responsibility of their owners. With the established law siding more often than not with drivers, that puts pet owners in a position of responsibility for the animals under their care. So if a pet roams into the road, most of the time any damages would be awarded to a driver unless there is clear evidence the driver was malicious or careless.
Regardless of the specifics of the incident, Jones' experience can serve as a lesson for any pet owner.
While there are legal recourses for pet owners, proving it in criminal or civil court is an uphill battle according to Anthony Burts of Burts Law, PLLC.
"From a criminal standpoint, the standard is beyond a reasonable doubt, and that's a very high standard. It doesn't mean beyond all doubt but it just basically means it's a very high bar to show a jury the person committed a crime to support a conviction. So oftentimes the DA's office in various locales will choose not to pursue cases when it's clear to them that they won't be able to meet that standard," Burts said.
While Burts wasn't speaking of Jones' case specifically, the issue at hand is one party's story versus the other without adequate evidence to support it. He said the same would go for a civil case.
"You have to show that the driver had a duty to drive safely which when you enter the road as a driver you have that duty to not do anything that would cause harm to others around you or their property. And if for some reason that duty was breached and that was the foreseeable calls of damages to that animal," Burts said.
Unless the animal was under the direct control of the pet's owner, and they had sufficiently restrained their pet and kept it out of harm's ways, it wouldn't be easy to win a case in civil or criminal court.
There also is a general misunderstanding of the lack of a leash law in North Carolina. While municipalities may pass ordinances, the only state laws involve making sure owners don't let their dogs roam freely. In many cases, being on a leash or "under verbal control" of a dog is all that is required.
That is the case in Iredell County, where dogs don't have to be on leash but do have to be under the control of their owner. According to Kristian Hernandez, the director of Iredell County Animal Services and Control. Pets in Statesville are required to be on a leash in public areas.
Learning the law this way was a hard way to learn for Jones.
"This was a huge surprise for me. Unless I had video footage of the man driving reckless through the neighborhood, even though four other neighbors witnessed him, and unless I could prove without a doubt in court that he intentionally hit my dog, the law will side with the driver of the vehicle every time,' Jones said.
Follow Ben Gibson of Facebook and Twitter at @BenGibsonSRL.
Get local news delivered to your inbox!
Subscribe to our Daily Headlines newsletter.