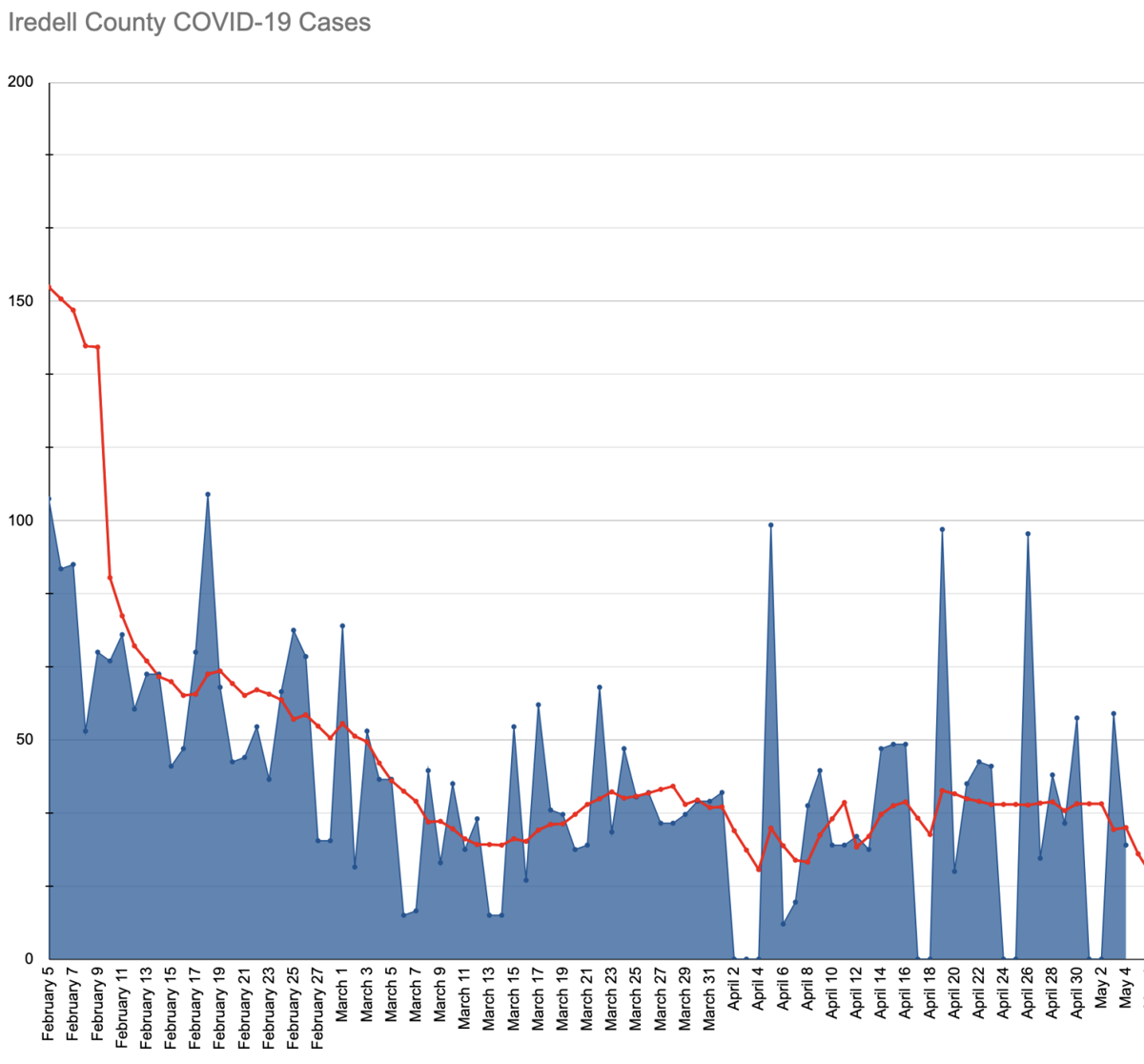 The North Carolina Department of Health and Human Services reported 18,515 COVID-19 cases in Iredell County on Tuesday, an increase of 26 coronavirus cases since Monday.
Iredell County reported two additional deaths due to COVID-19 on Tuesday, increasing the death toll to 216.
According to the NCDHHS, 45,991 residents of Iredell County have received the COVID-19 vaccine, roughly 25.3 percent of the total population. Of those, 39,505 residents, 21.7 percent, have received both doses of the vaccine.
In the entire state, 3,304,872 people, 31.5 percent, have received at least one dose of the COVID-19 vaccine. Of those, 2,836,004 people, 27.0 percent, have been fully vaccinated.
The NCDHHS reported a statewide increase of 981 coronavirus cases on Tuesday afternoon. In total, 975,300 cases have been reported in North Carolina.
The number of people hospitalized statewide is 1,050. Statewide hospitalizations have been steadily decreasing over the last two months, falling from a peak of 3,992 on Jan. 13.
There have been 12,700 deaths statewide attributed to the pandemic.
In Iredell County, there are 13 people hospitalized with coronavirus. This number has decreased significantly since early January when the number reached its peak of 77.
The NCDHHS also reported a daily test positivity rate of 6.7 percent on Tuesday. According to the NCDHHS, Iredell County has a positivity rate of 6.4 percent.
According to the NCDHHS, of the major zip codes in Iredell County, 28117 has had the most confirmed cases with 4,509 infected. Next is 28625 with 3,880, 28677 with 3,787, and 28115 with 3,859.
On April 29, the NCDHHS updated their "COVID-19 County Alert System" map that assigns a county one of five colors (green, light yellow, yellow, orange, and red) based on their current rate of infection.
Iredell County was upgraded to "Orange", designating a "substantial impact". According to their charts, the county has reported a 8.1 percent positivity rate over the previous 14 days.