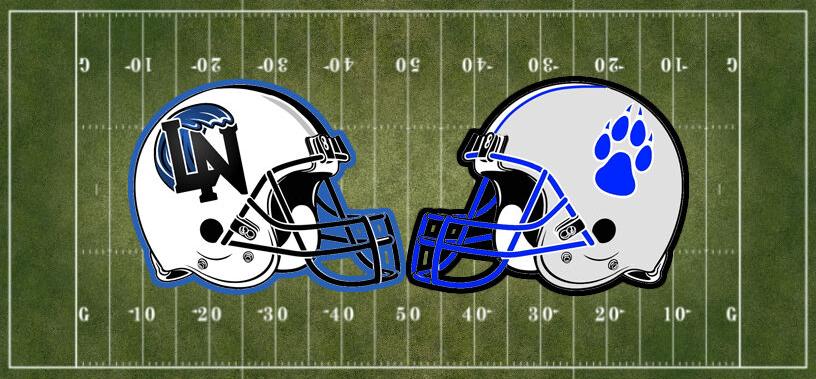 The COVID-shortened 2020 spring season caused a lot of rivalry games across the state to be paused for one reason or another. For Lake Norman (2-0) and Statesville, the matchup was skipped in the spring because the two programs weren't in the same conference. It was the first time since 2002, Lake Norman's inaugural season, that the Wildcats and Greyhounds (2-0) didn't meet on the gridiron.
The programs get to renew their rivalry on Friday night.
"Anytime you get to play a county opponent, it's a big game," Lake Norman head coach Jonathan Oliphant said. "A lot of these guys know each other and grew up playing with and against, so getting to play games like this is a lot of fun."
That sentiment was shared by Statesville head coach Randall Gussler.
"We've always prided ourselves on playing good teams in non-conference," he said. "(Lake Norman) will be a good way for us to prepare for our conference."
In recent years, the Wildcats have had the upper hand in the rivalry, winning five out of the last seven matchups, but after nearly 20 years, the 'Hounds hold the advantage in the series with an 9-8 record over Lake Norman.
The Wildcats will travel up to Greyhound Hollow for the first time since 2017 with a team that was rejuvenated by its win over Mitchell, one of the top 1A teams in North Carolina, last Friday night. After giving up 114 yards on the ground to the Mountaineers in the first half, the Wildcats only allowed 74 in the second half, stifling an offense that had given them problems in the early going.
"You need to play a game where the other team tries to punch you in the mouth because that's what we try to do to people. It's good to get a taste of your own medicine," Oliphant said. "I think we got a lot out of that game in regards to figuring out who our kids are and how tough we are."
The Greyhounds had a similarly tough test when yet another rival, South Iredell, visited Statesville with one of the area's best running backs. Jaylin Neal, the Vikings' junior running back, was fresh off of a four touchdown, 200-yard performance against North Iredell in week one.
Statesville's defense proved tough for Neal to crack, however, only mustering 12 yards on seven carries before leaving the game with an injury. The 'Hounds used that opportunity to sprint out to a 21-0 halftime lead before holding on to win 27-14.
"I thought our D-Line played much better in week 2 than they did in week 1," Gussler said. "They say that you're going to see your team make the biggest jump from week one to week two and that's what we saw against South."
The Lake Norman offense, with its triple option/veer attack, will be another tough test for the Greyhounds this Friday. In the debut of the bulk of the Wildcats varsity roster, after missing week one's win over West Iredell due to COVID-19 protocols, the Wildcats racked up 270 rushing yards on 34 attempts, good for an average of 7.94 yards per carry.
"You've got to play fundamentally sound football against the option," Gussler said. "You've got to be disciplined against all of the options and not get out of position."
The Statesville offense will provide a similar challenge to the Lake Norman defense thanks to the likes of Zamari Stevenson and Elijah Munoz. In their first two games, the 'Hounds have put up an average of 34 points, already having run for 428 yards.
In those games, Stevenson has thrown for 103 yards and two touchdowns and run for another 185 and three scores. Munoz has added 106 passing yards and three touchdowns of his own in an offense that can line either player up at the quarterback position and still be effective.
"Stevenson is a tremendous athlete. He can get missin' in a hurry," Oliphant said. "Nunez is the same way. We've got to stop whoever they snap the football to because that's who they'll want to run the football. We've got to do a better job this week."
However, missing from the potent Greyhound offense in JZ Harrison-Connor, who according to Gussler, is not currently with the team. In week one against Carson, Harrison-Connor ran for 148 yards.
Emphasizing stopping the quarterback run is certainly needed for a Wildcat defense that gave up 157 yards to Mitchell quarterback Ty Turbyfill last week.
"We're going to see a different animal with Statesville," Oliphant said. "Their quarterback, either one, is much more dynamic than what we just faced. We've got to do a better job this week of containing it."
However, one of Lake Norman's best strategies for slowing down potent offenses is keeping them off the field. In their game against Michell, the 'Cats ran the ball 34 times for 270 yards, an average of 7.9 yards per carry.
With just around 30 players on the Greyhounds' roster, getting off the field whenever possible is crucial.
"We have to limit the big, long, time-consuming drives," Gussler said. "We can't let them control the game."
Statesville will have a lot to deal with when it comes to the Lake Norman ground game. While it was speedster AJ Baker that picked up yards in big bunches for Lake Norman, leading the team with 102 yards on just six carries, it was Caleb Douthit that served as the workhorse for the Wildcat offense.
The senior running back carried the ball 17 times for 100 yards and a touchdown last Friday. Of those yards, 67 came in the second half after he had time to wear down the Mountaineer defense.
"I can't say even good things about him," Oliphant said. "Caleb really put the offense on his back and willed us to victory by getting the tough yards. I'm glad we don't have to worry about tackling him."